Weekend Recap: 'Unknown' Purple Belt Steals Show At ADCC Trials
It was a wild weekend in the world of jiu-jitsu with two back-to-back live events here on FloGrappling. Get the lowdown on the best action over the last few days. 


Fight To Win Pro 24: Tonon vs Agazarm
 Friday night saw Garry Tonon and AJ Agazarm finally tangle, and it was everything we hoped to it be: heated, dramatic, and full of great action. 

You can watch the match here. The real question, though, is how badly injured in AJ's knee? Hopefully not so much that he'll be out of action too long. Love him or hate him, he's great to watch. 

• Garry Tonon Reflects On Battle With Agazarm
• Fight To Win Pro 24 results 
• Edwin Najmi vs Nathan Mendelsohn 

How badly injured is AJ Agazarm's knee?

---
Fight To Win Pro 25: Dern vs Fontes 
Saturday night Mackenzie Dern remained undefeated on Fight To Win with a submission win over Pati Fontes. Dern was fighting for the second time in her backyard of Scottsdale, Arizona. The link to the match is right here. 

• Fight To Win Pro 25 results

Mackenzie Dern vs Pati Fontes

---
ADCC Trials in Brazil
 Paulo Miyao was one of the five grapplers who qualified for the ADCC World Championships after winning the Trials in Rio de Janeiro. 

The -66kg winner was DQ'd just last weekend for an alleged fake fight, and he says he's very happy to have booked his ticket to Finland in September for the ADCC World Championships. He and his teammates have earned spots in the -66kg, -77kg and -88kg divisions. 

• Marcelo Mafra says wrestling was key to success for ADCC Trials victory
• Trials Winner Mahamed Aly Says He Needs To Learn Heel Hooks For ADCC
• ADCC Trials Brazil results 


---
Kaynan Duarte, 19-year-old purple belt, qualifies for ADCC
In other news from the Trials, Kaynan Casemiro Duarte, an Atos purple belt, defeated the very tough Patrick Gaudio to win the -88kg division. This 19-year-old purple belt (he had a birthday two weeks ago) comes from a city of only 5000 people in the state of Sao Paulo, but he already won double gold at the No-Gi Worlds in November. 

Kaynan came out of nowhere to tap out a number of tough opponents before beating Gaudio 2-0 via takedown to confirm a trip to Finland -- we'll be bringing more info on this young stud soon.

Watch 10 of Kaynan Casemiro's matches in our archives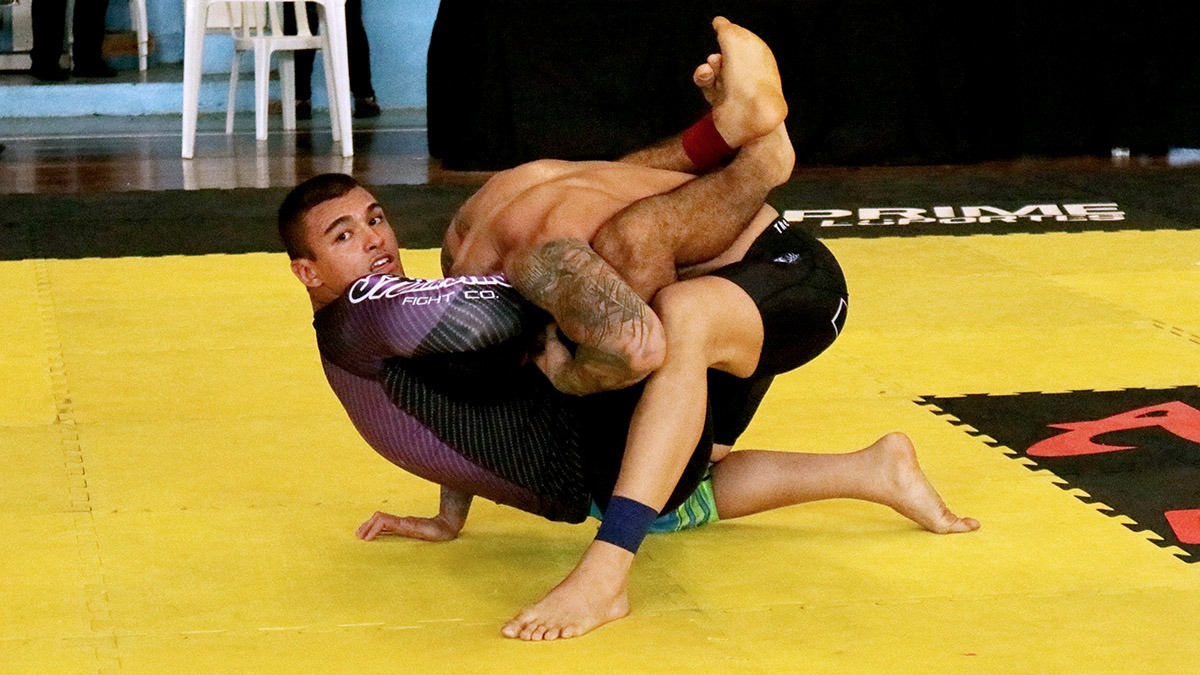 Kaynan Casemiro attacks for a guillotine on Patrick Gaudio in the -88kg final of the ADCC Brazilian Trials in Rio de Janeiro. Photo: Hywel Teague / FloGrappling