Event Hub
World Pro Country Qualifier Black Belt Update: Who Made It Through
The black belts went up today at the Abu Dhabi World Pro Jiu-JItsu Championships. Today (Thursday April 20) saw athletes compete in the World Pro Country Qualifier brackets for the chance to represent their nation in the main bracket on Friday. 


No Shows, Injuries and More
A number of high profile athletes didn't make it to World Pro this year for a various number of reasons. Alliance standout Nicholas Meregali was registered at 94kg but didn't arrive to weigh in and so his name was scrubbed from the bracket. 

At 85kg Marcos Souza (former World Pro champion and older brother of Roberto Satoshi) was alongside his brother at weigh-ins but didn't step on the scales himself, and again was removed from the bracket. 

As we already reported, Leandro Lo withdrew from the 110kg division due to a niggling knee injury. 


Notable results
The World Pro Country Qualifiers provided some stacked brackets and plenty of interesting matches with more than a few surprises. Read on for a summary of today's action.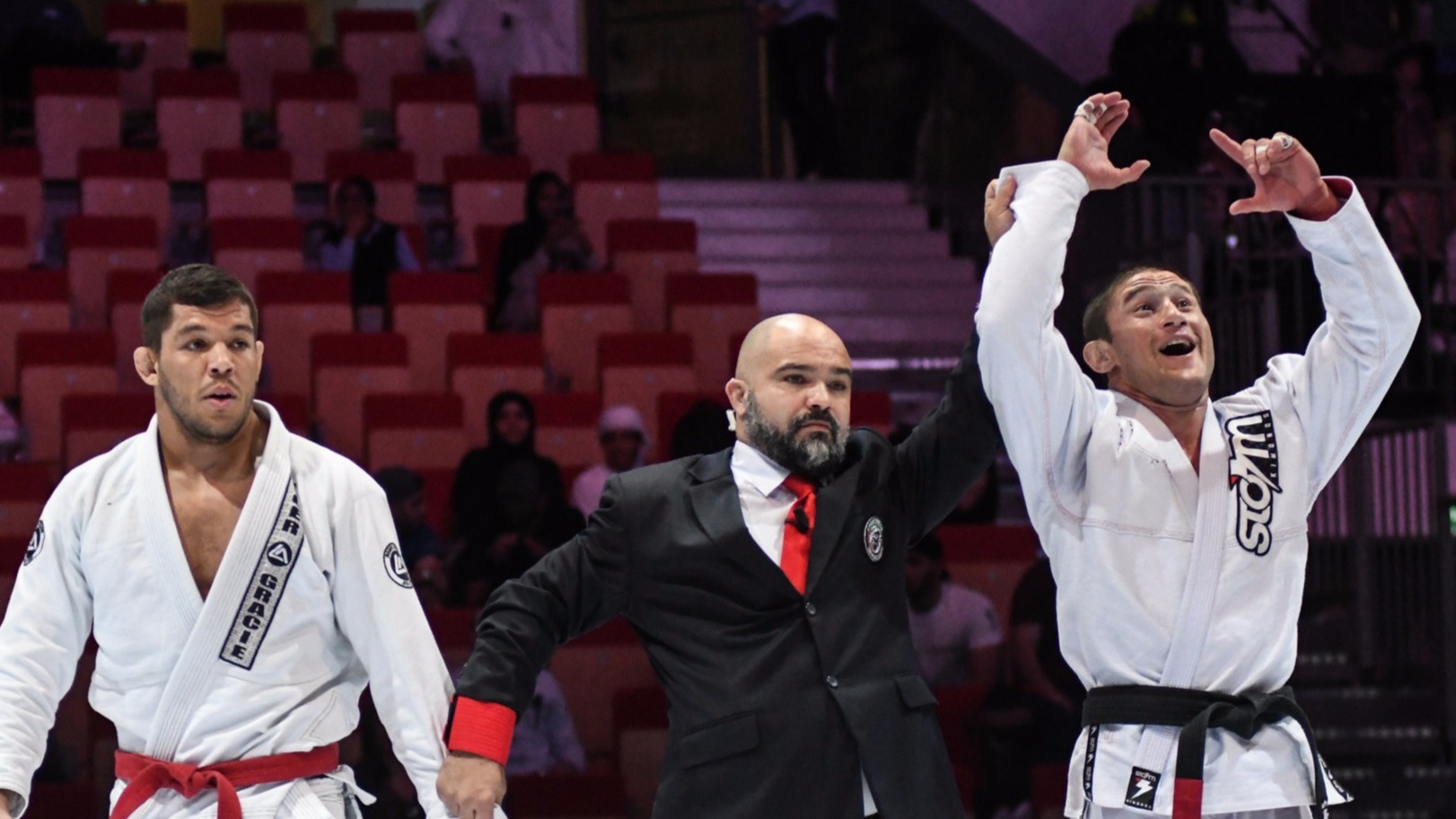 Men's Black Belt
56kg Brazil Country Qualifier
Wellington de Lima beat Jorge Nakamura 5-0 in the final to qualify for the 56kg main bracket. 

62kg Brazil Country Qualifier
Cleber Sousa fought three times in a round robin to qualify as the second Brazilian athlete for the 62kg division. 

69kg Brazil Country Qualifier
Talison Costa won three matches including a final against Isaque Paiva (via points, 2-0) to make it through to the main bracket. 
Watch: Isaque Paiva vs Talison Costa 2017 World Pro

77kg Brazil Country Qualifier
Isaque Bahiense had to beat Roberto Satoshi and Jhonny Souza in the semifinal and final respectively. He beat Satoshi 4-2 with a late takedown, and beat Souza 5-0. 
Watch: Isaque Bahiense vs Jhonny Souza 2017 World Pro

77kg United States Country Qualifier 
Jon Satava out-pointed AJ Agazarm twice in a best of three scenario to qualify for the main bracket. 
Watch: AJ Agazarm vs Jonathan Satava 1 of 2 2017 World Pro
Watch: AJ Agazarm vs Jonathan Satava 2 of 2 2017 World Pro

85kg Brazil Country Qualifier
Claudio Calasans submitted the very tough Charles Negromonte in the final to qualify. He had to face Atos teammate Lucas "Hulk" Barbosa earlier in the day, a match with saw Barbosa get DQ'd for repeated stalling calls. 
Watch: Charles Negromonte vs Claudio Calasans 2017 World Pro

94kg Brazil Country Qualifier
Felipe Pena cruised to victory in the earlier matches of the -94kg Country Qualifier bracket but had a tremendous match against the very tough Helton Junior in the final to earn his spot. Pena submitted his first two opponents and beat Junior 2-0 with a sweep. 
Watch: Felipe Pena vs Helton Junior 2017 World Pro

110kg Brazil Country Qualifier
Erberth Santos won three matches in the qualifying bracket, submitting Max Gimenis of GF Team in the opening round (see video) and outpointing Gustavo Dias in the final. 
Watch: Gustavo Dias Elias vs Erberth Santos 2017 World Pro

---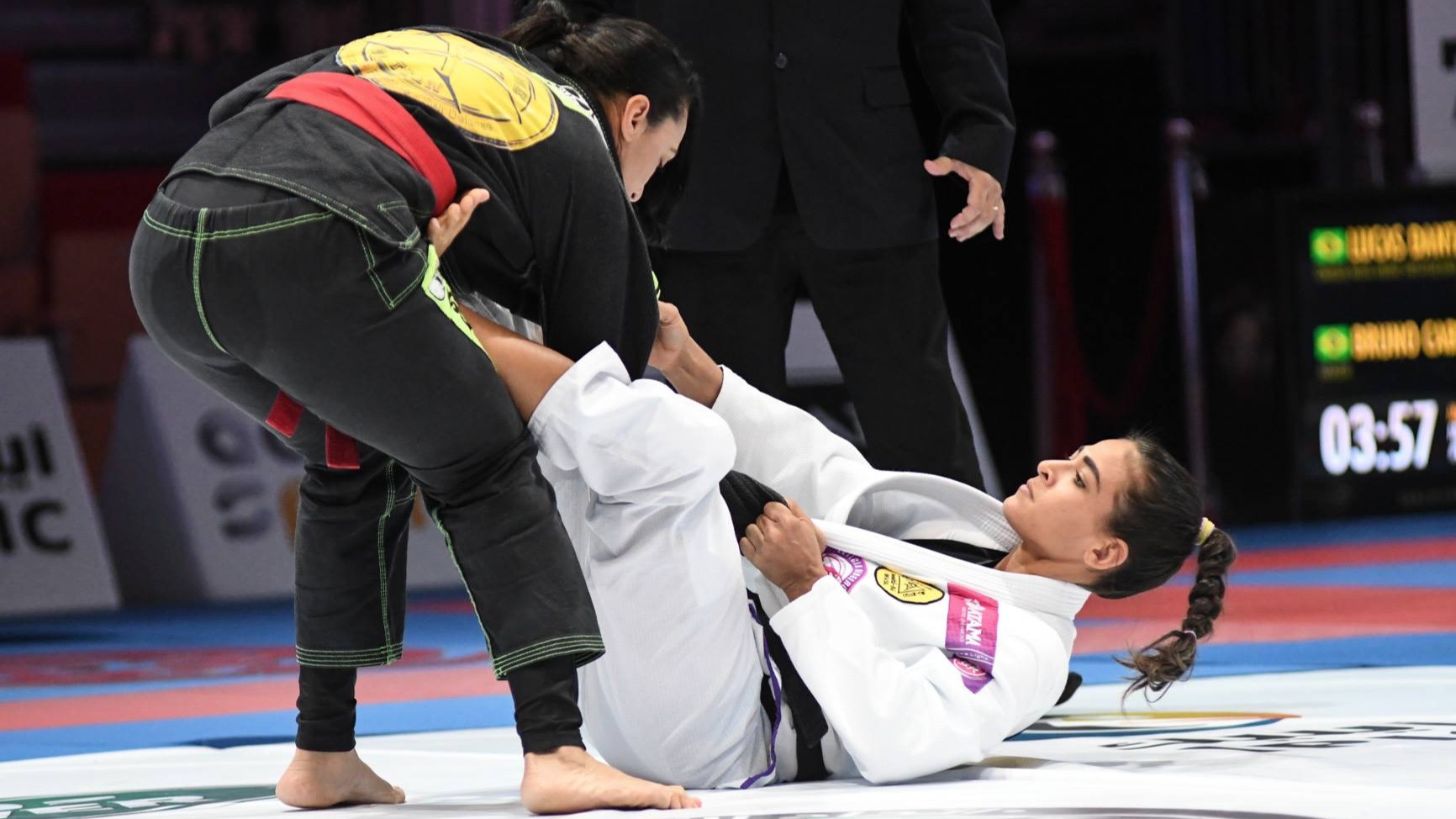 Women's Brown / Black Belt

49kg Brazil Country Qualifier
Clarissa Lacerda beat Angela de Carvalho to make it through to the main bracket. 

55kg Brazil Country Qualifier
Thamires Aquino easily made it through, winning two straight matches versus Tamires Vieira in a best of three. 

62kg United States Country Qualifier
Tammi Musumeci submitted brown belt Erin Here twice (once by choke, once by toehold) in a best of three to qualify for the main bracket. 

62kg Brazil Country Qualifier
The group of five had a round robin with last year's champion Beatriz Mesquita qualifying for the main bracket. She won all her matches with her usual impressive techniques, save for the match versus Bianca Basilio which saw the young Almeida Jiu-Jitsu rep get DQ'd for accidentally reaping the knee. 
Watch: Luciana Kusaka vs Beatriz Mesquita 2017 World Pro

70kg Brazil Country Qualifier
Priscilla Cerqueira beat Natalia de Souza in the final to qualify. Cerqueira is an instructor in the school program here in the UAE and had a huge contingent of Emirati schoolgirls cheering her on. 
Watch: Priscila Cerqueira vs Natalia De Souza 2017 World Pro

70kg United States Country Qualifier
Amanda 'Tubby' Benavides beat Adriana Rascon twice in a two out of three to qualify. 

90kg Brazil Country Qualifier
Three athletes competed in a round robin, with Talita Nogueira winning both her matches versus Jessica da Silva and Vanessa do Nascimento to qualify.



How to Watch the Abu Dhabi 2017 World Professional Jiu-Jitsu Championship
On TV: Now available on Roku and Apple TV 4 -- download the FloSports app today.
STREAMING: Available only on FloGrappling via monthly or yearly memberships. A yearly FloPRO subscription provides access to ALL FloSports sites. SIGN UP HERE

Start Times

| Abu Dhabi | London | Rio de Janeiro | New York | Houston | Los Angeles |
| --- | --- | --- | --- | --- | --- |
| Tue 10:00 | Tue 07:00 | Tue 03:00 | Tue 02:00 | Tue 01:00 | Mon 23:00 |
Join The Conversation On Social

• Follow us on Twitter @FloGrappling
• Follow us on Instagram @FloGrappling
• Follow us on Facebook


FloGrappling's hottest content, delivered to your inbox
Don't miss breaking news, feature stories, event updates, and more. Sign up for the FloGrappling mailing list today.