Why GF Team Are The Rulers Of Rio de Janeiro's BJJ Scene
Why GF Team Are The Rulers Of Rio de Janeiro's BJJ Scene
Rio de Janeiro has one of the most active and competitive jiu-jitsu tournament circuits in the world, with many local, state and national competitions going
Dec 8, 2015
by Hywel Teague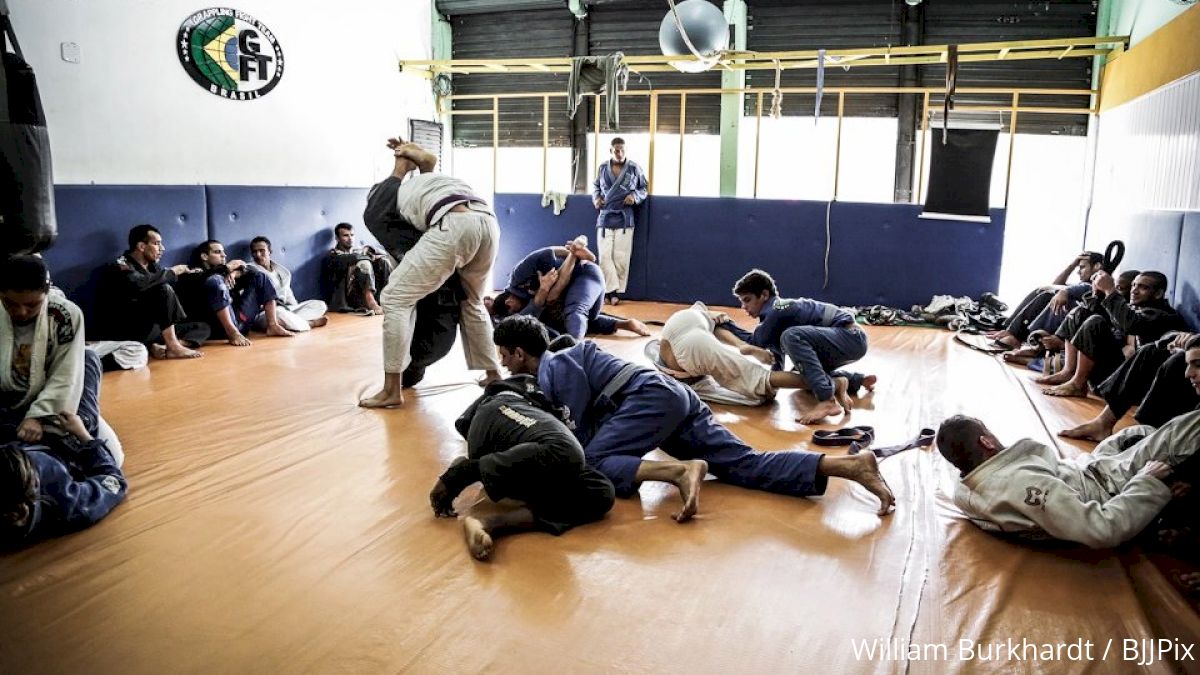 Rio de Janeiro has one of the most active and competitive jiu-jitsu tournament circuits in the world, with many local, state and national competitions going down on an almost weekly basis.
With more BJJ gyms concentrated in Rio de Janeiro than perhaps any other place in the world, there is an endless supply of hungry competitors ready to prove their worth. Matches are heated, hotly-contested affairs. Athletes must learn to block out the din of screaming supporters before they can begin to conquer their opponents.
Competitors are not limited to the local area: people come from all over Brazil and even abroad to compete here. To say you've fought in Rio is a badge of honor for many BJJ practitioners.
With so many athletes from so many teams stepping up to compete, it's remarkable that one team in particular has risen above the rest to reign as kings of the Rio de Janeiro BJJ scene.
GF Team: Rio de Janeiro's Champion Factory
Without fail, every single IBJJF tournament in Rio this year was dominated by GF Team.
The Rio-based gym topped the rankings in six IBJJF tournaments in the city this year, namely:
• Rio Fall International Open, March 2015
• Rio Fall International Open No Gi, March 2015
• Rio Winter International Open, July 2015
• Brazilian Team Competition, September 2015
• No-Gi Brazilian Nationals, October 2015
• Rio BJJ Pro, November 2015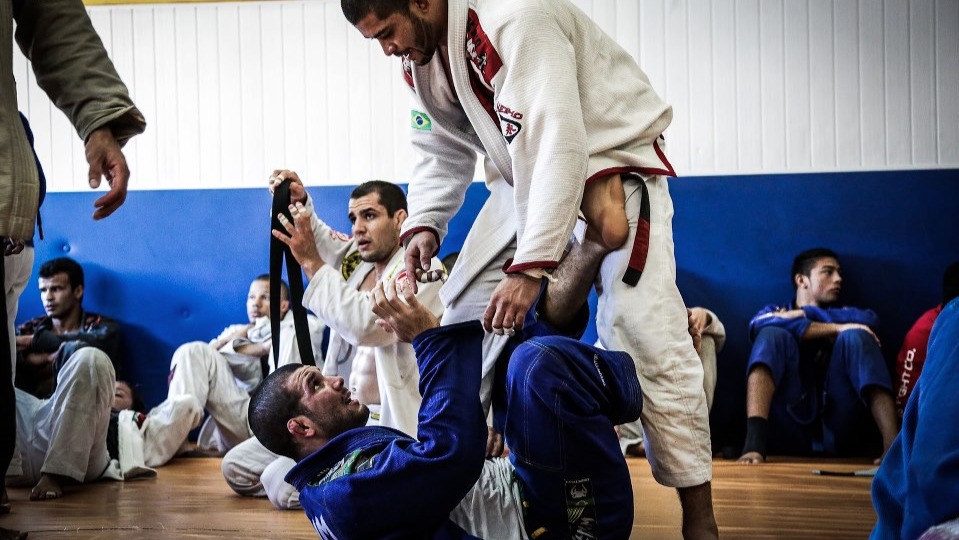 Who are GF Team?
This modest gym from the northern suburb of Meier in Rio de Janeiro, far from the picture-postcard beaches and tourist sights, produces some of the toughest grapplers in the city.
Outside of Brazil, GF Team is best known for producing the all-conquering heavyweight phenom Rodolfo Vieira, a dynamic and entertaining ADCC, IBJJF and World Pro champion.
At the black belt level GF Team have a crop of tough competitors: Jaime Canuto, Victor Silverio, Patrick Gaudio, Victor Honorio, Jake Mackenzie, Theodoro Canal and more.
Closer to home, GF Team is known for its depth of talent throughout the ranks. When you go up against a representative from GF Team, you know you've got a fight on your hands.
The History of GF Team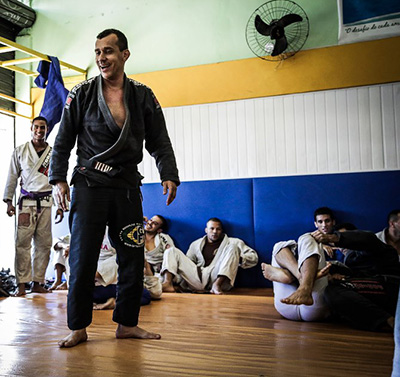 Pereira's own background is remarkable as he is one of the few modern practitioners who can claim to come from a line of jiu-jitsu teachers that never directly trained with the Gracie family. His own teachers came via the team founded by Osvaldo Fadda, a respected rival of the Gracie Family who formed generations of competitors in the poorer northern suburbs from the 1950s to his death in the 1990s.
Julio is a modest, stoic figurehead as well as an old-school competitor. He's well-known and well-liked on the Rio scene, and respected as an official and referee as much as he is a coach.
His gym opens onto a busy street where trucks and buses blast past at high speed. Beyond this two-lane road are train tracks, which commuters from the outer lying suburbs use to access Rio's commercial center. The location or facilities are far from glamorous.
The philosophy at GF Team is train hard, fight hard. Their competition team training sessions are notoriously tough, and rolling is kill or be killed. "It's a true jungle," says GF Team middleweight black belt Victor Silverio. "Where you learn how to survive."
Maybe it's this ethos that has propelled them to the top of the rankings.
A Look At The Numbers
We analyzed the available results from five of the six IBJJF tournaments in Rio this year (details were not available for October's Brazilian Team Competition) in an effort to understand GF Team's strengths.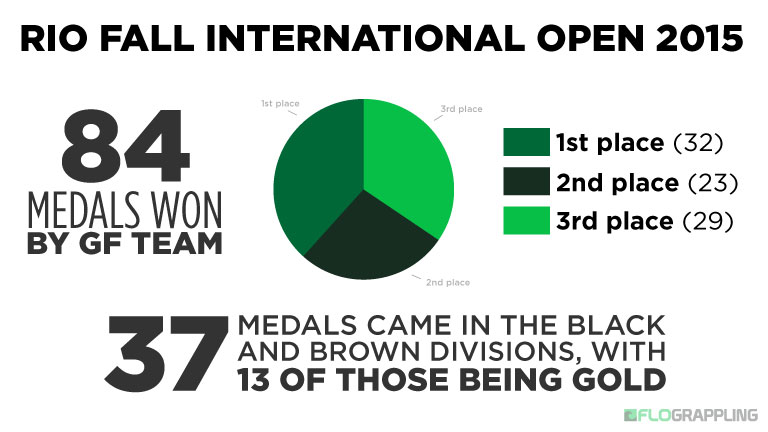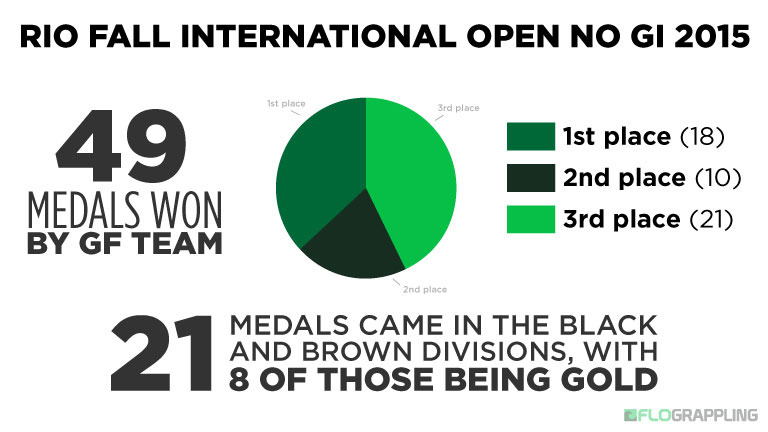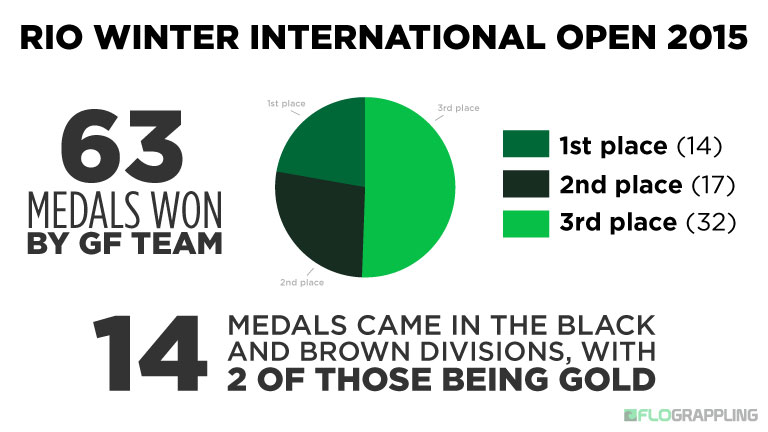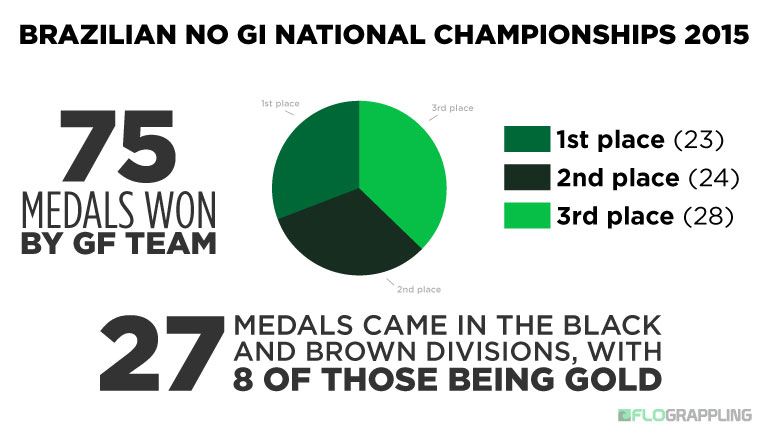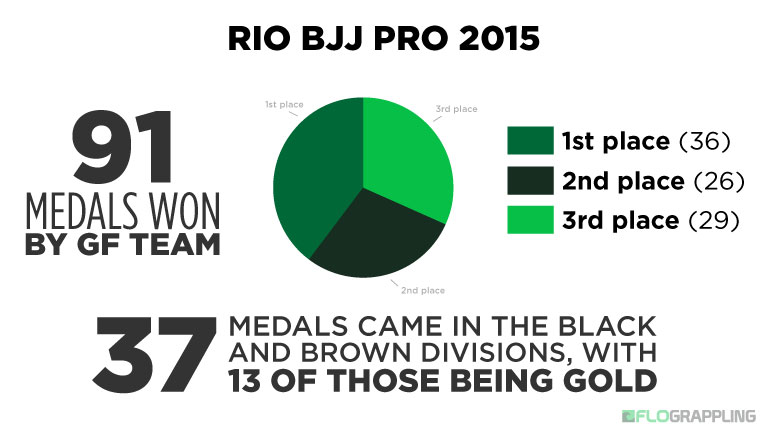 The full breakdowns
can be found here
, but here are the main points of interest.
• GF Team won more gold medals than silver or bronze at two of the five tournaments sampled.
• The team consistently win their most medals at black belt and blue belt.
• In competitions with masters categories, the number of medals won by competitors aged 30+ exceeds that of the adult divisions.
• In the black belt division, the ratio of masters golds to adult golds ranges from 2.5:1 to 5:1.
• The highest number of gold medals the team won at a single tournament was 36 (out of a possible 145), at the Rio BJJ Pro.
Our Analysis
The stats clearly show that
the depth of talent lies in the ranks of elder black belts
. These are highly skilled men with plenty of competition experience; the natural assumption would be that these senior competitors are able to pass on their knowledge to the younger generations.
After the black belts, the most medals come via the blue belts
. Success at the lower ranks suggests that the future is bright for GF Team. Potentially, blue belts of today could be competing at the black belt level anywhere from 3-5 years from now.
Only slightly
behind the blue belts, the purple belts deliver most medals
. In every gym and team there is always a drop-off in practitioners as they move from blue to purple, and the numbers reflect this.
This reinforces the idea that the blue belts will eventually move through the ranks until they reach black belt. Should they by then no longer compete at the adult level they will join the swollen ranks of the veteran black belts, further bolstering the team's domination of these categories.
Conclusion
The secret to the success of GF Team cannot be easily identified, but the numbers paint a picture of a team with the majority of their competitive talent in the early intermediate and veteran advanced divisions. These elder competitors appear to be inspiring and creating a wave of future black belts ready to continue the team's position as number one in the Rio de Janeiro area.