The 2017 World Championships saw the emergence of a number of super-talented black belt women who won gold earlier this month in Long Beach, CA. Amazingly, five of the female black belt champions were fighting at Worlds for the first time at that rank.
Talita Alencar, Ana Carolina Vieira, Nathiely Jesus, and Tayane Porfirio won the light featherweight, middleweight, medium heavyweight and super heavyweight titles, respectively.
And of course there was Claudia Do Val, who was crowned heavyweight champion (175lb / 79.3kg).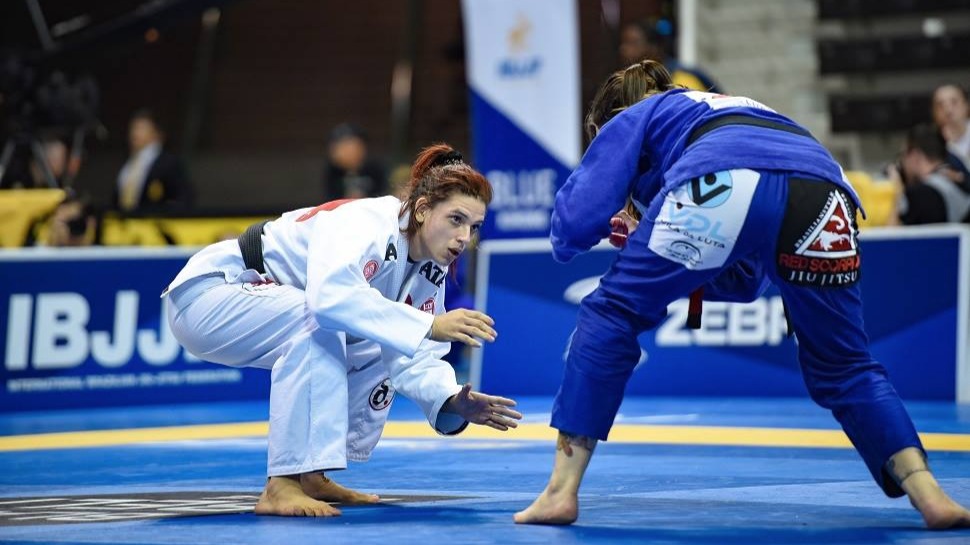 ​Claudia do Val (white) in the final of the IBJJF 2017 World Championships. Photo: Mike Calimbas
The De la Riva Jiu-Jitsu black belt, who trains under the eponymous icon himself in Copacabana, Rio de Janeiro, beat veteran Talita Nogueira in a hard-fought final that looked like it would end in a nasty arm break.
Attacking initially with her signature omoplata, Claudia trapped Nogueira in a triangle. From there, she cranked on the arm, but her opponent stubbornly refused to tap.
Don't be fooled into thinking Val held anything back during the attack, though: "I tried really hard, but that's all I could manage," she says. "I heard a noise from her arm, and I realized she wasn't going to tap. It was all the strength I had at the moment."
---
Winning the black belt world title comes following a string of success for the 29-year-old, a latecomer to the competition scene. With a background in judo and barely any jiu-jitsu competition experience until the end of 2015 when she was a brown belt, Val has amassed a number of titles in her short time in the sport.
Following a world title at brown belt in 2016, she collected bronze in the absolute division of the 2017 Europeans, a silver in the middleweight division at 2017 Pans, and gold at the 2017 Brazilian Nationals. This is in addition to the haul of medals she's taken at various International Opens and other tournaments.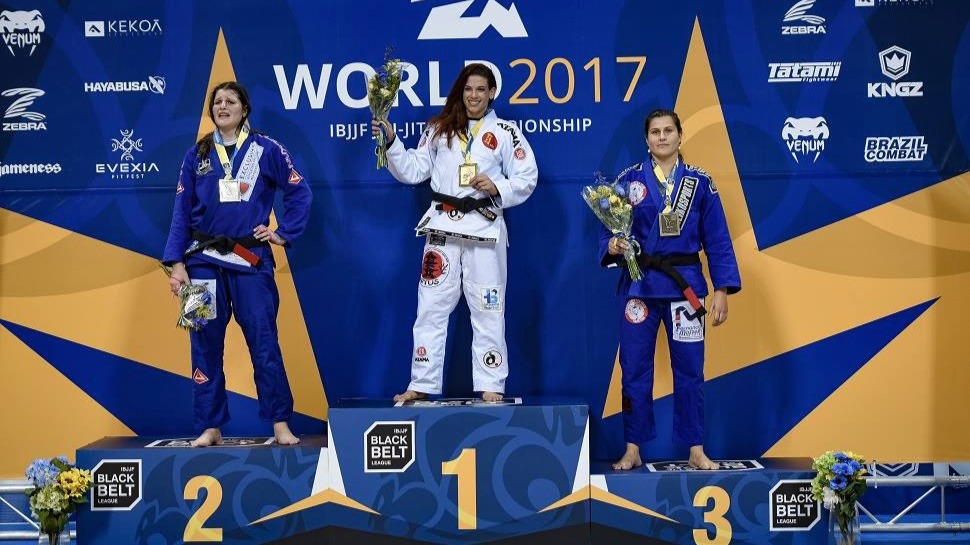 ​Photo: Mike Calimbas
Even though the gold medal from the biggest tournament of her life hangs on her wall, it still hasn't quite sunk in that she's a world champion. "I doesn't feel too real yet, it's weird. I'm aware of what I accomplished, but still haven't quite figured out what it means," she says.
With black belt world title on her resume, the goal is to establish her position further not just as a competitor but also as an instructor. She's given seminars across the United States, Brazil, and Europe, a side of her career she's actively trying to develop. The end goal? "I want to create a name for myself so one day I can open my own gym."