Matches You Won't See Anywhere Else: Five Lightweight Super League
Matches You Won't See Anywhere Else: Five Lightweight Super League
The bracket will be determined on July 14 via random draw after the athletes have weighed in -- stay tuned for when we drop the news!
Jul 12, 2017
by Erin Herle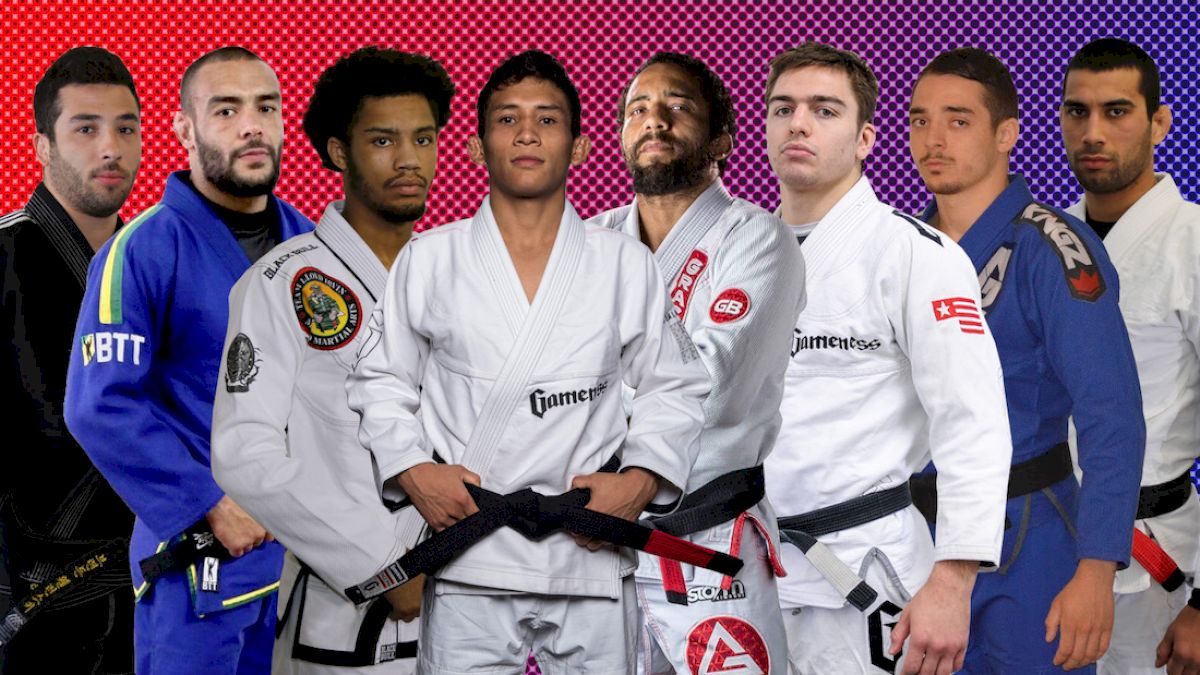 The Five Grappling Super League Lightweight Invitational on Saturday, July 15, brings together top talent from the men's light featherweight, featherweight, and lightweight divisions.
From brand new black belts to veterans, the eight-man bracket sets up matches that have never been seen before and probably would never happen outside of this event.
The bracket will be determined on Friday, July 14, via random draw after the athletes have weighed in -- stay tuned for when we drop the news!
Five Grappling Lightweight Super League
​As pictured left to right in the main image.
Brandon Walensky, Clark Gracie Academy
Walensky's background has found him more success in the realm of no-gi, but he competes regularly in the gi as well. He received his black belt from Clark Gracie in 2016 and has won a superfight on the Five Grappling stage already. He'll be looking to make more of a mark on both his gi resume as well as his black belt status.


Leonardo 'Cascao' Saggioro, Brazilian Top Team
Cascao had the best year of his career placing second at the Worlds, losing by two points to Cobrinha. His pressure passing has the ability to shut down even the smoothest of guards, and once his double under or over under pass is secured, it's hard to bring him back into any other game. He medals at the major tournaments regularly and holds a title at the Abu Dhabi World Pro. You can never count out Cascao in a stacked bracket.


Jamil Hill, Team Lloyd Irvin
Having made third place on the podium at both the Pans and the Worlds at his first year at black belt, Hill has jumped onto the scene. He took Gianni Grippo out the first round of Pans so a rematch would be a heated one, and his loss at Worlds was a close referee-decision match against the one and only Cobrinha. Hill's calm and quiet demeanor comes alive in competition.


Lucas Pinheiro, Alex Martins
Making the final of the roosterweight division at the 2016 Pans in his first year as a black belt was an impressive feat that supplied the momentum for more successes for one of Texas' best black belts. Pinheiro has since taken third at Worlds this year as well as winning both gi and no-gi divisions at American Nationals last weekend. With many battles against the Miyaos and Musumeci, this will be a chance for Pinheiro to take on the heavier guys and see how his technical prowess prevails.


Samuel Braga, Gracie Barra
An active black belt competitor since 2007, the veteran Braga is still on the scene to show his jiu-jitsu even after securing seven world titles throughout his career. He is one of the best light featherweight black belts from the past 10 years, constantly taking the challenges in competition against the new generation. It will be exciting to see how he handles the more modern jiu-jitsu of the other opponents in the bracket and what exciting submissions he'll use.


Gianni Grippo, Alliance Marcelo Garcia Academy
The past year brought Grippo onto the podium at Europeans as vice champion and at Worlds in the third-place spot after losing a referee decision to Cascao. Grippo also secured his second title at the Abu Dhabi World Pro--the first American to win the title and the only American can do it twice. He competed in many superfights as well, winning three times and securing the belt at Fight to Win. His berimbolo style has transformed him into a more aggressive submission hunter, but he'll never shy away from taking the back.


Wallace Santos, Soul Fighters
One of the least-known athletes in the bracket, Wallace trains out of Las Vegas and might be most notable for his referee abilities. A black belt under Erivaldo Junior since November last year, he heads the Soul Fighters Las Vegas Academy and competes in the light featherweight and sometimes roosterweight division.


Francisco 'Sinistro' Iturralde, Del Mar Jiu-Jitsu
The biggest athlete in the division, Ecuadorean Sinistro won't be relying on his size to win his matches in this bracket. The flexible and eclectic style of this San Diego resident will showcase a technical and strategic approach. He has been somewhat of a nomad and trains under some of the best Alliance black belts, including Lucas Lepri and Cobrinha Charles. With major wins over top lightweights and middleweights, it will be interesting to see him adapt his game to faster and smaller opponents.
---
​Watch the Five Grappling Lightweight Super League LIVE or On Demand ONLY on FloGrappling!
How to Watch the Five Grappling Lightweight Super League
On TV:
Now available on Roku and Apple TV 4 -- download the FloSports app today.
STREAMING:
Available only on FloGrappling via monthly or yearly memberships. A yearly FloPRO subscription provides access to ALL FloSports sites.
SIGN UP HERE
Join The Conversation On Social

• Follow us on Twitter
@FloGrappling
• Follow us on Instagram
@FloGrappling
• Follow us on
Facebook
FloGrappling's hottest content, delivered to your inbox
Don't miss breaking news, feature stories, event updates, and more. Sign up for the FloGrappling mailing list today.