Garry Tonon is back in New York just 10 days after his debut MMA fight, a second-round TKO win in Singapore on ONE Championship.
The hyper-exciting grappler and emerging MMA fighter opened up in an interview with Ariel Helwani on The MMA Hour.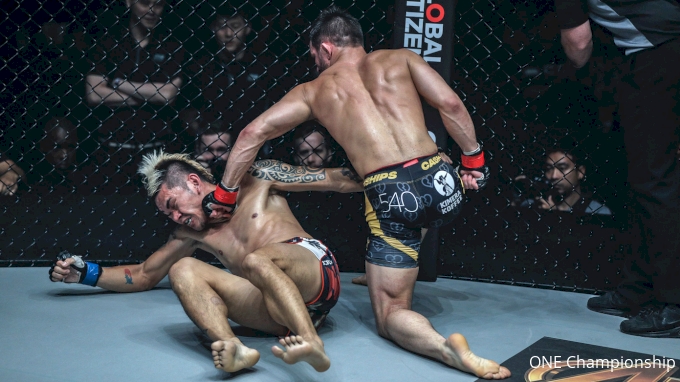 Tonon lands a big shot on Richard Corminal in his debut MMA fight. Photo: ONE Championship
Sporting a brace on an injured right hand, Tonon discussed going all-in on his MMA career and what it would take to draw him back to jiu-jitsu.
Are you now going to take a break from jiu-jitsu and focus exclusively on this [MMA]?

"I don't want to say 100 percent yes to that because if an opportunity arose to have a match that I thought made a lot of sense and was really good, I would definitely consider doing it.

"I definitely think I want to get a few more fights in on a serious schedule where I'm consistently training and consistently improving before I break focus and do something like that. I would take something small in between. Obviously, I'm not going to right now because of the hand. If I was feeling healthy in between fights I might consider it."

Mackenzie Dern has talked about how early on she was dabbling in both, and maybe not giving enough attention. Do you feel that if you're going to be serious about it you have to put the other one on hold?

"I think I might have been able to swing it if I didn't have so many other responsibilities. But I have to run a gym, I have to focus on my training for MMA, and all these things. If I didn't have those, maybe. Maybe it would be easier to swing both."
Tonon said he couldn't talk about his contract with ONE Championship and didn't give an indication of how long his contract is beyond "it's not a two-fight deal" but expressed satisfaction with his deal.
Garry Tonon drops Richard Corminal with a right cross in R1! #onechampionship pic.twitter.com/pyPJWe4pBm

— caposa (@Grabaka_Hitman) March 24, 2018
Regarding the hand injury, Tonon said he had trained earlier that day and confirmed he doesn't need surgery. He also said he could be ready to return to the ring as soon as late May or mid-June if his hand feels OK and if there is a match waiting for him.
Riding high after his crushing debut win, Tonon says he has no plans to return to jiu-jitsu but will not completely rule out taking grappling matches alongside his MMA endeavors.
Is it possible one day you feel like you would like competing in this more than you do jiu-jitsu?

"I feel like I already do. It's really cool. There are obviously some things that are not great about it, you know, in terms of taking damage and things. There's more of a clock on your ability to do MMA for a period of time than there is for jiu-jitsu.

"Jiu-jitsu will be the thing I love the most, but right now I'm addicted to MMA. I really enjoy the training and I really enjoyed fighting. But who knows how that will change if I have a tough loss or got beat up during a fight."
Watch the interview between Tonon and Helwani below.