Since Ffion Eira Davies got her black belt in November 2018 she has already won the IBJJF No-Gi World Championship and the IBJJF European Championship. Next up is a different challenge: a submission-only match on Grapplefest 4.
"I really go for it, and I go very hard, I don't want to win by advantages or points. And there's nothing wrong with that, when the level is very high it happens, but I don't want to win like that, I want to go and try to smash..."
Ffion Eira Davies was born in Swansea (Wales, UK). She is 24 years old and the first female black belt under Darragh O' Conaill of East Coast Jiu-Jitsu in Ireland. Her first contact with martial arts was at the age of 8 when she started taking judo classes. After a while training she began competing at a very high level with good results. Over the years she got fed up with the atmosphere– she says she was too shy and because people used to see her as a competitor she found it hard to make friends and so quit when she turned 18.
Used to regular exercise, her body felt the lack of it so she decided to look into other sports to lose some weight and stay fit. MMA caught her attention so she decided to give it a try. "I was 19 when I started MMA (4-0), training no-gi at the same time. I didn't like doing the gi because it reminded me of judo and I wanted to get away from judo. I started liking the grappling more than the striking because I was very bad at striking! All the good people were doing gi so I started it to train with better people. As a blue belt, I did the Europeans because a lot of people in my gym were doing it, and I managed to win it. I didn't even think it was such a big thing back then! I tried No-Gi Worlds that same year and I won double gold. It was after that victory that I decided to go completely into jiu-jitsu. I stopped training MMA because I just loved jiu-jitsu."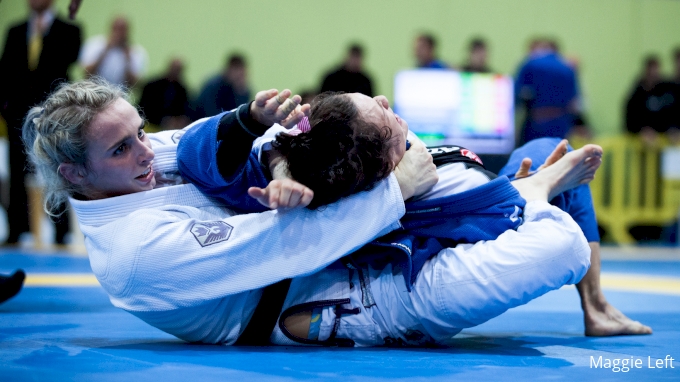 Ffion in the final at the 2019 IBJJF Europeans.
Right now Ffion lives in Dublin where she is a full time athlete, training four hours a day, including drilling and rolling. To stay strong and free from injury, she does at least two days a week of strength and conditioning training plus a rehab program with Marcus Phelam. She teaches jiu-jitsu and gives seminars around the world, which allows her to improve her own game by analyzing better each movement in order to explain it to her students.
Ffion has an intense agenda over the coming weeks. First she will appear on GrappleFest 4– her second time on the show– where she will face opponent Christine Martin. She plans to compete at the UAEJJF Grand Slam in London on March 9-10, will face Gezary Matuda in a superfight on Polaris the week after, and aim for another major title at the 2019 IBJJF Pans in the third week of March.
WATCH: Ffion Davies vs Gabi Fechter, 2019 IBJJF Europeans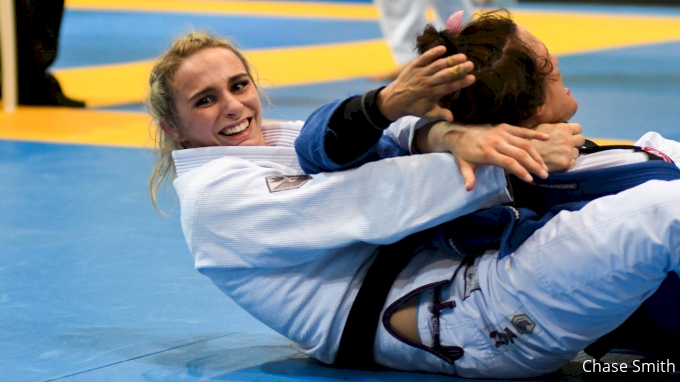 Unlock this video, live events, and more with a subscription!
Get Started
Already a subscriber? Log In
If you have never seen Ffion in action you won't be disappointed. Her style is fierce and she always aim for the submission.
One of her main attacks is the double collar choke from the back, along with bow and arrow chokes. "It's just happening lately... It's just something that I find myself going for. It used to be armbars and now it's that, any variation of double collar from the back or bow and arrow chokes."
Ffion is working in some different attacks right now, so expect her to try even riskier positions in order to get the tap. She admits she doesn't know much about Christine's style but she wants to try new things in their bout:
"I want to be as random as I can. As much as I think you must try to win at competitions, I also want to get better and try new things to see if it works. I prefer to try new things in the match rather than being completely predictable."
Watch Ffion Davies in action at Grapplefest 4, the Abu Dhabi Grand Slam London and the 2019 IBJJF Pans, all of which you can watch LIVE or On Demand on FloGrappling.