Unlock this article, live events, and more with a subscription!
Get Started
Already a subscriber? Log In
With the success of Tye Ruotolo at F2W, we ask if it's time to rethink the way the belt structure exists.
Is The Jiu-Jitsu Belt System Due For An Overhaul?
Tye Ruotolo pulled off the upset of the year when he bested the fearsome competitor and veteran of the game Vagner Rocha at Fight 2 Win 131.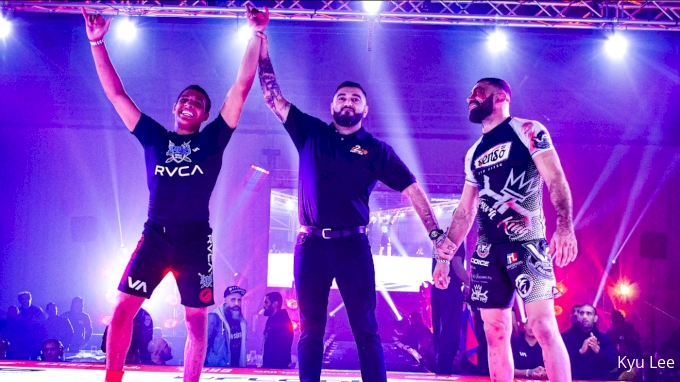 Except, not really.
Anyone who's been paying attention knows that Ruotolo's talent is practically immeasurable and constantly evolving.
The 16-year-old blue belt had an incredible performance at ADCC, besting respected competitors Pablo Mantovani and Bruno Frazatto before narrowly losing to Paulo Miyao after giving him hell in the third-place match. Despite his young years, Ruotolo is game for the challenge and deserves to be in these high-profile matches.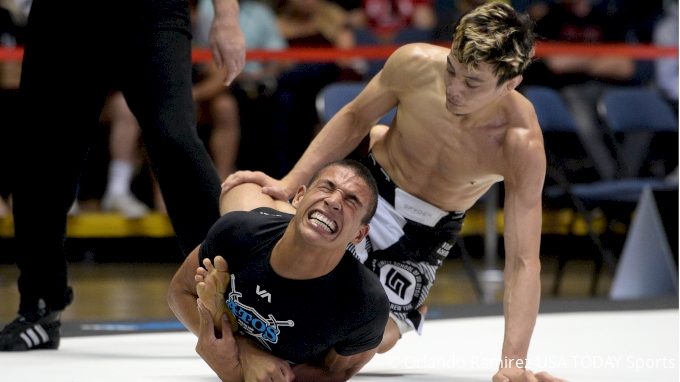 However, I may as well be considered to be preaching to the choir, though, as no one has argued that Tye shouldn't have been there.
And Tye isn't alone in his world-class capabilities,
There are a few other teenage talents that rival Ruotolo including, of course: his brother Kade, rival Micael Galvao, Atos teammates Jessa Khan and Cole Abate, and Grace Barra's Dominic Mejia, any of whom could go up against a competition black belt and bring home the "W."
But even though no-gi competition has embraced the idea that talent and skills being enough to earn one's spot in the competition, gi competitors largely have to wait until they are of appropriate age and rank to compete against the highest level of athlete.
The question comes to mind, then, is why?
Why not let these surging teens take a crack at the best in the world?
There are a few choice examples of colored belts taking on black belts in gi competition — blue belt Micael Galvao submitted a black belt recently in Brazil and Jonatha Alves famously beat Paulo Miyao and Shane Jamil Hill-Taylor just weeks after getting his brown belt.
But the total number of opportunities for mixed gi competition is significantly lower; no-gi events and promotions like ADCC, F2W, KASAI, EBI, etc. — regularly feature colored belts going against elite-level competition, but the gi offerings happen only once a blue moon.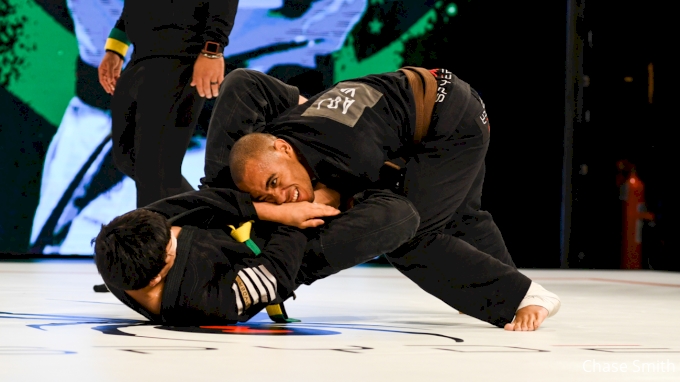 Jonatha Battles Paulo Miyao at Spyder.
This is massively detrimental to young prospects who are looking to build their name in the sport; a marquee win over a big name black belt would catapult any young purple belt in front of the greater jiu-jitsu community, but for now they are relegated to the domain of die-hard fans who keep up with the colored ranks.
A Modest Proposal
I'm not suggesting we eliminate belt ranks; as someone who's traveled around the world and trained in a variety of academies, I think the skills of the varying belts actually lines up rather cohesively. Belts are a useful tool for measuring the skills of the general population.
But competitors are a different breed, and belt color should not limit their opportunities to market themselves and create a living. An introduction of a Pro-Am series could eliminate the arbitrary nature of belts and create a venue where talent trumps all.
The organization isn't overly complicated — athletes compete at their normal belt color in open tournaments, securing points for medaling. Once they've accumulated enough points, they can enter the pro league, which is available to all belt levels.
Therefore no one is forced to compete against black belts should they not wish to. It's a simple solution that would help increase the chances for gi competitors to build a brand for themselves at an earlier stage in their career, something that no-gi athletes have been capitalizing on for some time.
Did I get it wrong? Have another idea? Let us know in the comments where this post was shared on social media.
Results Round-Up
Tye Ruotolo Defeats The Veteran Vagner at F2W 131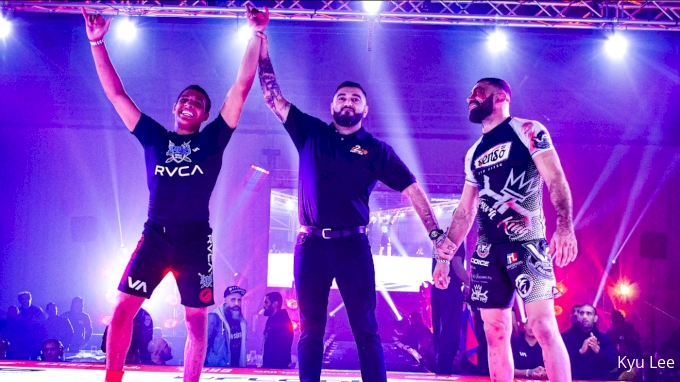 Other Key results form Fight 2 Wn 131 Include
Jaime Canuto defeats Edwin Najmi via decision
Josh Hinger defeats Murilo Santana via decision
Marcos Torregrosa defeats Sean Nikmorad via decision
SJJIF World Championships
The SJJIF held their World Championships over the weekend, which saw a slew of West Coast-based talent lend their hand to the pot.
Kennedy Maciel and Isaac Doederlein put in solid work; they closed out the featherweight final and Doederlein took home gold in the light-absolute division.
Gabriel Almeida from Checkmat pulled off the upset and beat Atos' Ronaldo Junior in the medium-heavyweight division, but Junior battled back in the absolute division to take gold after defeating Otavio Sousa.
In the women's ranks, Kendall Reusing beat veteran black belt Talita Nogueira to earn first place in the heavyweight division.
IBJJF Mega Results Recap: Rio BJJ Pro, Nashville Open, Amsterdam, Mexico City Open
Rio BJJ Pro Results
Adult / Male / Black / Feather
1 - Rafael Machado Mansur - Acts Jiu-Jitsu
2 - Richar Emiliano Nogueira - SIA - Sharpen Iron Academy
3 - Cleber de Sousa Fernandes - JFC Almeida JJ
3 - Hiago George Santos Silva - PSLPB Cicero Costha
Adult / Male / Black / Middle
1 - Natan Chueng Freitas - PSLPB Cicero Costha
2 - Welington Sebastiao Marques Eller - GA Fight Jiu-Jitsu
3 - Alexandre Cavalieri Gomes da Silva - Alliance
3 - Rodrigo Gortari do Couto - PSLPB Cicero Costha
Adult / Male / Black / Heavy
1 - Matheus Spirandeli Souza - Alliance
2 - Carlos Eduardo Alves de Andrade - PSLPB Cicero Costha
3 - Luan Azevedo Lima - PSLPB Cicero Costha
3 - Pedro Henrique de Lima Elias - Our Brotherhood
Adult / Male / Black / Ultra-Heavy
1 - Igor Gregório Schneider - Ns Brotherhood
2 - Pedro Paulo Campi Agrizzi - Striker JJ
3 - Filipe Pimentel Pinheiro - Qatar BJJ Brazil
3 - Waldyr Alberto Costa Santos Filho - Brazilian Top Team
Adult / Female / Black / Feather
1 - Ana Talita de Oliveira Alencar - Alliance
2 - Gabriela Meireles Fechter - CheckMat
3 - Tine Scheldeman - Barbosa Jiu-Jitsu International
Adult / Female / Black / Medium-Heavy
1 - Julia Boscher Seixas Pinto - Soul Fighters BJJ
2 - Satatha Lais Francisco dos Santos - Ryan Gracie Team
Adult / Female / Black / Open Class
1 - Julia Boscher Seixas Pinto - Soul Fighters BJJ
2 - Izadora Cristina Silva - Alliance
3 - Michele dos Santos Oliveira - New Union
3 - Patrícia Ramos Caiado dos Santos - Soul Fighters BJJ
Nashville Open Results
Adult / Male / Black / Light
1 - Joshua Daniel Keung-Chung Pike - Atos JJ USA
2 - Samuel Gehrts - Zenith BJJ - Las Vegas
3 - Dylan C. Whyte - Soul Fighters - Tallahassee - PBG
Adult / Male / Black / Middle
1 - Jacob Williams Mackenzie - GF Team
2 - Jeovany Ortiz - Luiz Palhares Jiu Jitsu
3 - Chad M. G. Hardy - Team Shawn Hammonds
3 - Eric Thomas Ingram - Team Shawn Hammonds
Adult / Male / Black / Heavy
1 - Pedro Henrique Monteiro Palhares - Luiz Palhares Jiu Jitsu
2 - Matthew Thomas Eugene Rice - Soul Fighters BJJ Connecticut
3 - Brennan Joseph Schroeder - Focused Fight Team
Adult / Male / Black / Open Class
1 - Pedro Henrique Monteiro Palhares - Luiz Palhares Jiu Jitsu
2 - Stuart Randle Maddox - Luiz Palhares Jiu Jitsu
3 - Joseph C. Watson - Gracie Barra
3 - Samuel Gehrts - Zenith BJJ - Las Vegas
Adult / Female / Black / Open Class
1 - Lyanne Perez - Gracie Humaita USA
2 - Ann Kneib - Gracie Humaita USA
Amsterdam Open
Adult / Male / Black / Light-Feather
1 - Francisco Jonas Borges Andrade - Cicero Costha Europe
2 - Jarrah A A A Alhazza - GF Team
Adult / Male / Black / Feather
1 - Sam Mc Nally - ECJJA
2 - Lucas Ramos Gonçalves - Gracie Barra
Adult / Male / Black / Light
1 - Jan Andreas Basso - NS Brotherhood International
2 - Pawel Kozlowski - Invictus BJJ
3 - João Pedro Misk Miller - Get Fight
3 - Konstantinos Belegratis - Gracie Barra
Adult / Male / Black / Super-Heavy
1 - Perttu Tapio Tepponen - Hilti BJJ Tampere
2 - Matheus Godoy Romero - Alliance
Adult / Male / Black / Ultra-Heavy
1 - Eldar Rafigaev - Jungle BJJ
2 - Hassine Azarkan - Azarkan
Adult / Male / Black / Open Class
1 - Matheus Godoy Romero - Alliance
2 - Henrique Riedlinger Moreira - Qatar BJJ
3 - Jakub Zajkowski - Gracie Barra
3 - Sebastian Brosché - Frontline Academy
Adult / Female / Black / Light
1 - Fran Vanderstukken - Brasa
2 - Rose-Marie el Sharouni - CheckMat
3 - Lauriane Alicia Christiane Thurin - Team Thurin JJB
Adult / Female / Black / Open Class
1 - Julia Mæle - OXY
2 - Laura Barker - Gracie Barra
3 - Claudia Fernanda Onofre Valim Doval - Soul Fighters Dallas / Siam Star MMA - TX
3 - Rose-Marie el Sharouni - CheckMat
Mexico
Adult / Male / Black / Feather
1 - Alexis Alduncin Barragan - Renzo Gracie Mexico
2 - Jose Luis Alvarez Albor - Hunos Jiu-Jitsu
3 - Carlos Nava - Hunos Jiu-Jitsu
3 - Edwin Ocasio - Unity Jiu-jitsu
Adult / Male / Black / Light
1 - Kevin Melendrez - Caveirinha Jiu-Jitsu Family USA
2 - Rene Eduardo Lopez - Caio Terra Association
Adult / Male / Black / Middle
1 - Magid Hage IV - Gracie Barra
2 - Daniel Niño De Rivera Garcia - Renzo Gracie Mexico
Adult / Male / Black / Medium-Heavy
1 - Rodrigo Lopes Martins - Soul Fighters BJJ
2 - Anderson Souza - Top Brother Mexico
3 - Eduardo Miguel Gaytan - Renzo Gracie Mexico
Adult / Male / Black / Super-Heavy
1 - Damien Aaron Nitkin - Dunham Jiu-Jitsu
2 - Rodrigo Kim - Renzo Gracie Mexico
3 - Jorge Andres Escudero Barba - CheckMat
Adult / Male / Black / Open Class
1 - Magid Hage IV - Gracie Barra
2 - Rodrigo Kim - Renzo Gracie Mexico
3 - Damien Aaron Nitkin - Dunham Jiu-Jitsu
3 - Kevin Melendrez - Caveirinha Jiu-Jitsu Family USA
Adult / Female / Black / Super-Heavy
1 - Danielle Renee Alvarez - LEAD BJJ
2 - Elizabeth Foster - Cassio Werneck BJJ
Adult / Female / Black / Open Class
1 - Danielle Renee Alvarez - LEAD BJJ
2 - Elizabeth Foster - Cassio Werneck BJJ
---
In Case You Missed It
Rafael Lovato Joins The Gang On A Fistful Of Collars
One of the greatest American jiu-jitsu competitors of all time, Rafael Lovato Jr. is also the current Bellator MMA World Middleweight Champion. (Watch Show)
Josh Hinger Unfiltered
Read on for Josh Hinger's takeaways from ADCC; learn about how he beat the crap out of Tye Ruotolo to prepare him for Vagner Rocha, and find out why he thinks he sucks at superfights. (Read Article)
BJJ Fanatics Grand Prix Dream Matches
The BJJ Fanatics No-Gi Submission Only Grand Prix will be streamed live on FloGrappling on Friday, November 15. The event features Athletes like Gordon Ryan, Lucas Hulk, Tex Johnson and More and utilizes a submission-only ruleset with EBI overtime. (Read Article)