Unlock this article, live events, and more with a subscription!
Get Started
Already a subscriber? Log In
The divisions are official for the 2020 Europeans, and some of them are loaded with the best athletes in the world at their weight while others might leave a little to be desired. I'm going to get into stacking the black belt male divisions by difficulty here, ranking them from least difficult up to the most prized division to win for Euros.
I'm ranking these athletes based on a few things, most importantly the number of ranked athletes in the division and how tough the road to gold will be. Roosterweight is one of the smallest divisions, but I still ranked it first based off the insane percentage of top-10 athletes in the division. Here's the Hardship Index for Euros 2020:
9 - Ultra-Heavy
Ranked Athletes: 9 Renan Vieira (NS Brotherhood), 14 Matheus Felipe (Checkmat), 20 Seif Eddine-Houmine (GF Team), 3 Super-Heavy Mahamed Aly (Team Lloyd Irvin), 7 Super-Heavy Igor Schneider (NS Brotherhood), 10 Super-Heavy Tanner Rice
There are some ranked athletes at this weight, but Aly should win this easily. There are some massive massive guys in this weight, though. Ranked athletes from super-heavy Igor "Tigrao" Schneider and Tanner Rice have joined Aly up at this weight.
Watch: Mahamed Aly On Fistful Of Collars
---
8 - Super-Heavy
Ranked Athletes: 2 Fellipe Andrew (Zenith), 8 Helton Junior (Atos), 7 Heavy Patrick Gaudio (GF Team), 11 Heavy Fellipe Trovo (Gracie Barra), 12 Heavy Gerard Labinski (NS Brotherhood)
Both Euro finalists from a year ago return here in Fellipe Andrew and Helton Junior. Patrick Gaudio is a three-time medalist at Worlds, runner-up two of those years. It's a small bracket but there's not gonna be any easy matches here. This is the smallest division at male black belt with only seven athletes.
Watch: Fellipe Gets The Sub At Euros 2019
---
7 - Medium-Heavy
Ranked Athletes: 5 Rudson Mateus (Brasa CTA), 8 Gabriel Almeida (Checkmat), 22 Rafael Paganini (Atos), 24 Bruno Lima (Alexandre Machado), 3 Middle Manuel Ribamar (Rodrigo Pinheiro)
Another weight with both finalists coming back, 2019 Euros champ Rudson Mateus and runner-up Gabriel Almeida. Paganini and Lima could be spoilers here. Manuel Ribamar is the biggest question mark at the weight. He had his best year at black belt in 2019 at middleweight and would be the favorite had he registered at middle; he's up at medium-heavy and could still pull it off here, though. Look out for Nathan Mendelsohn and Alec Baulding here as well.
Watch: Ribamar F2W All Access
---
6 - Light
Ranked Athletes: 8 Vitor Oliveira (GF Team), 9 Natan Chueng (Cicero Costha), 11 Alexandre Molinaro (Carlson Gracie), 19 Italo Moura (Cicero Costha), 14 Feather Gabriel Alves (Alliance), 10 Middle Guthierry Barbosa (Carlson Gracie), 18 Middle Jonnatas Gracie (Atos)
An interesting weight here, with veteran Vitor Oliveira leading the way as the highest-ranked athlete. After him there are several promising young athletes who should challenge the four-time Master Worlds champ for the title. Guthierry Barbosa and Jonnatas Gracie cutting down from middle really adds to the difficulty of this division.
---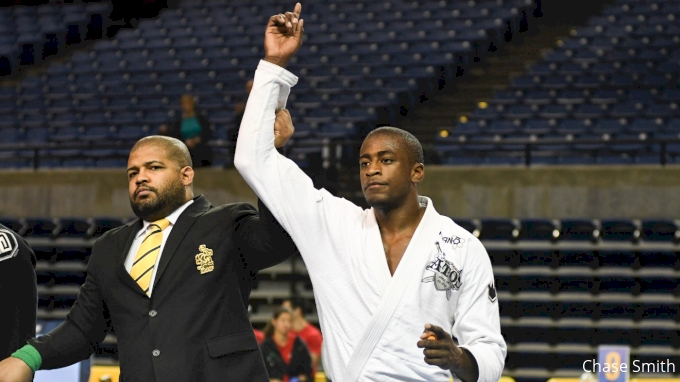 5 - Middle
Ranked Athletes: 6 Ronaldo Junior (Atos), 12 Tommy Langaker (Kimura), 22 Max Lindblad (Checkmat), 16 Medium-Heavy Mathias Luna (Checkmat), 17 Light Pedro Ramalho (Focus)
This division is missing some of the big names from the top of the rankings, but there are still a lot of tough guys here to give them a claim for the fifth-toughest weight at Euros. Langaker's rank is misleading; he's ranked lower than his talent and is a former Worlds silver medalist. Max Lindblad has defeated third-ranked Manuel Ribamar and Luna and Ramalho are potential champs coming in from other weights.
Watch: Ronaldo Junior Human Highlight Reel
---
4 - Light-Feather
Ranked Athletes: 3 Diego Oliveira (Cicero Costha), 6 Hiago George (Cicero Costha), 8 Jonas Andrade (Cicero Costha), 10 Pedro Dias (Carlson Gracie), 19 Rene Lopez (Brasa CTA), 21 Wesley Sousa (Alliance), 1 Rooster Michael Musumeci (Brasa CTA), 5 Rooster Carlos Oliveira (GF Team)
There are four top-10 athletes at light-feather, but #1 from roosterweight and two-time light-feather Worlds champ Mikey Musumeci is in this class. Three of the highly-ranked athletes are from the same team, meaning Mikey will have to run the gauntlet against the Cicero Costha team at this weight. One thing that hurts the difficulty of this weight is that three of the top-ranked athletes in this bracket will not fight each other should they hit.
Watch: The New Guard Mikey Musumeci
---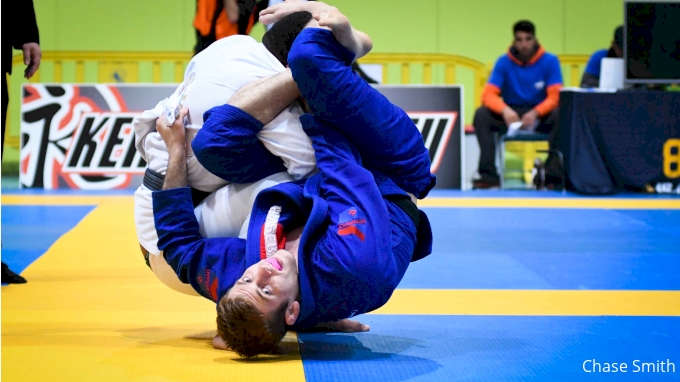 3 - Heavy
Ranked Athletes: 3 Keenan Cornelius (Legion), 4 Dimitrius Souza (Alliance), 8 Adam Wardzinski (Checkmat), 9 Jackson Souza (Checkmat), 16 Dom Bell (Atos), 17 Pedro Elias (NS Brotherhood), 25 Medium-Heavy Philippe Pomaski (Checkmat)
Heavyweight has four top-10 competitors, led by third-ranked Keenan Cornelius. Dimitrius Souza is one of the most underrated competitors on earth and has made the Worlds podium three times in his career. The Checkmat duo of Wardzinski/Jackson are the other two top-10 competitors, and there is a gang of young talent in this bracket that could upset some people.
Watch: Keenan Euros Submission Supercut
---
2 - Feather
Ranked Athletes: 4 Leo Saggioro (BTT), 5 Isaac Doederlein (Alliance), 7 Gianni Grippo (Alliance), 9 Israel Sousa (GF Team), 10 Gabriel Marangoni (Brasa CTA), 20 Guilherme Rocha (ZR Team), 5 Light-Feather Alex Sodre (Nova Uniao), 7 Light-Feather Gabriel Sousa (ZR Team)
There are five top-10 ranked athletes in the featherweight division, plus a pair of top-10s from the light-featherweight division who have moved up in weight. Saggioro, Grippo and Isaac should be the favorites entering Euros, but new black belt Israel Sousa and light-featherweight studs Sodre and Gabriel Sousa are all legit contenders here as well.
---
1 - Rooster
Ranked Athletes: 3 Bruno Malfacine (Alliance), 4 Cleber Sousa (Atos), 6 Thalison Soares (Cicero Costha), 8 Tomoyuki Hashimoto (Brasa CTA), 9 Koji Shibamoto (Tri-Force), 12 Juan Lopes (Carlson Gracie), 16 Nobuhiro Sawada (Tri-Force), 12 Light-Feather Lucas Goncalves (Gracie Barra)
Even with Mikey Musumeci going back up to light-feather, this division is the main event at Euros in my opinion. Six out of the top-10 athletes from the rankings are registered. Seven out of nine athletes have IBJJF Grand Slam points in this weight, which means by the seeding criteria Thalison Soares should have a pigtail in this bracket and meet Bruno Malfacine first match on Sunday should he win.
Watch: Thalison Soares The Path To Black Belt
---
Watch The 2020 IBJJF European Championships Live On Demand On FloGrappling