The biggest party in grappling, Fight to Win features non-stop submission-only gi and no-gi jiu-jitsu!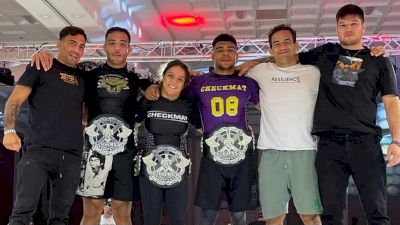 Checkmat Team Shine at Subversiv
Oct 19, 2021
Hot off their success at No-Gi Worlds, where they took both the adult male and female overall team trophies, Checkmat claimed three shiny Subversiv title belts.
Jansen Gomes, Elder Cruz and Thamires Monteiro – who all took gold at No-Gi Worlds – combined together to overcome rival teams Trifuno, F2W Carlitos and Legion American Jiu-Jitsu in the final to become champions. Across 9 matches, Checkmat won 7 with 3 submissions. Jansen Gomes was responsible for two of those, tapping Rafael Conti with an armbar and Nick Brigel with an americana.