Celebrating achievements in grappling and jiu-jitsu as part of Black History Month.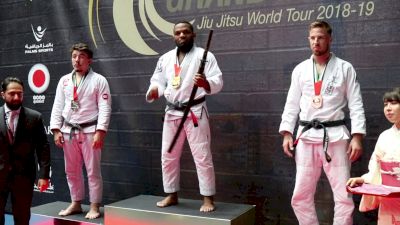 DJ Jackson Wins Abu Dhabi Grand Slam Tokyo
Jul 30, 2018
Two out of three matches were submissions, but DJ Jackson still wasn't 100% satisfied with his performance at the ADGS Tokyo – even though he got to dust off his wrestling skills.
Jackson– who had flown in straight from the Spyder Invitational BJJ Championship in Seoul, South Korea for a match against Craig Jones– scored a choke against Takagi Shota (JPN) and an armbar versus Alan Fidelis (JPN) before beating Bradey Hill (GBR) in the final 5-0. Jackson didn't concede a single point en route to gold.
Winning the 85kg black belt division, Jackson said: It was a great time, got two submissions and then fought Bradley Hill in the final, he's a really tough competitor but I beat him five to zip so it was good. It's not what I wanted, I wanted to tap everybody but sometimes it's hard to do it."
Jackson's known for his strong wrestling so it was good to see him back and hunting for the takedown. "I kind of get lazy and let people pull because my guard passing is so good. Its an easy two points, I've got to start taking it more."
"I'm happy with my performance, I pushed the entire time, I attacked the entire time. I'm happy with it."
Watch: