Michael Perez is a jiu-jitsu black belt competitor and ADCC veteran best known for his no-gi accomplishments. Born on September 14, 1992 Perez lives in San Diego, CA. He received his black belt from Andre Galvao and represents Atos Jiu-Jitsu. He is an IBJJF World No-Gi champion at brown and purple belt and a two-time ADCC Trials veteran (2013, 2015).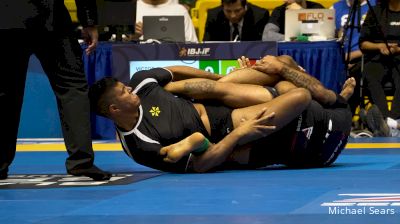 The 6 Most Anticipated Matches at No-Gi Worlds
Oct 5, 2021
These are the matches that we are most looking forward to at the 2021 World IBJJF Jiu-Jitsu No-Gi Championship!
Diego "Pato" Oliveira vs Gabriel Sousa
Both Pato and Sousa shone at WNO just a few weeks ago, showing aggressive and submission-focused styles that were pleasing to watch and put their opponents on the run. They didn't face off at WNO, so hopefully we get to see them test their skills at No-Gi Worlds in the featherweight division. Pato will be aiming to add another gold to his collection after wining No-Gi Pans earlier this year.
Levi Jones-Leary vs Renato Canuto
Two of the most exciting middleweight grapplers in the world could face off at No-Gi Worlds, and Canuto has got a score to settle with Jones-Leary. The last time they met was in the final of Pans in 2019. Now that was in the gi and the Australian was able to win on points. You know the hyper-competitive no-gi specialist Canuto will be gunning for revenge. Let's hope this happens.
Stylistically, Garmo and Perez share a lot in common. They're both great wrestlers with an aggressive, head-hunting style of jiu-jitsu that is always fun to watch. They both have mean guillotine chokes and they love to fight forward. Keep an eye out for this match in the powerful medium-heavyweight division.
Adam Wardzinski vs Pedro Marinho
Gracie Barra standout Pedro Marinho and Checkmat's Adam Wardzinski's games couldn't be more different, this is a true clash of styles. Marinho is explosive, with great wrestling and a deadly guillotine choke. Wardzinski is one of the few remaining butterfly guard stylists active on the modern scene and his timeless approach to the no-gi game will appeal to open guard players everywhere.
Haisam Rida vs Rafael Lovato Jr.
Both Rida and Lovato Jr. are both very tall, even by super-heavyweight standards, and both have very effective attacks based around kimura entries. They represent very different generations, with Lovato Jr. last competing at No-Gi Worlds way back in 2013 whereas Rida has broken onto the scene in a big way in 2021.
You're probably asking why lightweight AJ is signed up at ultra-heavyweight again, just like he did at Pans. Agazarm looks to challenge himself, and he says he wants to show the effectiveness of jiu-jitsu against bigger, stronger opponents. You can't get much bigger than 6'4", 285lb Victor Hugo, who is also the 2019 absolute no-gi world champion. I can't imagine a tougher test.