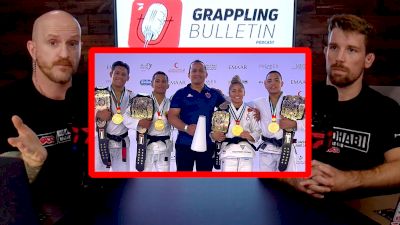 Melqui Galvao Signs with Abu Dhabi's Commando Group
Jul 5, 2022
Following a two-year relationship with UAE-based team Al-Wahda, Melqui Galvao's Fight Sports Club from Manaus has signed on to represent the powerhouse Commando Group out of Abu Dhabi.
A military facility where Brazilian jiu-jitsu athletes train and compete full-time, the Commando Group is one of the top teams in Abu Dhabi. Galvao's athletes will represent Commando Group when competing in UAEJJF or AJP Tour events, but will continue to compete as Fight Sports Club in all other events.
"Happy to announce that during the next season we will represent the Commando Group team in AJP Tour and UAEJJF competitions," wrote Galvao on Instagram. "Thank you for the opportunity Professor Thiago Barreto, and my friend Ribamar Santiago. We represented the club Al-Wahda for two years, always doing our best and helping the club to win great titles. Thanks for everything but now it's time for a new challenge."
Galvao's athletes Diogo Reis, Mica Galvao, Luiz Paulo and Brenda Larissa are all UAEJJF World Pro champions, titles conquered while representing Al-Wahda.