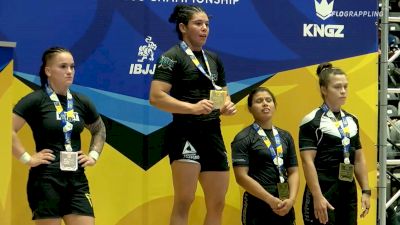 Rafaela Guedes is Unstoppable: Double Gold at No-Gi Worlds
Oct 12, 2021
Rafaela Guedes has gone from strength to strength in the last 12 months, confirming her position as the top female no-gi grappler in the world.
She burst onto the scene in late 2020 after being promoted to black belt by Andre Galvao of Atos, and since then has amassed titles including:
2020 IBJJF Pan No-Gi champion
2020 IBJJF Pan champion
2021 IBJJF Pan No-Gi champion
2021 IBJJF Pan champion
2021 WNO Championship heavyweight champion
2021 IBJJF World No-Gi Championship
There have been very few obstacles in the way of Guedes, who has switched from gi to no-gi and proved she is equally capable of taking victory in both.
This is her first IBJJF World No-Gi gold medal as a black belt, but almost certainly not her last.