Find Videos
Filter Videos

58 Videos

Belt

Round

Finals

14

RR Rnd 1

5

RR Rnd 2

3

RR Rnd 3

3

Weight

145

12

Superfights

2

UC 1

1

UC 10

1

UC 11

1

UC 2

1

UC 3

1

UC 4

1

UC 5

1

UC 6

1

UC 7

1

UC 8

1

UC 9

1

Maneuvers

Style

Gender

Content Type

Match

25

Interview

15

Highlight

8

Training

5

Preview

2

Show

2

All Access

1

Full Replay

1

Training Type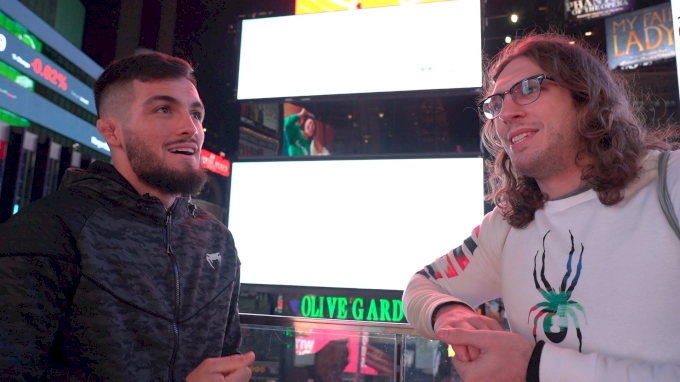 Unlock this video, live events, and more with a subscription!
Get Started
Already a subscriber? Log In
Times Square With KASAI Champ, Renato Canuto
Nov 10, 2018
Get to know the KASAI Lightweight and Welterweight Champion Renato Canuto in this revealing 30 minute interview in the heart of New York City.
From humble beginnings growing up in the same town as his childhood hero Marcus 'Buchecha' Almeida to headlining the biggest grappling event of the year, Renato Canuto has accomplished quite a bit already despite his young age.
Just his second year as a black belt Canuto fought in the IBJJF World Championship lightweight finals and captured his second KASAI Championship belt. At 22 years old the sky is the limit for Renato Canuto.
Interview Notes:
:30 - What Renato thinks of competing in New York
1:30 - Where he grew up compared to NYC
3:00 - First time at the Hammersein Ballroom
4:00 - Growing up a fan of Terere
5:00 - Bringing his style of exciting jiu-jitsu to the KASAI stage
6:00 - Renato's rough start to 2017 (Loses at Europeans & Kasai Pro 2)
6:45 - Finiding confidence against the best in the world
7:50 - Performances he regrets
8:30 - Connecting your mental game with your jiu-jitsu game
9:00 - 3rd place wake up call
9:30 - Reid's first time meeting Renato
10:30 - Looking for change
11:15 - Buchecha as an influence on Renato
12:00 - Developing his high flying style at a young age
14:00 - Making his dreams come true
15:45 - Dealing with lost confidence and overcoming
18:00 - Developing the back flip pass
20:00 - Making $35/week and trying to survive off jiu-jitsu
22:00 - Competing against Bill Cooper
23:45 - Previewing his rematch with Vagner Rocha
26:00 - Did you think the journey would take you through New York City?
27:00 - Carrying the torch for jiu-jitsu
---