Watch Grappling Bulletin every Monday on FloGrappling, where we'll cover the biggest stories and the best news and results from the world of jiu-jitsu.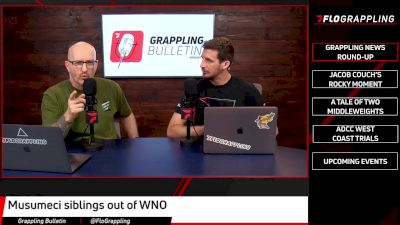 Facing Gordon Ryan is Jacob Couch's Rocky Moment | Grappling Bulletin Podcast (Ep. 52)
Mar 21, 2022
In this episode of the Grappling Bulletin podcast: a once-in-a-lifetime for Jacob Couch to take on Gordon Ryan, plus a rivalry unlike any other is developing in the middleweight division.
1. GRAPPLING NEWS ROUND-UP
Musumeci siblings out of WNO
Gordon Ryan is BACK
Nicky Ryan injury update doesn't look good
Finishers Sub Only comes to FloGrappling
2. JACOB COUCH'S ROCKY MOMENT
The Hillbilly Hammer takes on ADCC absolute champ
Gordon Ryan vs Jacob Couch, March 25 Tezos WNO
3. A TALE OF TWO MIDDLEWEIGHTS
The rivalry: Tainan Dalpra & Micael Galvao
A showdown at IBJJF Pans?
4. ADCC WEST COAST TRIALS
How the pros are training for ADCC Trials
5. UPCOMING EVENTS
IBJJF's biggest ever Pans: April 5-10
BJJ Stars, April 30