Watch Grappling Bulletin every Monday on FloGrappling, where we'll cover the biggest stories and the best news and results from the world of jiu-jitsu.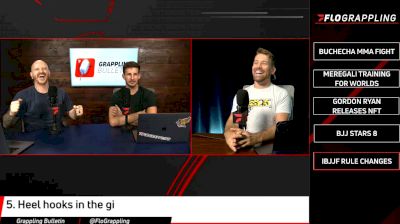 Will We Ever See Heel Hooks in the Gi? | Grappling Bulletin (Ep. 54)
Apr 18, 2022
In today's show we discuss the proposed rule changes we heard over the last week or so, along with how likely we think they are to be implemented.
In today's show:
BUCHECHA MMA FIGHT
Marcus "Buchecha" Almeida fights MMA again April 22
MEREGALI TRAINING FOR WORLDS
GORDON RELEASES NFT
BJJ STARS 8
Mica, Leandro, Roberto & More In 8-Man GP
ADCC Rules Superfights Coming To BJJ Stars
Felipe Pena's 1st No-Gi Match Since ADCC 2019
IBJJF RULE CHANGES
Following backlash against closeouts, calls come for further rule changes
1. Teammates seeded to meet first or second round
2. A limit on how many athletes from the same team can enter per division
3. 6-Minute matches
4. Banning lapel 50-50
5. Heel hooks in the gi