Watch Grappling Bulletin every Monday on FloGrappling, where we'll cover the biggest stories and the best news and results from the world of jiu-jitsu.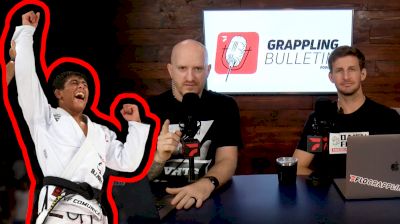 Mica Galvao Subs Hulk & Beats Leandro, Wins BJJ Stars | Grappling Bulletin (Ep.55)
May 2, 2022
Galvao emerged the winner of the hyper-competitive BJJ Stars 8-man GP, beating two world champions in the process. Watch today's show for a breakdown of Galvao's performance, and an assessment of what's next for the young star.
RESULTS & NEWS ROUND-UP
Jansen Gomes Wins Pro Tournament, Beats Erberth Santos
Toro Cup 20: Gavin Corbe Beats Estevan Martinez
4 Matches, 4 Subs: Max Hanson Wins Midwest Finishers
Thalison Soares To Spend Worlds Camp at AOJ
Gi & No-Gi Gold For Tommy Langaker At IBJJF Dublin Open
B-Team's Jozef Chen Subs Andrew Tackett
ADCC RULES AT BJJ STARS
Gutemberg, Bia Mesquita Shine with No-Gi Subs
Demian Maia Returns to Grappling After 15 Years
MICA GALVAO VS THE WORLD
Mica Galvao Wins BJJ Stars, Worlds & ADCC Next?
IBJJF BRAZ NATS & WORLDS
Divisions Heat Up for Brasileiros
FloGrappling Road to Worlds Tour Returns
ADCC EUROPEAN TRIALS
The Frontrunners & Names to Watch at ADCC Trials