Fight to Win 177 goes down on Jul 16, 2021 and features Davi Ramos vs Pedro Marinho and Rafael Lovato Jr. vs Alexandro Ceconi.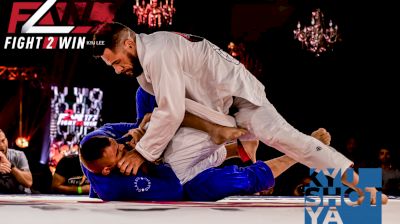 Lovato Jr., Marinho & Malyjasiak victorious at F2W 177
Jul 20, 2021
It was a battle of the veterans in Houston with Rafael Lovato Jr. taking on Alexandro Ceconi in the main event. Both men are IBJJF World champions, and they showed solid old-school jiu-jitsu. Lovato Jr. (who prefers the description "timeless" was opposed to old-school) took the unanimous decision after controlling the majority of the match.
Pedro Marinho, who is based in Houston at trains at Gracie Barra Westchase with Ulpiano Malachias, took a decision win against ADCC 2015 champion ad UFC fighter Davi Ramos in a physically intense match. The stage could barely contain them as they drove each other off the mat more than once, although technically speaking there was little to separate them.
Maria Malyjasiak needed only 66 seconds to tap out Kendall Reusing and defend her heavyweight title, using a tight toehold to tap out her opponent.