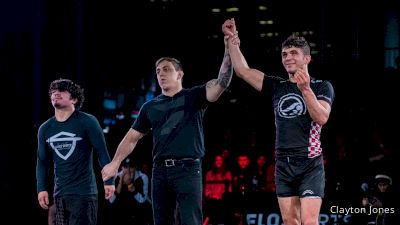 Mikey Musumeci Has Cleared Out the 135lb Division
Jan 24, 2022
Where does Mikey Musumeci go from here? He's now 5-1 on WNO, and undefeated in the 135lb weight class with three submission wins in five matches. His sole loss came when he briefly moved up to 155lb, but few have come close to putting Mikey in trouble and he appears to be running out of challengers.
Musumeci's unanimous decision win against Estevan Martinez means he has beaten four of the top seven-ranked 135lb'ers– only no.2 Bebeto Oliveira and no.3 Paulo Miyao remain. Before taking on new names, Musumeci has stated he would like to face Geo Martinez.
"I would love the chance to roll with some of the guys I rolled with last year, like Geo Martinez. That would be an amazing match again, me and him."
They met at Road to ADCC in June of 2021 with Mikey Musumeci winning that match 6-0. Although the result was decisive, the post-match war of words between the two means there is unfinished business. If Martinez can make 135lb, it would be the perfect next title defense for Musumeci.