Diego "Pato" Oliveira, born October 2, 1998, is a Brazilian jiu-jitsu black belt competitor from Manaus, Brazil. Representing PSLPB Cicero Costha, Pato is one of the top-ranked featherweight grapplers in the world today. A gi and no-gi competitor, his titles in 2021 include IBJJF World no-gi champion, Pan champion and Pan no-gi champion.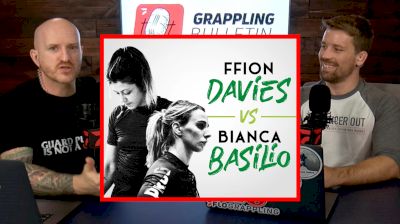 Basilio Meets Ffion in Return of RAW Grappling
May 24, 2022
London-based no-gi professional event RAW Grappling returns on July 3, and they've booked a number of matches with key ADCC competitors.
Reigning ADCC champ Bianca Basilio will face off with Ffion Davies for the first time since they last met in the 2019 ADCC finals. Basilio won that match via submission.
There are two matches featuring competitors confirmed for ADCC's 66kg division in Septmember: Gabriel Sousa of ZR Team will face off with Ashley Williams, who just beat Keith Krikorian, while Diego "Pato" Oliveira will meet Ethan Crelinsten of B-Team.
RAW's last event featured a Grand Prix as well as super fights and they assembled a world-class roster of talent. With these three matches they've quickly shown that this next event is worth paying attention to. It'll be live streamed here on FloGrappling on July 3, and is not one to miss.