Estevan Martinez is a roosterweight black belt representing ZR Team. In 2021 he won both the IBJJF World and Pan No-Gi Championships. He was born on March 28, 1993 and is based out of Fayetteville, NC.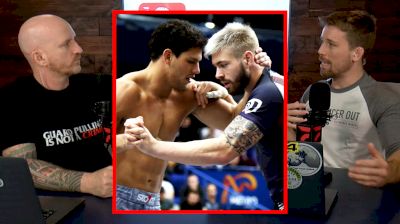 Why Gordon Ryan and Felipe Pena Dislike Each Other So Much
May 24, 2022
Gordon and Felipe have signed to meet on August 7 in a no time limit, submission-only rules match. They will go until one man gives up. It's remarkable that we get to see this before ADCC, as Felipe explicitly said that he was moving up to the +99kg division so he could face Gordon.
There's no mystery as to why Gordon and Pedro Marinho will meet. Pedro is hungry, he's the WNO light-heavyweight champion, and has made no secret he'd love a rematch with Gordon Ryan following their encounter in the opening round of the absolute division in 2019. Gordon won that match quickly via heel hook, but Marinho has evolved considerably since then. He joined the ADCC 2019 tournament as a last-minute call-up, competing on two weeks notice. In the following two and a half years he has become a double gold no-gi World champion (a title Gordon achieved in 2018). Marinho also claimed the WNO strap by beating Craig Jones in January of 2021.
While Marinho is excited to show the world that he is, in his own words, "among the greatest of all time", Pena's reasons for taking the match are very different.
Felipe Pena is one of only four men to have beaten Gordon Ryan at black belt. They are (in order) Aaron Tex Johnson, Felipe Pena (x2), Leandro Lo, and Vinny Magalhaes. Pena is also the only man to have submitted Ryan at black belt, using a RNC to tap him in their challenge match in 2016.
We need to be clear about something here: Pena is financially set, so whatever he's been offered for this match, it's not about the money. He certainly has nothing to prove– as the only person to have tapped Gordon, he holds a unique position in the grappling world.
The real reason for this match taking place? It's personal. Felipe Pena can't stand Gordon Ryan. Gordon revealed that Pena was physically rough with him during their first match in 2016 and even trash talked him mid-match. This beef goes back to the beginning of the saga.
With the hopes of the entire country of Brazil on his shoulders Felipe Pena's confidence must be sky-high. As he said, he's agreed to Gordon's rules, and to do the match in Gordon's country. He'll need to submit Ryan to win the match, as it'll only end if one person quits. No rounds, no judges, and no other way out.
A near-impossible task for any grappler except Felipe Pena. But is the Felipe Pena of 2022 able to replicate the success of 2016-17, and how much has Gordon Ryan changed since then? We'll find out on August 7.