Estevan Martinez is a roosterweight black belt representing ZR Team. In 2021 he won both the IBJJF World and Pan No-Gi Championships. He was born on March 28, 1993 and is based out of Fayetteville, NC.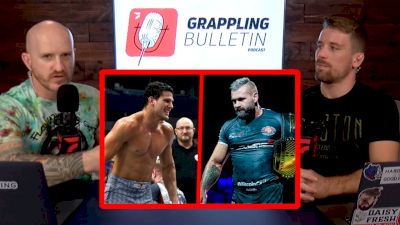 Big Money Side Bet Raises the Stakes for Felipe-Gordon | Grappling Bulletin (Ep.65)
Jul 25, 2022
There was already a lot on the line for the match between Gordon Ryan and Felipe Pena on August 7, and the stakes have been raised even higher.
1. GRAPPLING NEWS
Andre Porfirio joins IBJJF Grand Prix
Pedro Marinho invited to ADCC -99kg division
ONE champ hits rare submission in title defense
RIP Grand Master Osvaldo Alves
2. RESULTS RECAP
PJ Barch subs four in a row to win SOS Welterweights Pro
Johnson wins Rise Invitational openweight tournament
Wilson taps Tackett with come-from-behind kneebar
3. GORDON & FELIPE'S BIG MONEY BET
The High Stakes Bet Between Felipe Pena and Gordon Ryan
4. WNO PREVIEW
WNO: Gordon Ryan vs Felipe Pena, Aug 7
Fabricio Andrey to make his WNO debut
5. ADCC 2022
Rafa Mendes' incredible ADCC career
ADCC Spotlight: Mayssa Bastos
ADCC 2022 preview: -60kg division