2019 Jiu-Jitsu in MMA Ranking
FloGrappling Jiu-Jitsu in MMA Ranking
Demian Maia reignited the "jiu-jitsu vs wrestling" debate with a submission win over Ben Askren at UFC Singapore.
Maia, a 2007 ADCC champion, has long been considered one of the top representatives of jiu-jitsu in the Octagon and he was ranked joint 12th in our Jiu-Jitsu in MMA Rankings with 13 submissions in 36 MMA fights. Askren wrestled at the 2008 Olympics and holds the single-season NCAA pin record. Prior to a KO loss in July of this year Askren was undefeated in 20 fights.
For Askren a match with Maia was expected to be the toughest test of his ground game, but the fight acted as a showcase for both man's skills– until it hit the mat. They traded strikes and Askren scored his takedowns, but Maia utilized his jiu-jitsu to great effect once it hit the floor, chasing after submission attempts, reversing position and ultimately locking in the fight-finishing submission late in the third round.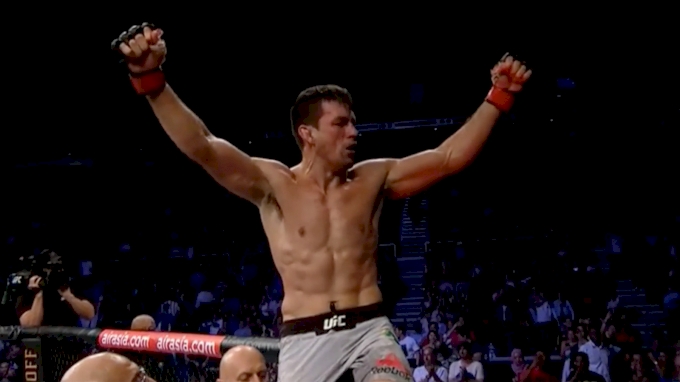 Recent updates to the ranking include:
• Shinya Aoki defeated Honorio Banario by technical choke at ONE Championship in Tokyo, Japan on Oct 13. This was his 29th submission in 54 professional fights. His position remains stable at no.3.
• Roberto Satoshi lost his first career MMA fight to American fighter Johnny Case. The 2017 IBJJF World silver medalist lost via TKO in 1:15 in the RIZIN Lightweight Grand Prix.
---
Who is ranked, and why
First off, to explain how we decided who should be ranked. You won't see names like Brian Ortega or Charles Oliveira even though they are submission machines, because they are not "jiu-jitsu" guys... they are MMA guys who are good at jiu-jitsu. This keeps the ranking focused on names from the world of grappling who crossed over into MMA.
How did you calculate the ranking?
It's not just about the wins or losses– the ranking is designed so that it rewards grappling performance.
To rank the athletes we created a series of formulas that assign them scores. We calculated a "jiu-jitsu score" that reflects their titles and achievements in grappling (ADCC titles, World titles, etc).
This score is then adjusted based on their MMA win-loss record, with a focus on submission finishes. We looked at their overall submission rate– which we consider to be a strong indicator of their success in the ring. This percentage was based on their total number of fights– not just in the fights that they won.
How can fighters improve their ranking?
Their point score will go up and down every time they have a fight– if they finish fights via submission, their score will increase. If they fight and lose, their score will go down. If they continue to win grappling titles at the same time, then likewise their overall score will go up.
Unlock these rankings, live events, and more with a subscription!
Get Started
Already a subscriber? Log In