2020 FloGrappling Jiu-Jitsu in MMA Ranking
FloGrappling Jiu-Jitsu in MMA Ranking
AJ Agazarm lifts himself up from the bottom of the ranking with a submission win at the recent Bellator in Los Angeles.
Agazarm moved to 3-1 (2 wins via submission) with a triangle submission against Adel Altamimi at Bellator 238.
The fight saw Agazarm get rocked early on but rebound with his grappling and improved striking skills to overpower and overwhelm his opponent, dropping Altamimi with strikes before finishing with a slick triangle finish from top position.
Agazarm has been training MMA with the Diaz brothers Nick and Nate since before his debut. Four fights into his Bellator career, Agazarm last competed in grappling with a Fight to Win superfight against Ary Farias in Fight to Win 133 in early December.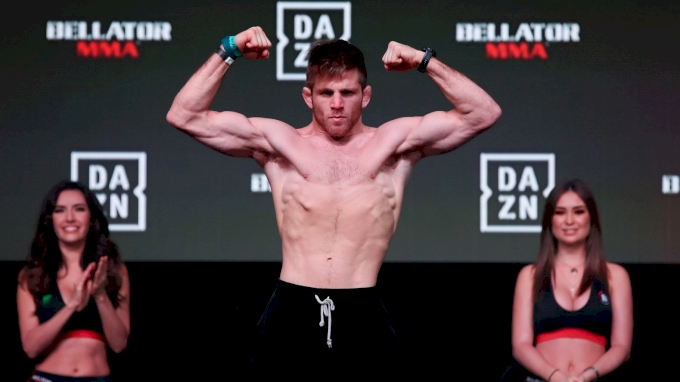 ---
Who is ranked, and why
First off, to explain how we decided who should be ranked. You won't see names like Brian Ortega or Charles Oliveira even though they are submission machines, because they are not "jiu-jitsu" guys... they are MMA guys who are good at jiu-jitsu. This keeps the ranking focused on names from the world of grappling who crossed over into MMA.
How did you calculate the ranking?
It's not just about the wins or losses– the ranking is designed so that it rewards grappling performance.
To rank the athletes we created a series of formulas that assign them scores. We calculated a "jiu-jitsu score" that reflects their titles and achievements in grappling (ADCC titles, World titles, etc).
This score is then adjusted based on their MMA win-loss record, with a focus on submission finishes. We looked at their overall submission rate– which we consider to be a strong indicator of their success in the ring. This percentage was based on their total number of fights– not just in the fights that they won.
How can fighters improve their ranking?
Their point score will go up and down every time they have a fight– if they finish fights via submission, their score will increase. If they fight and lose, their score will go down. If they continue to win grappling titles at the same time, then likewise their overall score will go up.
Unlock this ranking, live events, and more with a subscription!
Get Started
Already a subscriber? Log In