2020 FloGrappling Jiu-Jitsu in MMA Ranking
FloGrappling Jiu-Jitsu in MMA Ranking
Here is our end of year update to the Jiu-Jitsu in MMA Rankings for 2020. We've adjusted the rankings for a few results that went unreported, hence some shakeups in the middle of the top 10.
The big winners of 2020 were:
• Mackenzie Dern, who notched up three more wins this year (including becoming the first woman to win via leglock submission in a UFC fight)
• Garry Tonon may have only had one MMA fight but he stayed active in grappling and put on Match of the Year on Who's Number One against Dante Leon. As a result, Tonon is ranked #1 at 170lb in the FloGrappling No-Gi Rankings.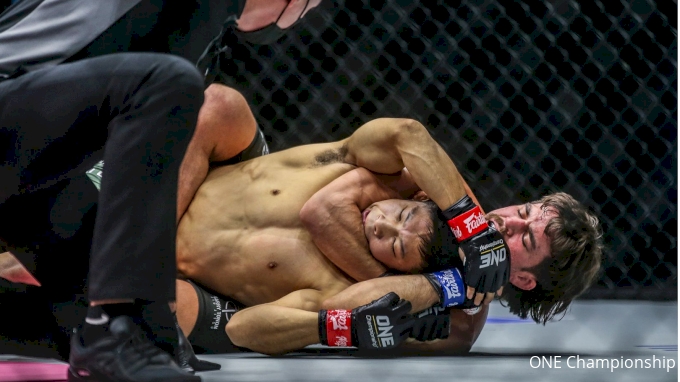 Tonon hunts for the submission vs Koyomi Matsushima
A number of names from the jiu-jitsu world entered the ring this year but are yet to feature on our ranking until they can earn a win.
• Yuri Simoes made his long-awaited MMA debut with ONE Championship this year, dropping a decision to veteran Fan Rong of China, who had 15 fights going into Yuri's debut bout.
• Raquel Canuto returned to MMA after a three-year layoff but lost a split decision to Lisa Verzosa on Invicta. No-Gi World champ Canuto had 12 fights prior to making her return but has a losing 6-7 record.
2021 promises the debut of Marcus Buchecha Almeida, who is training at American Top team in preparation for his entry into the world of MMA. He is signed with ONE Championship and is expected to fight in the first quarter of the year.
Many other names from the world of grappling are eyeing MMA in 2021, with Lucas Barbosa and twins Kade and Tye Ruotolo all promising to fight.
Note: I will remove many names from the ranking when we return in 2021 as a number of fighters have either officially retired or are inactive.
---
Who is ranked, and why
First off, to explain how we decided who should be ranked. You won't see names like Brian Ortega or Charles Oliveira even though they are submission machines, because they are not "jiu-jitsu" guys... they are MMA guys who are good at jiu-jitsu. This keeps the ranking focused on names from the world of grappling who crossed over into MMA.
How did you calculate the ranking?
It's not just about the wins or losses– the ranking is designed so that it rewards grappling performance.
To rank the athletes we created a series of formulas that assign them scores. We calculated a "jiu-jitsu score" that reflects their titles and achievements in grappling (ADCC titles, World titles, etc).
This score is then adjusted based on their MMA win-loss record, with a focus on submission finishes. We looked at their overall submission rate– which we consider to be a strong indicator of their success in the ring. This percentage was based on their total number of fights– not just in the fights that they won.
How can fighters improve their ranking?
Their point score will go up and down every time they have a fight– if they finish fights via submission, their score will increase. If they fight and lose, their score will go down. If they continue to win grappling titles at the same time, then likewise their overall score will go up.
Unlock these rankings, live events, and more with a subscription!
Get Started
Already a subscriber? Log In