2021 FloGrappling Jiu-Jitsu in MMA Ranking
FloGrappling Jiu-Jitsu in MMA Ranking
Gilbert Burns and Rodolfo Vieira are both two of the best-known and most successful representatives of jiu-jitsu in MMA, but unfortunately both were unable to find victory at UFC 258 and their losses are reflected in this latest update to the 2021 FloGrappling Jiu-Jitsu in MMA Ranking. Neither man moves in the ranking, but the score has been adjusted to show their losses.
Nearly nine years to the day from making his MMA debut, Gilbert Burns would challenge his former training partner Kamaru Usman for the UFC welterweight title.The result was a disappointing third round TKO loss in a fight dominated by stand-up striking and brief periods of wrestling in the clinch.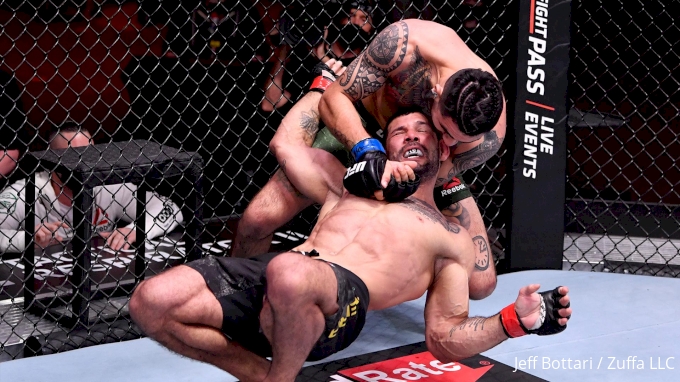 Five-time IBJJF World champ and ADCC champ Rodolfo Vieira got dismantled and submitted by Anthony Hernandez, who is a purple belt.
On paper it looked like a great match for Vieira, and very winnable. Few of his last seven matches had hardly been a challenge as he employed his unstoppable grappling skills in search of the submission. At 7-2 (1 NC), Hernandez had a similar record to Rodolfo's 7-0, and his resume hinted at grappling skills of his own; six of his wins were via submission, all via guillotine or anaconda choke.
After narrowly escaping a guillotine in the first round, Vieira tapped to an arm-in guillotine choke (more like a seated arm-triangle) in the second round. It was a huge win for Hernandez, who joked with Joe Rogan after the fight that he deserved a stripe on his purple belt for tapping out Vieira.
---
Who is ranked, and why
First off, to explain how we decided who should be ranked. You won't see names like Brian Ortega or Charles Oliveira even though they are submission machines, because they are not "jiu-jitsu" guys... they are MMA guys who are good at jiu-jitsu. This keeps the ranking focused on names from the world of grappling who crossed over into MMA.
How did you calculate the ranking?
It's not just about the wins or losses– the ranking is designed so that it rewards grappling performance.
To rank the athletes we created a series of formulas that assign them scores. We calculated a "jiu-jitsu score" that reflects their titles and achievements in grappling (ADCC titles, World titles, etc).
This score is then adjusted based on their MMA win-loss record, with a focus on submission finishes. We looked at their overall submission rate– which we consider to be a strong indicator of their success in the ring. This percentage was based on their total number of fights– not just in the fights that they won.
How can fighters improve their ranking?
Their point score will go up and down every time they have a fight– if they finish fights via submission, their score will increase. If they fight and lose, their score will go down. If they continue to win grappling titles at the same time, then likewise their overall score will go up.
Unlock this ranking, live events, and more with a subscription!
Get Started
Already a subscriber? Log In