Grapplers In MMA Weekend Recap: Mikey & Tye Win, Burns, Kron Drop Decisions
Grapplers In MMA Weekend Recap: Mikey & Tye Win, Burns, Kron Drop Decisions
ADCC Champions, IBJJF Champions, and some of the biggest current stars competed in MMA or for MMA organizations this week - let's check out what happened.
May 9, 2023
by Joe Gilpin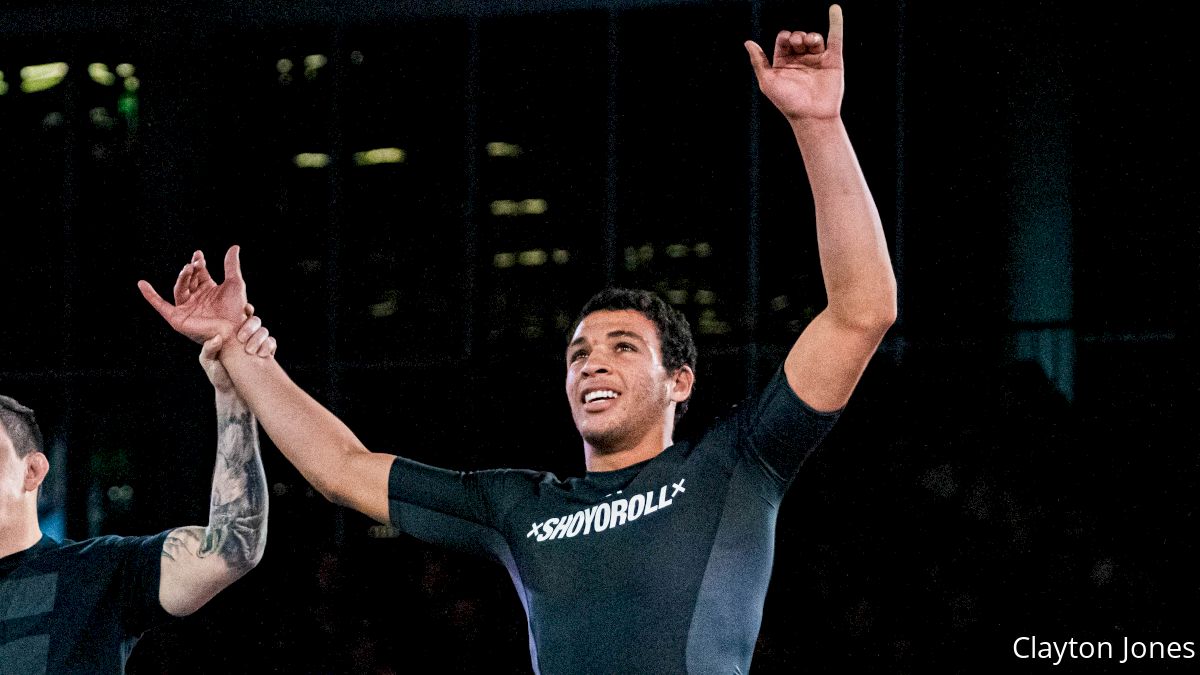 Let's look back at some of the notable grapplers who competed in mixed martial arts over the weekend. With ADCC Champions, IBJJF World Champions, and superfights on grand stages, there was plenty for the grappling fan to appreciate and recognize on some of the biggest cards in the world.
There were two high-profile submission grappling matches over the weekend at ONE Fight Night 10: Johnson vs. Moraes 3. Tye Ruotolo and Mikey Musumeci took on and defeated a pair of talented opponents in ten-minute superfights, continuing their dominance in ONE Championship's grappling divisions. ONE Championship prides itself on being an organization that showcases many diverse marital arts and they continue to promote some of our biggest stars on their platform.
Mikey, the 5-time black belt world champion, took on a tough test in the reigning IBJJF No-Gi Worlds & No-Gi Pans champion Osamah Almarwai but ultimately prevailed by submission, securing a rear naked choke at 8:03 of the period. This marked Mikey's fourth win with the promotion, whom he has been competing for exclusively in the last year.
Tye Ruotolo had a much different problem to solve as he took on the bigger, tricky Dutch black belt and ONE Championship Middleweight MMA Champion Reinier de Ridder. The match was a really grinding standing affair, with both men unwilling to concede bottom position for long stretches of time. Ultimately, the judges favored Tye's work over the ten minutes and he was awarded with a unanimous decision victory, his third in ONE.
UFC 288: Sterling vs Cejudo offered us the chance to watch two of jiu-jitsu's stars step into the cage, when black belt world champion Gilbert Burns and ADCC world champion Kron Gracie dropped decisions to tough contenders. The 2011 IBJJF World Champion Gilbert Burns fought Belal Muhammad in a contendership bout, with the winner slotted into a future title shot against Leon Edwards. Unfortunately, Durinho wasn't able to get his trademark powerful wrestling takedowns going and had little answers on the feet, especially once a shoulder injury led to limited use of his lead arm in exchanges. After five hard rounds, Burns lost and will have to find another path to the championship if he wants to continue his chase.
Kron Gracie turned in a throwback performance when he tried to rely only on his grappling to beat the much more well-rounded Charles Jourdain (himself a black belt, tho obviously not on the same planet as Kron), and paid the price as he got outstruck and shut down on the ground en route to a unanimous decision loss. By the end of the fight, Kron had run out of ideas and was unable to launch any meaningful damaging offense against the well-prepared Jourdain, who used enough grappling to shut down any danger and then escape back to the comfort of standing exchanges.