Tezos WNO 18: Meregali vs. Marinho Presented by Fat Tire
Despite Quiet Start To Black Belt Career, Alvarenga Aims To Show Out At WNO
Despite Quiet Start To Black Belt Career, Alvarenga Aims To Show Out At WNO
Alvarenga has not had a lot of mat time as a black belt. But he promises a battle against WNO veteran Dante Leon at Tezos WNO 18 on May 18 in Oklahoma City.
May 15, 2023
by Mayara Munhos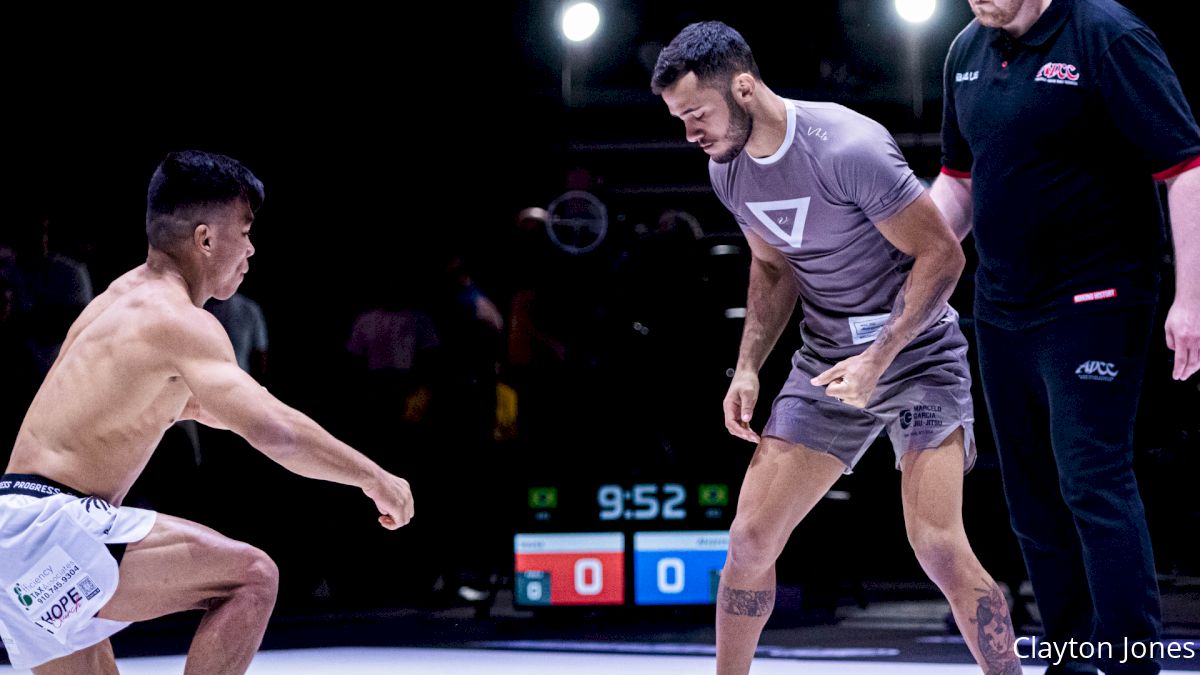 On May 18th at Tezos WNO 18: Meregali vs. Marinho, the 2021 featherweight IBJJF South American no-gi champion Ruan Alvarenga will face the current lightweight IBJJF no-gi world champion Dante Leon.
Alvarenga has kept a low profile in his budding black career, but he's shown up when it mattered. He's a two-time ADCC veteran who battled in close matches against Kennedy Maciel in 2019 and Gabriel Sousa in 2022.
Alvarenga is a Brazilian black belt under his father Iran Brasileiro and ADCC Hall of Famer Marcelo Garcia. The Brazilian no-gi specialist is a native of Divinópolis in Minas Gerais state, where he still resides.
For his significant matches, Alvarenga used to train with Marcelo Garcia in New York, but to prepare for his match with Leon, he did his camp at home in Minas Gerais.
Tickets are on sale now to watch Tezos WNO 18: Meregali vs Marinho presented by Fat Tire live at the Criterion in Oklahoma City. Get them here.
Despite receiving his black belt in 2021, he has only had six matches at the top rank. In his first appearance at ADCC, he was a brown belt. He shone in his black belt debut at the IBJJF South American championships, submitting all four of his opponents — including Fabricio Andrey — on his road to gold.
He is back now to show off his skills on the Tezos WNO mat in his debut on the platform. Alvarenga said COVID-19 kept him sidelined to begin his black belt career.
"Due to the decrees, I had a hard time training because I was from a small town in Brazil. During the pandemic, I missed 3 months without stepping on a mat," he told FloGrappling.
The matchup could be the match of the night on the stacked card, Alvarenga believes, adding that he accepted the match without hesitation.
"We both are aggressive and push the pace. If we reach 15 minutes, it will be exciting," he said.
Alvarenga recognizes Leon's skills and physical strength, but despite Leon's experience, Alvarenga bets on himself.
"It is true that he is stronger and more experienced than I am, but I believe I have great tools to beat him, he said. "I consider myself faster and stronger. It will be an outstanding match."
Main Event: Nicholas Meregali vs Pedro Marinho - Heavyweight Gi
Co-Main Event: Rafael Lovato Jr.vs Elder Cruz - Light Heavyweight
Tubby Alequin vs Alex Enriquez - Women's Flyweight
Jacob Couch vs Izaak Michell - Middleweight
Dante Leon vs Ruan Alvarenga - Lightweight
William Tackett vs Francisco Lo - Middleweight