Tezos WNO 18: Meregali vs. Marinho Presented by Fat Tire
Meregali Submits Marinho In Return To WNO Gi Competition At Tezos WNO 18
Meregali Submits Marinho In Return To WNO Gi Competition At Tezos WNO 18
Meregali, Lovato, Leon & Russell earn submission wins. Meregali calls for shot against 2023 IBJJF absolute world champ, to be determined on June 4.
May 19, 2023
by Corey Stockton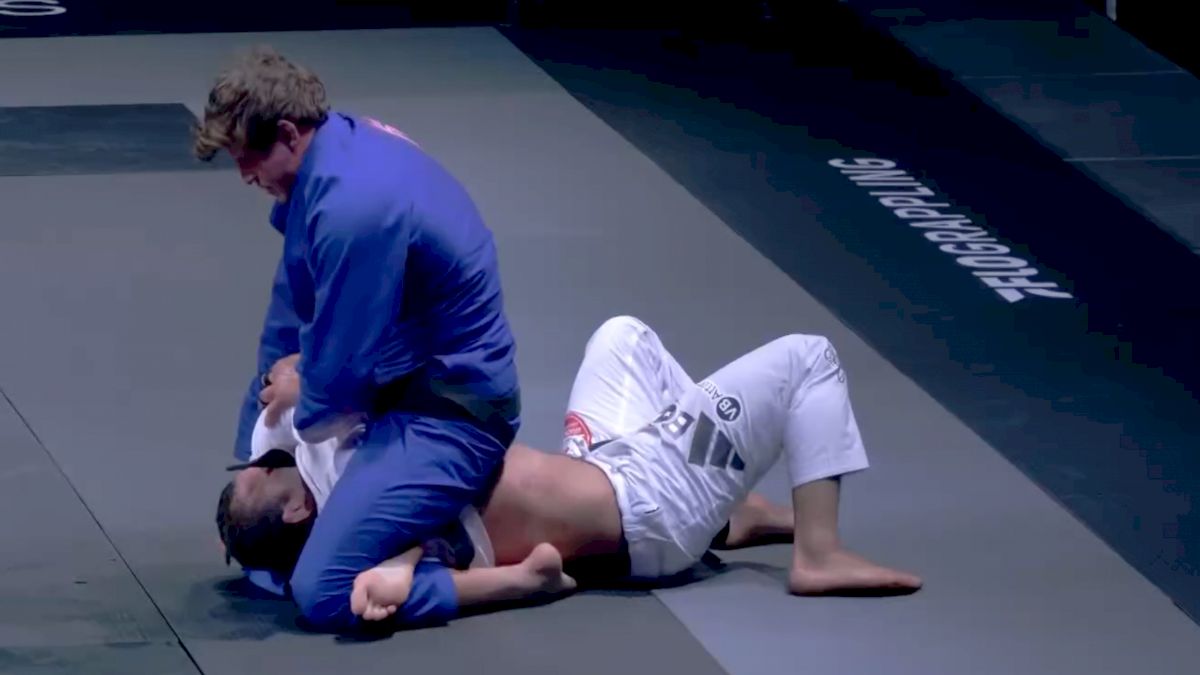 Nicholas Meregali brought gi competition back to Tezos WNO with flair, submitting Pedro Marinho via mounted triangle in the main event of Tezos WNO 18 in Oklahoma City on Thursday, May 18.
Meregali, the reigning IBJJF absolute world champion, overcame near danger in the first moments of the match, where Marinho threatened to take Meregali's back. But Meregali defended the position and attained top position, which he used to wear on Marinho for nearly five minutes before threading his leg through for the finish.
Meregali predicted the submission, which came at five minutes, 15 seconds into the bout. Meregali wore a triangle on the back of his kimono, an indication of his plans for the bout.
The match marked the first gi match on the Tezos WNO mats since January 2020, when Meregali headlined a bout against Victor Hugo in at the inaugural Who's Number One event in Costa Mesa, CA.
That rematch could come soon if Meregali gets his wish. After the bout against Marinho, Meregali said he would put up $20,000 in a bet match on Tezos WNO against the winner of the IBJJF Worlds absolute division. Worlds takes place later this month, and three of the likely favorites to win the absolute include Victor Hugo, Kaynan Duarte and Erich Munis, all Meregali rivals.
Meregali wasn't the only athlete to call his next shot on Tezos WNO, and much of the attention fell on Tezos WNO light heavyweight no-gi champion Pedro Marinho.
After his dramatic rear naked choke victory against Elder Cruz in front of a home crowd in Oklahoma City, Rafael Lovato Jr. called for a shot at 205 lbs against the champion. Lovato used a lumberjack sweep to knock Cruz off balance and took his back, cinching the choke as he came to top position and securing the Tezos Submission of the Night Bonus.
Who's Next champion Izaak Michell also called for a match against Marinho upon victory. Michell defeated Jacob Couch, the Hillbilly Hammer via decision. Michell had been absent from the Tezos WNO mats since winning the WNX reality show finale, but looked tremendous in his efforts to pass Couch's guard, earning a decisive win.
Michell said he hopes to compete against Marinho at 185 lbs, where Marinho has teased he hopes to capture a second title.
Tezos WNO veteran Dante Leon made an impressive move to lightweight in his return to the mats, earning a submission victory over ADCC veteran Ruan Alvarenga. Alvarenga controlled the match early with his takedowns, but Leon remained resilient and capitalized on a guard pull from Alvarenga. Once on top, Leon passed and took the back, securing a rear naked choke for the win.
In his post match interview, Leon called for a matchup against a top-three ranked opponent at Tezos WNO in the near future. Gabriel Sousa, currently ranked no.9, quickly responded on social media calling for a matchup against the 2022 IBJJF lightweight no-gi world champ, Leon.
Tubby Alequin defeated Alex Enriquez in a back and forth match, widening the gap late with a flurry of attacks from the mount and back control, and putting herself in contention for a title shot against Ffion Davies at 125 lbs.
Francisco Lo showed of his control and passing game in his Tezos WNO debut against veteran William Tackett.
On the undercard, Lovato black belt Troy Russell earned a heel hook victory over Austin Oranday, while New Wave athlete Davis Asare defeated Lovato student and wrestling ace Nick Heflin.