New Partnership: Brazil's Combate Network To Air FloSports Events & Content
New Partnership: Brazil's Combate Network To Air FloSports Events & Content
The deal began with FloGrappling's Tezos WNO 18 event on May 18 featuring Nicholas Meregali vs Pedro Marinho.
May 25, 2023
by FloGrappling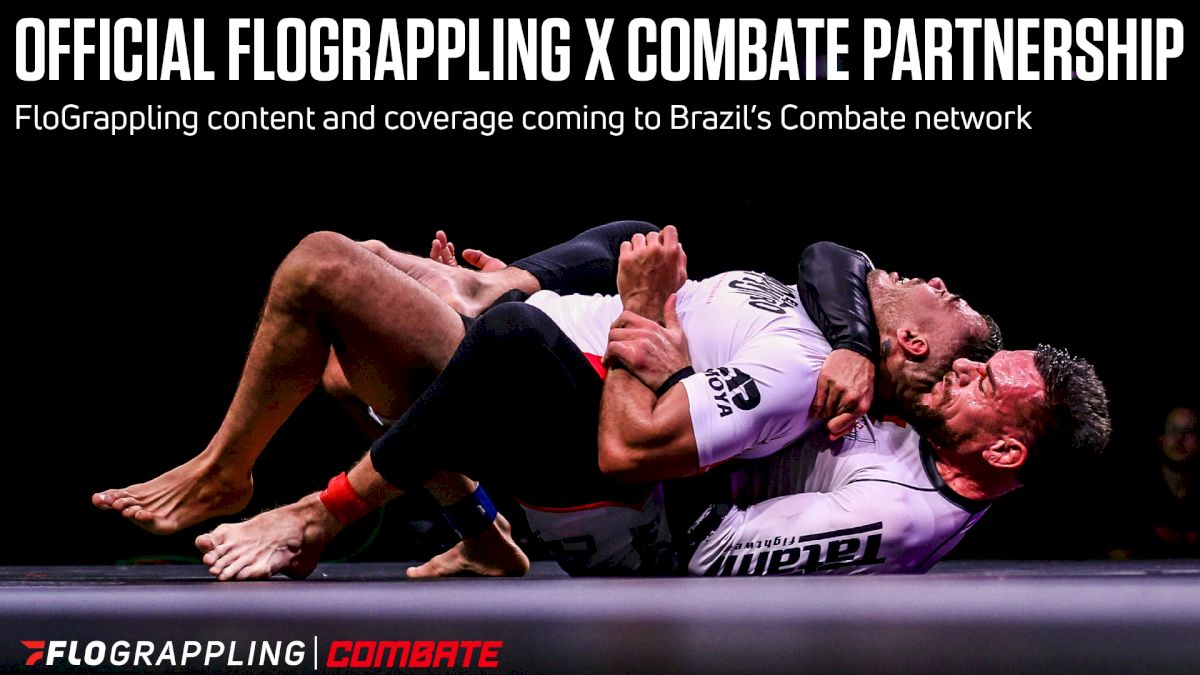 AUSTIN, TEXAS - (May 25, 2023) - FloSports, a leader in sports streaming and original content, today announced a distribution deal with Globo, Brazil's leading media company, to distribute both original content, like 'The Ups & Downs Of The Manaus Boys,' 'Buchecha' and 'Leandro Lo: Quest for the Triple Crown,' as well as FloGrappling events spanning from Tezos Who's Number One, International Brazilian Jiu-Jitsu Federation Grand Prix, and ADCC World Submission Fighting Championships across the country for viewers.
"Very cool to see this partnership between FloGrappling and Combate for the growth of Jiu-jitsu in Brazil. Combate is a great channel that all Brazilians are used to watching MMA, and martial arts in general," said Felipe Pena, IBJJF & ADCC World Champion. "For many years it was responsible for broadcasting the UFC here, it is a very big and well known media here and definitely has a lot to add. I think it will greatly increase the visibility of the sport in Brazil."
"This junction is incredible and it can only be great for our beautiful art and sport. Outstanding move by two of the best media companies that will benefit millions of fans and athletes of our sport, I'm super excited about it," said Andre Galvao, six-time ADCC World Champion. This is great news, congratulations FloSports and Combate for the partnership."
The partnership began with Tezos WNO 18 on May 18 featuring Nicholas Meregali and Pedro Marinho live in Oklahoma City.
Each Monday at 7 p.m. (Brasilia Time, UTC−03:00), Globo will have a dedicated timeslot to broadcast events and original content exclusively focused on FloGrappling to millions of combat sports fans across Brazil through Combate platforms.
"Globo is Brazil's premier media company and FloSports is proud to deliver combat sports fans throughout the country with access to our dedicated grappling events and original content," said Phil Wendler, FloSports, EVP, Global Rights Acquisition. "As we continue to expand our footprint internationally, Brazil has been a key area of focus and we're committed to increasing our distribution and accessibility to elevate visibility for our athletes and unique events."
"I want to congratulate Riccardo Ammendolia & FloGrappling for this partnership with Brazilian TV, Combate. It will reach a lot of people, specially people who love martial arts or other sports but have never heard about jiu-jitsu yet, it's another great step forward for jiu-jitsu since it has the potential of bringing more fans and practitioners to our art, I am happy to see it happen," said Guilherme Mendes, head coach of Art of Jiu-Jitsu, and a four-time IBJJF World Champion.
FloGrappling provides live and on-demand coverage featuring breaking news, original documentaries, reality television, rankings, interviews and in-depth technique videos.
For more information, visit: FloSports.tv and flograppling.com
---
About FloSports
Founded in 2006, FloSports is a subscription video streaming service dedicated to sports, offering live and on-demand access to hundreds of thousands of competition events across 25+ vertical sport categories in the US and abroad. FloSports' vision is to give underserved sports the love they deserve. With a growing library of more than 300,000 hours of premium content including news, expert commentary, films, documentaries and more, FloSports has established itself as an innovator and leader in sports streaming. Finally, your sport has a home. For more information, please visit: flosports.tv.