WNO
Dominic Mejia vs Owen Jones Headlines Stacked Tezos WNO 21 Prelims
Dominic Mejia vs Owen Jones Headlines Stacked Tezos WNO 21 Prelims
Tezos WNO 21: Marinho v Lovato is now complete with the addition of four prelim matches including a featherweight clash between Owen Jones and Dominic Mejia
Oct 31, 2023
by Joe Gilpin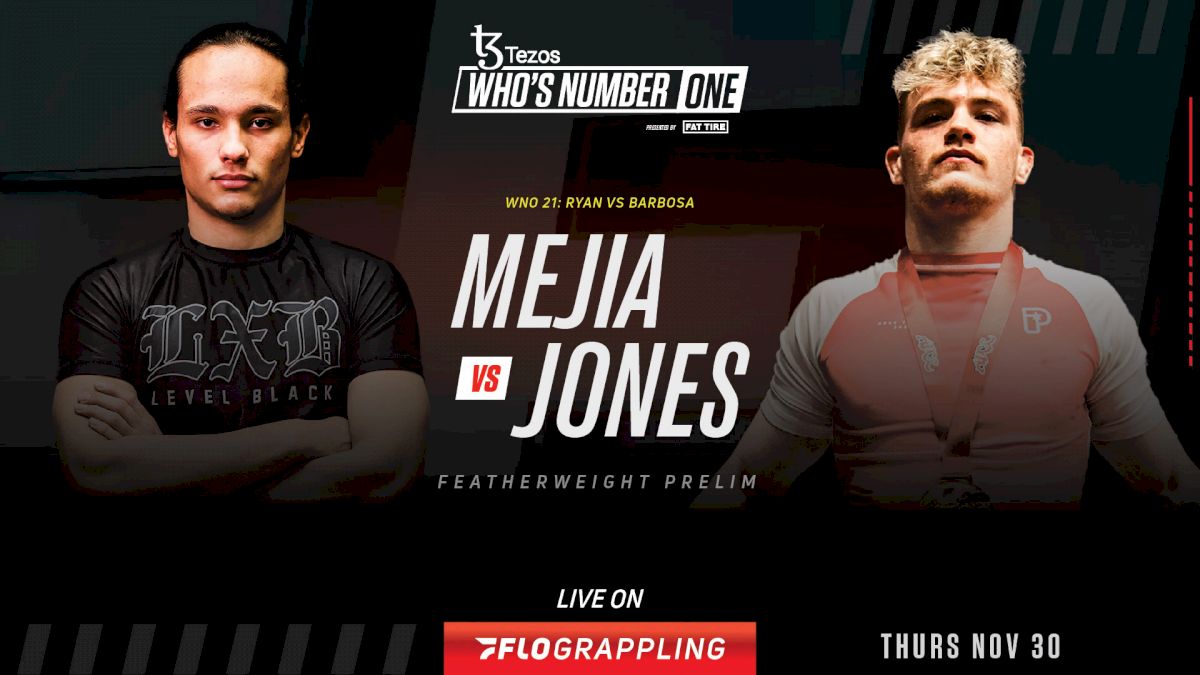 Tezos WNO 21: Marinho vs Lovato is now complete with the addition of four prelim matches, including a featherweight clash between #11 Owen Jones and #8 Dominic Mejia. The undercard will also feature Estevan Martinez vs Caleb Tackett and Ian Butler vs Nick Mataya.
Dominic and Owen are two recent breakthrough standouts from the ADCC Trials, where each man defeated multiple world-class opponents in a single tournament. Owen won the -66kg division at the first European Trials, and Dominic placed second at East Coast Trials. Yesterday, Owen Jones was promoted to brown belt. Now, the two are on a collision course for their first major super fight action against one another.
The undercard features a lot of exciting debuts, including the youngest Tackett brother Caleb against WNO veteran Estevan Martinez at 155lbs. Considering Martinez is known for his gas tank, pace, and ability to escape, and every Tackett brother is known for their gas tank, pace, and aggression, this could end up being a VERY exciting debut for Caleb.
Bellator MMA welterweight Ian Butler will be on the card, taking on rising B-Team competitor Nick Mataya at 170lbs. Both men will have a chance to make a real statement in front of the Austin audience.
All preliminary matches will be 9 minutes, with judges favors being determined at 3 minute intervals.
Tezos WNO 21: Marinho vs Lovato Announced Card
Main Card

Light Heavyweight WNO Championship Bout - Pedro Marinho (C) vs Rafael Lovato Jr.
Welterweight WNO Championship Bout - Mica Galvao (C) vs Kody Steele
Featherweight WNO Championship Bout - Diogo 'Baby Shark' Reis (C) vs Diego 'Pato' Oliveira
Middleweight Bout - Tainan Dalpra vs Troy Russell
Women's Featherweight Bout - Helena Crevar vs Julia Maele
Heavyweight Bout - Luke Griffith vs Roosevelt Souza

Undercard

Featherweight Bout - Dominic Mejia vs Owen Jones
Lightweight Bout - Estevan Martinez vs Caleb Tackett
Welterweight Bout - Ian Butler vs Nick Mataya
Women's Strawweight Bout - Mia Funegra vs Janice Russell