Gracie Barra black belt and IBJJF No-Gi World Champion
AJ Agazarm
has alleged that he has not been paid by Metamoris for his match with Karo Parisyan that took place in July of 2015.
Agazarm, who stepped in as a last-minute replacement for the headlining bout of the event, battled Parisyan to a draw in a 20-minute submission-only no-gi match.
He alleged that Metamoris, the Californian professional jiu-jitsu event headed by Ralek Gracie, did not pay him in
an Instagram post
on the official Metamoris account. Agazarm had been given access to the account as part of an official 'takeover'.
"Dear Ralek, For quite sometime you have been using my image, my likeness, and the likenesses of others to promote your business and the brand of Metamoris. You claim to represent the values that Jiu Jitsu stands for, but you have been hiding behind empty promises. It has been over 6 months since my bout against Karo Parisyan, and I still haven't been paid. It's not about the money (it wasn't a lot) but instead it is about the principle. We put everything on the line to make it as exciting and entertaining as possible for the fans. I took the match on short notice to help save your show, as you would otherwise have been left without a main event. To this date my match is still behind your paywall and I have not yet seen a single dollar.
Since this match I have competed in organizations such as Polaris and Berkut, who paid my travel expenses, did an incredible job of promoting me as an athlete, but most importantly upheld the moral code of the artist and treated me and the community with respect by paying me on time and not compromising the cards of the viewers. I think it is massively unjust that your brand equity continues to ascend by using the image of the athletes that you promised to pay (but do not) while organizations such as Polaris are struggling with brand recognition and event success. The last Polaris card was one of the best the community has ever seen and not just for the quality of the match ups. They paid all their athletes (plus expenses) and did not make a profit. This is elevating the sport and allowing us athletes to make a living.It's been 6 months - you haven't paid me, you promised me an additional bout on Metamoris that I have not seen, yet you still benefit from using our fight to promote your show. Make this right. Stop double charging your customers and pay your athletes.
The Instagram takeover will continue until you've done right."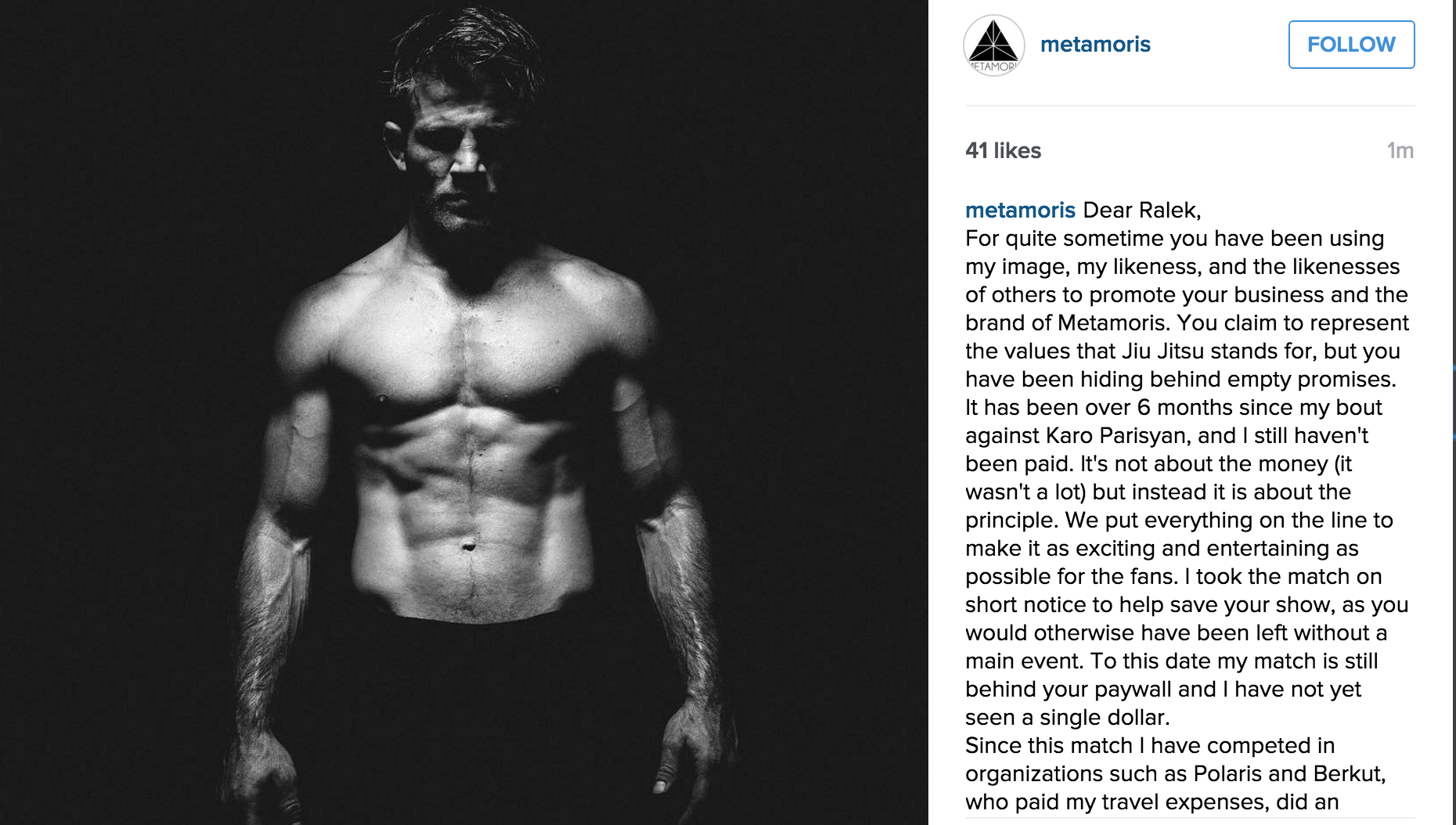 The allegations from Agazarm are the latest in a number of controversies that Metamoris has faced. In 2015 they moved from a pay-per-view model to a subscription service, with
many
customers
complaining
of being
overcharged
.
Metamoris held a series of professional jiu-jitsu events from 2012-2015 that were available to watch via online pay-per-view. They later held a series of qualifying 'Challenger' events, with
organizers
claiming non-payment
for costs and promised reimbursement.
Metamoris was founded and is run by Ralek Gracie, son of UFC co-creator Rorion Gracie and a grandson of Helio Gracie. A former MMA fighter and jiu-jitsu competitor, Ralek began the promotion in 2012.
Some of the biggest names in jiu-jitsu and submission grappling have competed on Metamoris events, including Roger Gracie, Eddie Bravo, Andre Galvao, Kron Gracie, Marcus 'Buchecha' Almeida, Josh Barnett, Mackenzie Dern, Rodolfo Vieira, Braulio Estima, Caio Terra and more.
Though there has been recent criticism of the promotion, some athletes have taken to social media to voice their support. Keenan Cornelius released this statement a few hours after AJ's post went up on Instagram, yet later admitted that he too was owed outstanding monies.