Rickson Gracie's inaugural Jiu-Jitsu Global Federation awards show took place this week in Long Beach, California. The event, which promises to be the first in an annual series that recognizes prominent athletes, teams and events in jiu-jitsu and grappling, was attended by many influential figures from the upper echelons of the art including prominent instructors and athletes.

Awards were chosen by a panel of judges who voted for winners from a shortlist of candidates. Big winners included Mackenzie Dern and Bernardo Faria. Dern took the awards for best female athlete both gi and no-gi, while Faria was awarded best male gi athlete and best gi submission.

Rickson Gracie also used the event to promote the self defense aspect of jiu-jitsu, a side to the art that he passionately supports.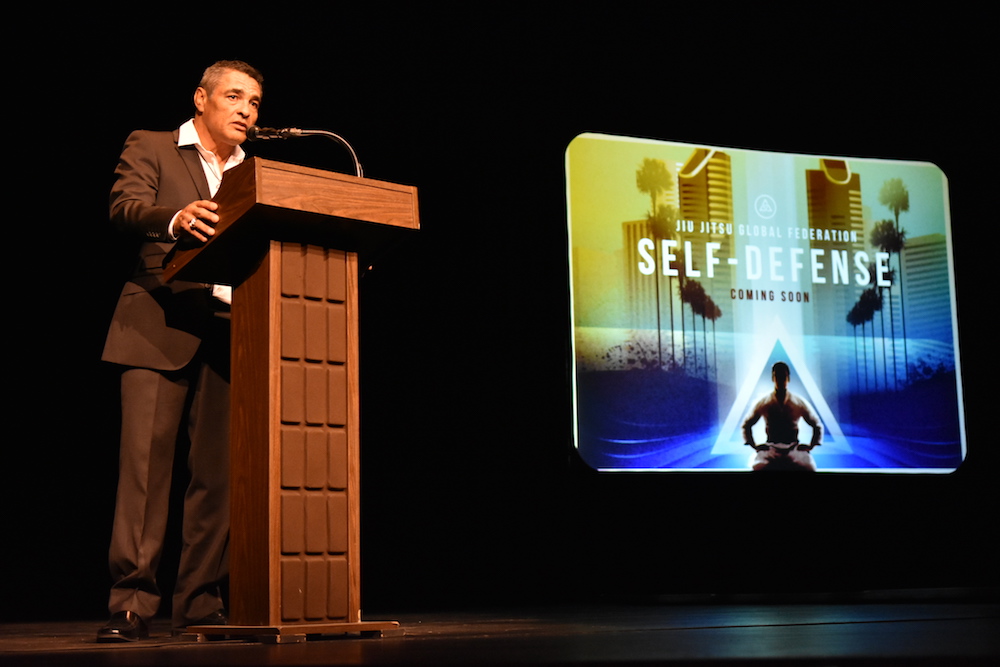 Jiu-Jitsu Global Federation Conference Awards Winners
Best 2015 Kids' Team
Atos
Best 2015 Masters' Team
Ribeiro Jiu-Jitsu
Best 2015 Adult Women's Team
Gracie Humaita
Best 2015 Adult Men's Team
Alliance and Atos (joint winners)
Best 2015 Invitational No Gi Event
EBI
Best 2015 Invitational Gi Event
Copa Podio
Best 2015 Open No Gi Event
ADCC
Best 2015 Open Gi Event
IBJJF Worlds
Best 2015 No Gi Submission
Davi Ramos
Best 2015 Gi Submission
Bernardo Faria
Best 2015 Master No Gi Athlete
Rubens Charles
Best 2015 Female No Gi Athlete
Mackenzie Dern
Best 2015 Male No Gi Athlete
Garry Tonon
Best 2015 Master Gi Athlete
Megaton Dias
Best 2015 Female Gi Athlete
Mackenzie Dern
Best 2015 Male Gi Athlete
Bernardo Faria