Rodrigo 'Comprido' Medeiros Promotes Brock Lesnar To Blue Belt In Jiu-Jitsu
Rodrigo 'Comprido' Medeiros Promotes Brock Lesnar To Blue Belt In Jiu-Jitsu
WWE and UFC star Brock Lesnar has been promoted to the rank of blue belt in Brazilian jiu-jitsu by Rodrigo 'Comprido' Medeiros. The promotion took place yes
Jun 17, 2016
by Hywel Teague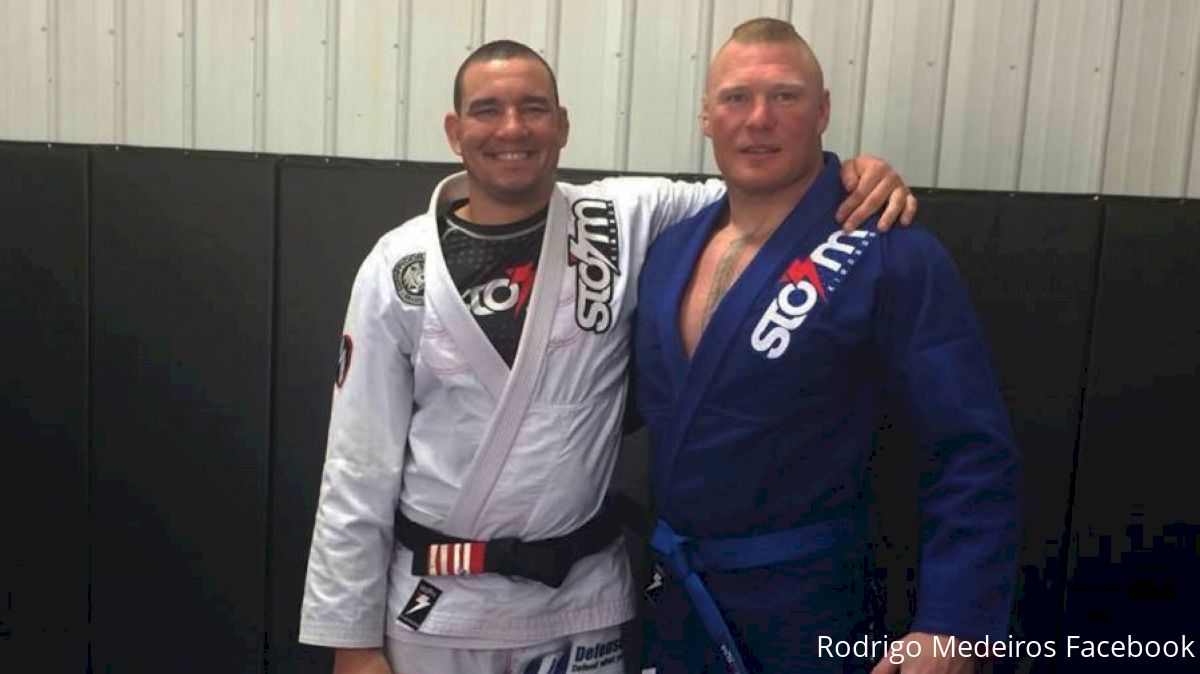 WWE and UFC star Brock Lesnar has been promoted to the rank of blue belt in Brazilian jiu-jitsu by Rodrigo 'Comprido' Medeiros. The promotion took place yesterday – Thursday June 16, 2016 – in Minnesota at Lesnar's private training facility.
'Comprido' – a two-time black belt World champion, with a record for the fastest submission in a World Championships final – has been Brock Lesnar's jiu-jitsu coach since 2008.
Speaking directly with FloGrappling, 'Comprido' said: "I've been working with Brock now for eight years. The training went down a notch when he went back to WWE and retired, but I still work with him, Cole Konrad and Marty Morgan – NCAA wrestling champions – and they're at a level way higher than that of a blue belt.
"But we can't jump the belts, right? We were always worried about no-gi in the fight camp, we never had chance for this. So now we had a little more time we did some training in the gi, I decided to give them the belts."
In truth, their level is way higher than that of a blue belt, but in line with the rules of the IBJJF we can't jump belts, a student has to pass through all of the ranks.
Also promoted were Lesnar's coach Marty Morgan, a 15-year veteran wrestling coach at the University of Minnesota, and Lesnar's training partner Cole Konrad, an NCAA champion and former MMA fighter who retired as heavyweight champion of Bellator.
"Even when my students have a level much higher, winning important things, they must pass through the ranks. I think it's horrible when I see coaches doing this with MMA fighters, but their level is way higher a blue belt!"
[facebook url="https://www.facebook.com/rodrigocomprido/posts/10157117100280473"]
Blue belt is the first of four common ranks in the Brazilian jiu-jitsu ranking system. Practitioners start with a white belt, progressing to blue, then purple, brown and black. On average, it takes a person between 12-18 months of consistent training to attain a blue belt.
In Brazilian jiu-jitsu, it is not uncommon for someone to be a practitioner of the art for ten years or more before they are promoted to black belt. Beyond black belt, there are master's ranks of red and black belt, white and red belt, and red belt. It is not possible to attain a master's rank without a minimum of 31 years spent as a black belt.
The new blue belt! @BrockLesnar promoted by @compridobjj @ufc pic.twitter.com/qNcZ6ioAgs

— Ana Hissa (@AnaHissa) June 16, 2016
Lesnar will fight on the upcoming UFC 200 against Mark Hunt. The WWE wrestler and NCAA wrestling champion is 5-3-0 (two submissions) in MMA, with seven of his eight fights taking place in the UFC.
In 1999 Rodrigo 'Comprido' Medeiros set a number of records. By winning the black belt absolute final via a toehold in only 17 seconds, he became the first ever black belt competitor to win an absolute final by submission, and also set the record for fastest submission in a black belt absolute final (a record that still stands until today).