Create a free account to unlock this article!
Get Started
Already a subscriber? Log In
Another cycle of Olympic judo has come and gone, and most students of Brazilian jiu-jitsu will have tuned in hoping to see a huge throw or a lightning-quick submission.
While the throws are the most visible and admired aspect of judo, there a underlying skill set that Olympic judoka are far and away the very best in the world at: gripping. Students of jiu-jitsu could learn a great about by watching them.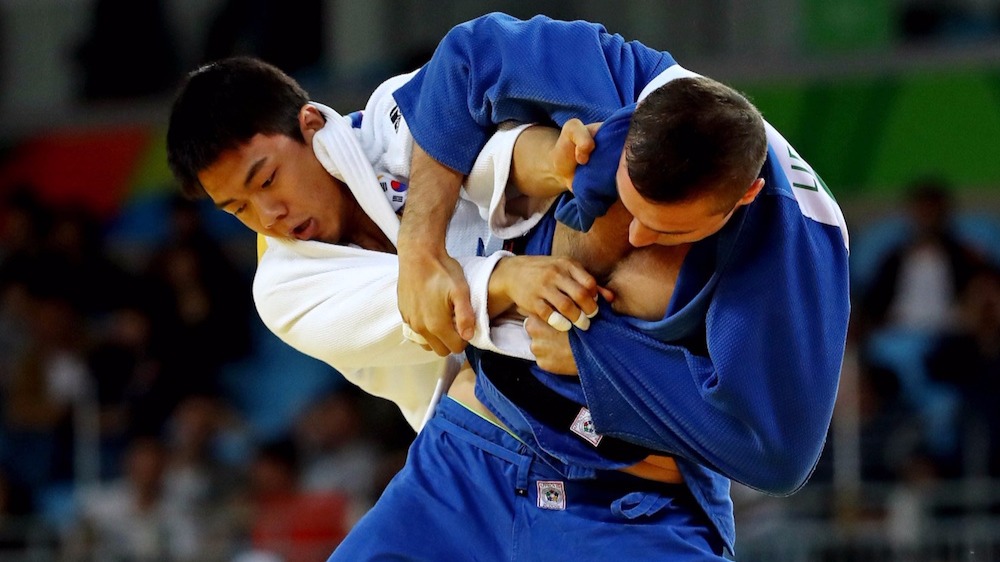 Photo credit: Jeff Swinger-USA TODAY Sports
Coming to Grips with Grips
One unifying fact of grappling is that you have to grab hold of your opponent. Grip and hand fighting is the first phase of any grappling match, and yet is a criminally neglected skill. In grappling sports that include a jacket, grip fighting is a particularly important skill as the fabric makes grips more powerful and harder to break.
With that said, the advent of grip fighting in judo (the most widely practiced jacketed grappling art) is a fairly recent development.
For a variety of reasons classical judo didn't include the contesting of grips. Judoka would step forward and grip each other. Then the match would begin.
This continued through the 20th Century as judo became more international. This practice can be seen in a clip of the famed Helio Gracie vs Kato match from 1950, and in a match from the 1964 Olympics. Note how in both matches the participants walk forward with their arms extended to both grip and allow themselves to be gripped.
As judo spread across the globe and became widely established as an Olympic sport the value of getting and preventing grips became more apparent.
Grip fights became more common -- and increasingly intense. Nowadays modern Olympic judo competitors look almost like boxers, circling each other while jabbing and probing their opponent's defenses, looking for a perfect grip that is likely to last mere moments.
That represents the very highest levels of competition however, at the lower levels of competition judo and in judo club practices around the world the approach of no grip fighting still very much persists. This statement is also true of Brazilian jiu jitsu, whose practitioners can engage in fierce grip fighting once on the mat but often have at best rudimentary grip fighting on the feet save for those at the most elite levels or those who cross train in other arts.
In order to make strides and improvements in grip fighting a working knowledge of the both the basic grips and more dominant grips.
Basic Grips and Concepts
The first grip a jiu-jitsu, judo or sambo competitor learns is often the classic sleeve and collar hold.
The sleeve grip is simple at first glance but is devilishly detailed when you take a deeper look. The sleeve grip can be taken behind the elbow or under the forearm, a matter of personal preference. The attacker grips the seam on the underside of the sleeve with his fingers and then turns his hand palm down, so his thumb is pushing the gi down. This takes the slack out of the gi and makes it difficult for the opponent to move his arm.
In judo this grip is referred to as hiki-te, or pulling hand. The pairing grip on the collar is situated below the collarbone near the top of the pec muscle. The collar grip is known in judo as the tsurite, or lifting hand. When used against an upright opponent this combination can -- as the names suggest -- be used to lift and pull them off balance.
The collar/sleeve grips can also be used against to snap down opponents who bend over, destroying their balance. It can also be used to push an opponent backwards. It is a valuable and simple grip set to have in one's arsenal.
Grip Strategy
A common mistake made when seeking these grips is to be so focused on getting the grips as to allow the opponent to get the same grips. These 'mirror grips', known as ai-yotsu in judo, are an extremely common place to learn throws from but they are one of the worst places to actually attempt to fight from.
To go further into detail on gripping strategy here is two time Olympic-medalist and the U.S. Olympic judo coach Jimmy Pedro.
For even advanced takedown artists, getting a hold of their opponent with their dominant hand is required for the vast majority of their offense to work. So one of the key concepts of grip fighting is controlling your opponent's power hand and keeping your own free to grab the opponent.
Reaching directly for the collar often results in your own powerhand being captured. So one basic gripping strategy is to attack the opponent's power hand before seeking the collar grip. A simple two-on-one approach can be extremely effective.
Here is another Jimmy Pedro video with a simple grip drill, attacking his opponent's power hand with both hands. Note that in this video Pedro is showing the drill in a lefty-on-lefty matchup.
Note that while Pedro goes into for an osoto gari, if that throw isn't available the opponent's collar is now is easy reach. In the process of hitting his osoto gari Pedro is taking his second gip, giving him two grips while his opponent has none.
Grip prevention is important, but to assume an opponent will never get a grip is to court disaster. Grip breaks are a vital part of a grip fighting game because often it is better to remove an opponent's quality grips than try to attack through them. Having a reliable ways to free your power hand and strip grips from your collar are must-haves, especially for grapplers who favor single or double leg takedowns.
Dominant Grips: What You Should Be Fighting For
Most high-level takedown artists tend to have a great deal of skill in the basic grips and a progression they prefer toward more dominant grips, from which they tend to finish their 'A-game' techniques. Here is a brief overview of a few dominant grips.
1. High Collar Grip
A thumb-in grip that is taken high on the collar somewhere behind the neck, this often requires a grappler to get closer to his opponent than the traditional collar grip but can pay big dividends.
The high collar grip provides superior ability to pull an opponent forward and drive them back. Additionally, the high collar grip can allow a grappler to break his opponent's posture, forcing them into a bent over stance and making them highly vulnerable. When used correctly the high collar grip is one of the most dominant grips in grappling. Teddy Riner, two-time Olympic champion, makes heavy use of the high collar grip to set up his feared uchi mata and osoto gari throws.


2. Russian Arm Tie
Famously used by Russian competitors in wrestling, sambo and judo, the Russian arm tie is a two-on-one control similar to an armdrag.
It leads into a huge number of takedowns, including ankle picks, fireman's carries, sacrifice throws, and shot takedowns while badly limiting an opponent's potential offense. A big reason for the popularity of the Russian tie in judo and sambo is that many collar grip breaks lead naturally into the Russian tie, allowing a grappler to quickly turn the tables on their opponent. Here is a quick video explaining the basics of how to get to the Russian tie by Team Black House's wrestling coach Kenny Johnson.
3. Belt Grips
Belt grips were not commonly used in judo until the Russians made heavy use of grips where they reached over an opponent's shoulder to grip the belt.
These grips gave supreme posture control over opponents and lead effortlessly into sacrifice throws, high powered hip throws, trips, and forward facing lifts.
Russian proficiency with belt grips is one of the keys to their prestigious rise to becoming a dominant judo superpower. Here is judo black belt and sambo world champion Vlad Koulikov showing the different variations of belt grips and a basic attack from the Georgian belt grip.
More About Grips
This is a just a brief overview of jacket based grips. It has not touched on grips that are not jacket dependent or that use angles to negate grips.
Much like ground work, in stand up the most reliable way to set up a takedown is to control the opponent first through grips rather than relying on raw speed and transition ability. There is as much depth and technical brilliance to the art of grip fighting and its interplay with throws as there is in guard play. This article was meant to give some basic concepts and hopefully create more interest in the stand up arts amongst jiu jitsu practitioners.
Grips are one of those foundational aspects of grappling that are all too easy to overlook, but once refined can jump a grappler's game forward. Even though the concepts covered here are 'basics' they will provide a significant advantage against the uninitiated. They also provide a strong foundation to grow your personal gripping game.
T.P. Grant is a Chicagoan writer and brown belt in Brazilian jiu-jitsu. Follow him on Twitter.