The Wrestling Coach Turning Jiu-Jitsu Black Belts Into No-Gi Champions
The Wrestling Coach Turning Jiu-Jitsu Black Belts Into No-Gi Champions
Wrestling coach Jacob Harman is the best-kept secret among jiu-jitsu black belts, as he's the man who can turn athletes into champions.
Nov 10, 2016
by Solange Reyner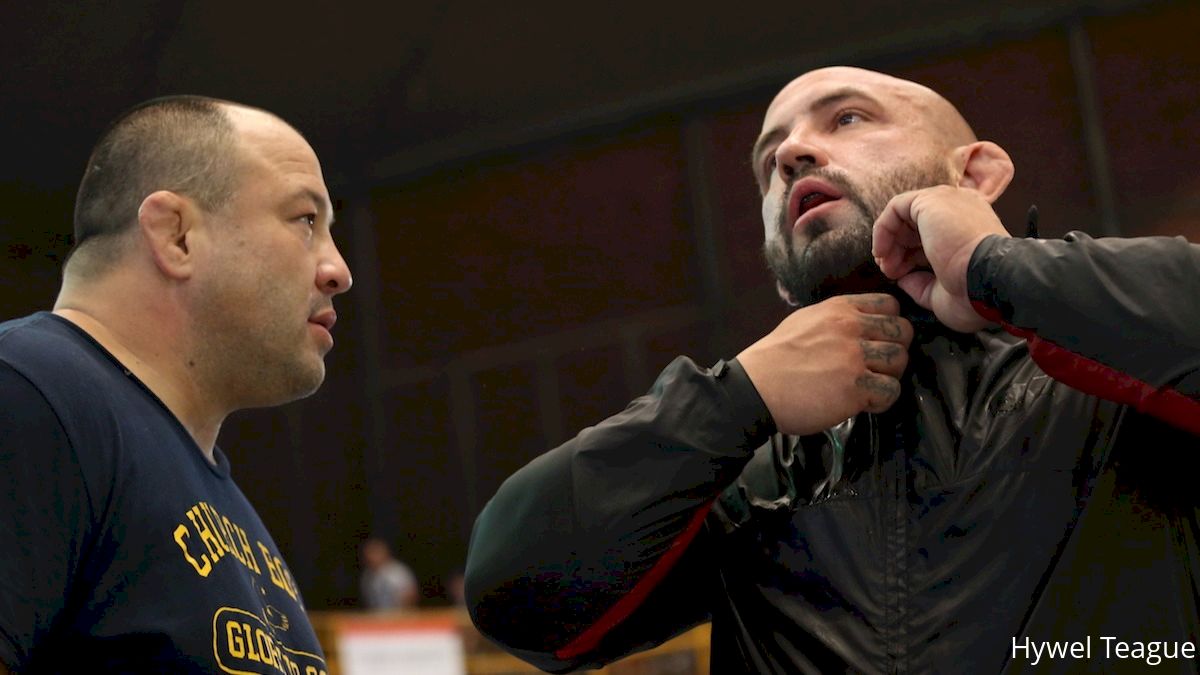 Pay attention or you'll be asked to leave. Work your ass off or you'll be called out. Get to your breaking point and don't crack. If you do, Calvary Chapel High school wrestling coach and pastor Jacob Harman will try to break your heart.
It's early September and Harman, a burly man who looks like he's always up for a wrestling match, is running one of his famously intense practice sessions at Calvary Chapel in Santa Ana, California.
Hip-hop music is blasting and Harman is barking instructions, getting in his athletes' faces, videotaping their every move, and live-streaming it on Facebook.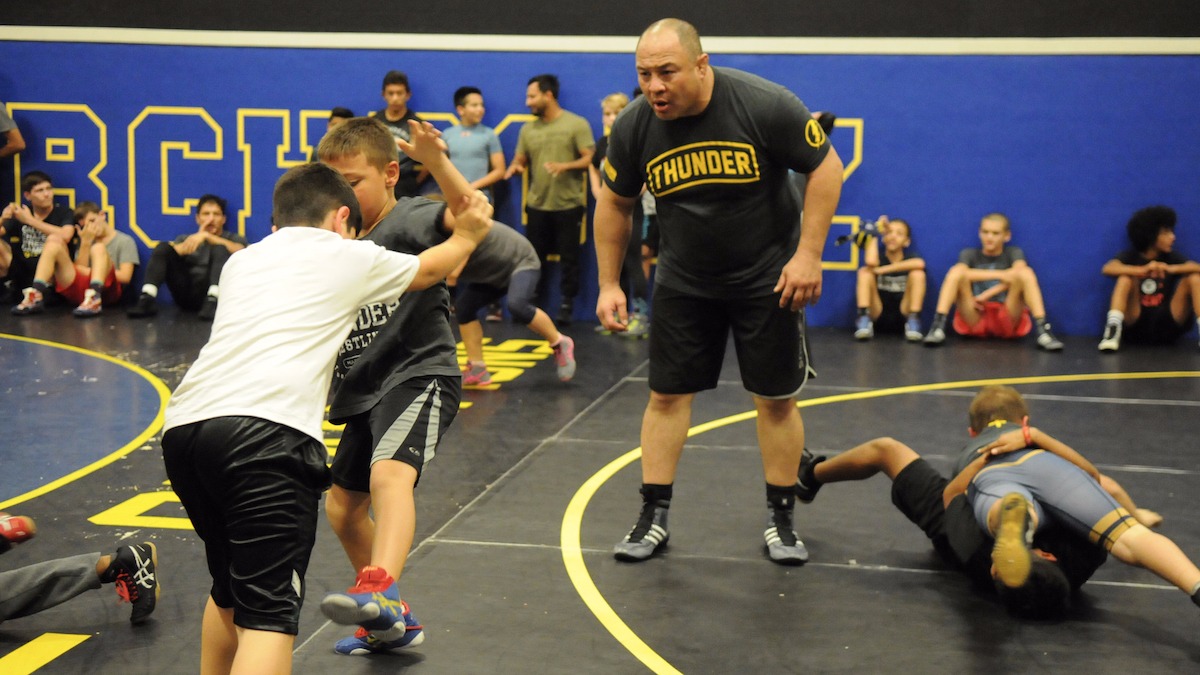 Photo: Blanca Marisa Garcia
"C'mon, c'mon. Five seconds left," he says during the end of one drill. Then his voice booms when one wrestler on bottom hits a reversal. Harman growls: "Nice, Blake!"
But he follows that with some pointers -- something he's never short of, it seems. "An almost takedown is not a takedown. So work on that."
In a hall across the way, the choir is practicing ahead of Wednesday's church service. Upstairs, wrestling matches from the 2016 NCAA championships and the 2016 Olympic Games air simultaneously on opposite TVs. There's a woman making acai bowls behind the food stand and a few parents watching Harman train their kids. The wrestling room is open for visitors.
Many pro MMA fighters train here, like former UFC lightweight champion and jiu-jitsu black belt Rafael Dos Anjos. Harman, who has been associated with the Calvary program for 18 years, helped Anjos prepare for his Nov. 5 bout against Tony Ferguson.
Former NCAA wrestling champions swing through, too. Today, NCAA wrestling champ Bubba Jenkins of Arizona State is working on his ground game. The 2011 title winner at 157 pounds is known for his highlight-reel pin of then-unbeaten David Taylor of Penn State in the finals. Now, Jenkins is a Bellator fighter with an 11-3 record and he trains with Harman, 41 and a former wrestler himself.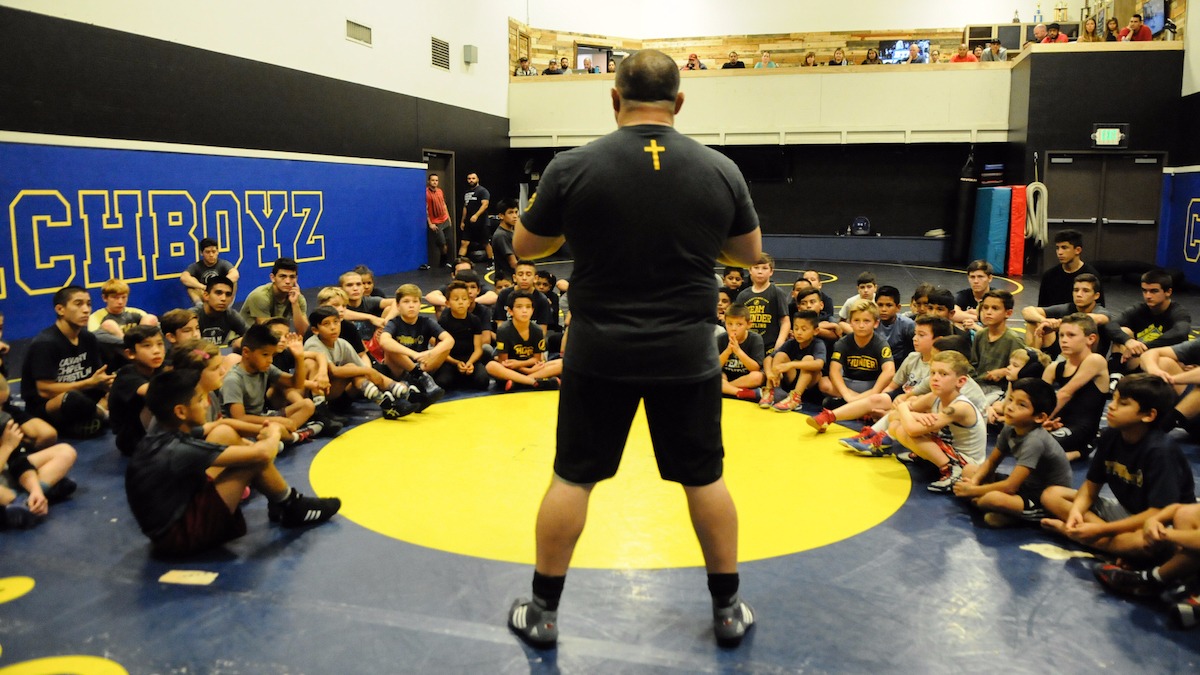 Photo: Blanca Marisa Garcia
Taking Jiu-Jitsu Athletes out of Their Comfort Zone
High-level jiu-jitsu competitors started making their way to this tucked-away gem a few years ago. Marcus "Buchecha" Almeida, Joao Assis,
Romulo Barral
, Gabi Garcia, and Otavio Sousa trained with Harman ahead of the biennial ADCC championships in 2013.
"The room was a weird room. It was intense, it was awesome," Harman said.
"
Luiz Panza
is on this side and
Felipe Pena
on this side. And the was before Pena snapped Panza's leg. But I didn't feel the vibe of, 'I'm not going to work with you.' Everyone was pushing each other. It was a magical energy, and I hope we can make it happen again."
Buchecha, Barral, and Assis won gold medals in their weight classes in 2013 and Sousa silver in his. Buchecha also won silver in the openweight division.
"My great friend Renato Babalu introduced Coach Jacob to me at a point in my career where I was not doing well, where I had no desire to compete anymore," said Barral, a six-time world champion who runs the Gracie Barra Northridge school in Los Angeles. "Babalu said he would be the right person to bring the fire back, and he was right."
And the training? Well, the training was tough as hell.
The group went to Harman's two times a week with sessions lasting nearly three hours. Practices would cover wrestling, submissions, conditioning, and Harman ended most with rope climbs, handstand walks, and chin-ups hanging from a balcony -- with chains on the athletes' backs.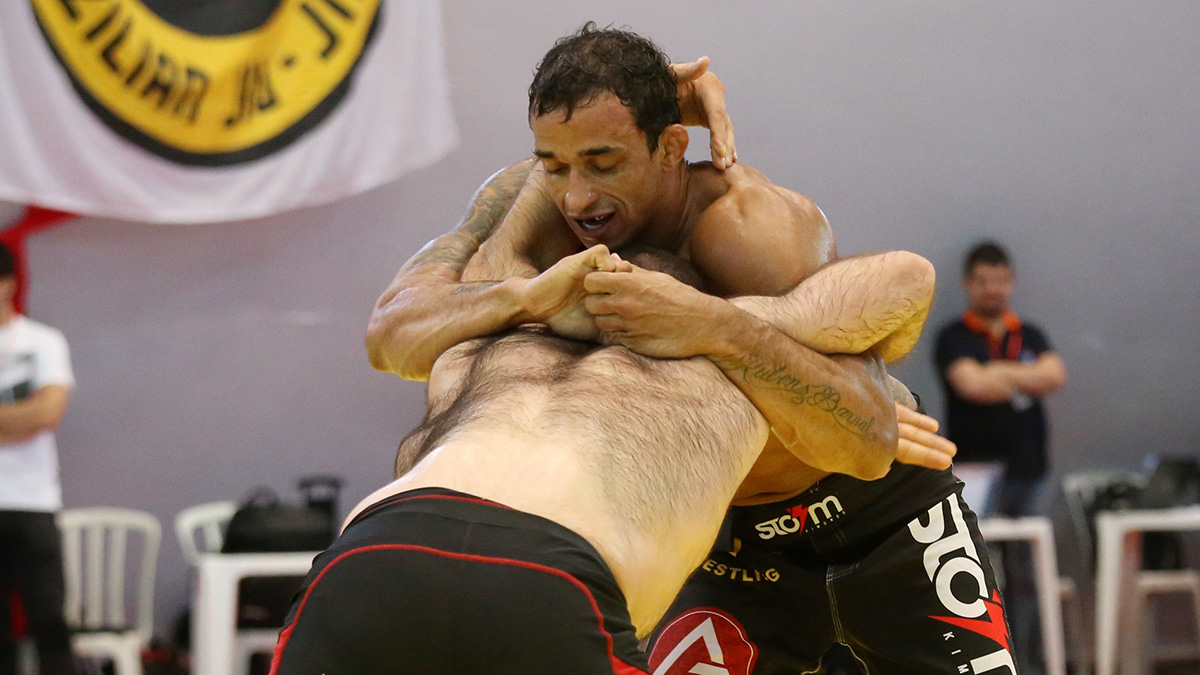 Romulo Barral in action at the ADCC 2015. Photo: Hywel Teague
"In BJJ, a lot of times we train within our comfort zone. Training with Coach Harman, I can't remember a day where I felt comfortable," said Barral, who still drives four hours to train with Harman -- mostly during No-Gi season.
Others have followed.
Black belts
Gabriel Arges
and
Edwin Najmi
(both students of Barral) and fellow Gracie Barra competitor Orlando Sanchez have been to see Harman. As has Gabi Garcia and Mackenzie Dern.
"It helped my base and takedowns a lot and, more importantly, gave me more energy and confidence to walk into any tournament and (know I could) compete against anyone," Arges said.
Sanchez shocked the grappling world when he won ADCC in 2015 after upsetting Dean Lister and Vinny Magalheas en route to the finals. The key to winning the +99 kg title: his improved wrestling skills. He beat Jared Dopp in the 40-minute title match, showing off his takedowns and suplexes.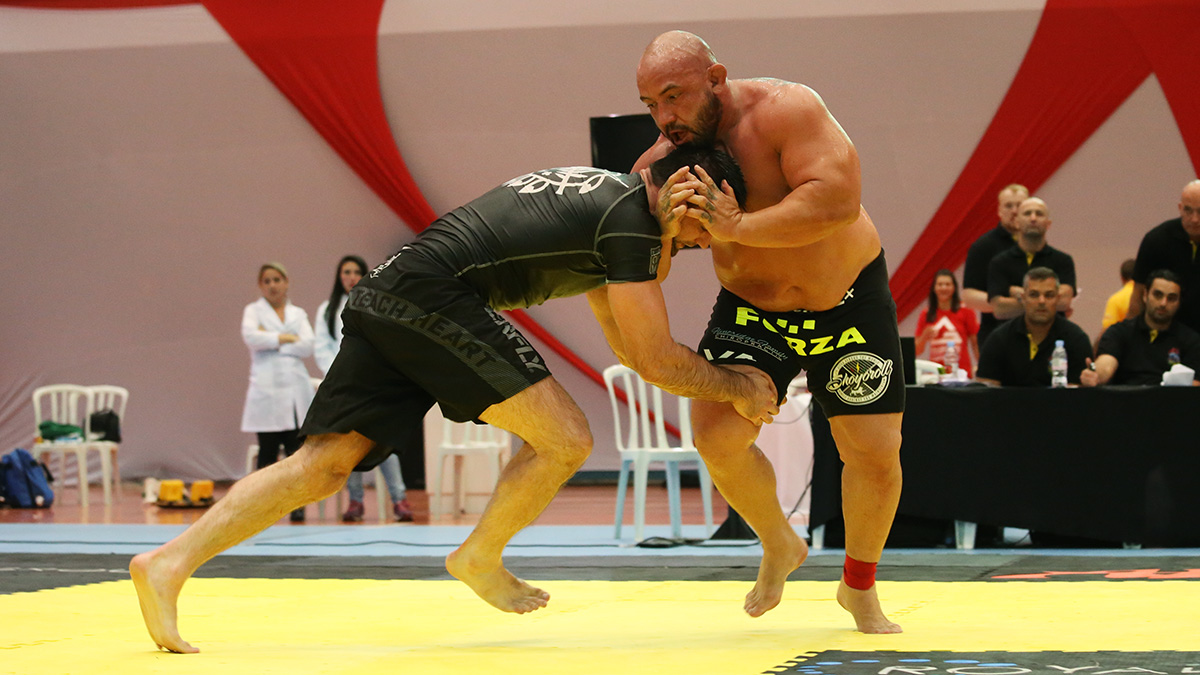 Orlando Sanchez defends one of Jared Dopp's takedowns in the ADCC 2015 +99kg final. Photo: Hywel Teague
Training for Every Scenario
It's in this gym where you want to feel the pain of a loss, not in a state title match, not in the fifth round of a cage fight, not in the finals of the world championships.
"Wrestling matches are won months and months in advance," Harman says. "That state wrestling final in March, a piece of that was won today."
Harman hones in on scenarios. At this practice, the wrestler is down by one point. There's 30 seconds left. It's the placing match to move on to state.
"You lose, you go home, your season is over. You win, you get another chance to go to the state meet," Harman says.
One wrestler sat there riding his opponents leg, tired. His body language was telling Harman that he was finished. His head was down.
So Harman started poking at him, starting with a countdown.
"Fifteen seconds," he says animated.
"Ten left. Well, you had a good season."
"Five left. You could see him trying to get frantic a little and then, boom, it doesn't happen. I say 'Hey, man, good job, good job. That was awesome. Wasn't it fun being a Churchboy?' He's a senior."
Harman continues prodding. "Wasn't that awesome? You got some nice clothes. You got in some cool pictures. All right, that's it. Go sit in the stands. Buy your ticket for state next week and get your popcorn. You can watch everyone wrestle."
Ouch.
"I don't want to be the jerk," Harman says. "But I want that simulation to be real right now so he corrects those things. So he can be successful in the future."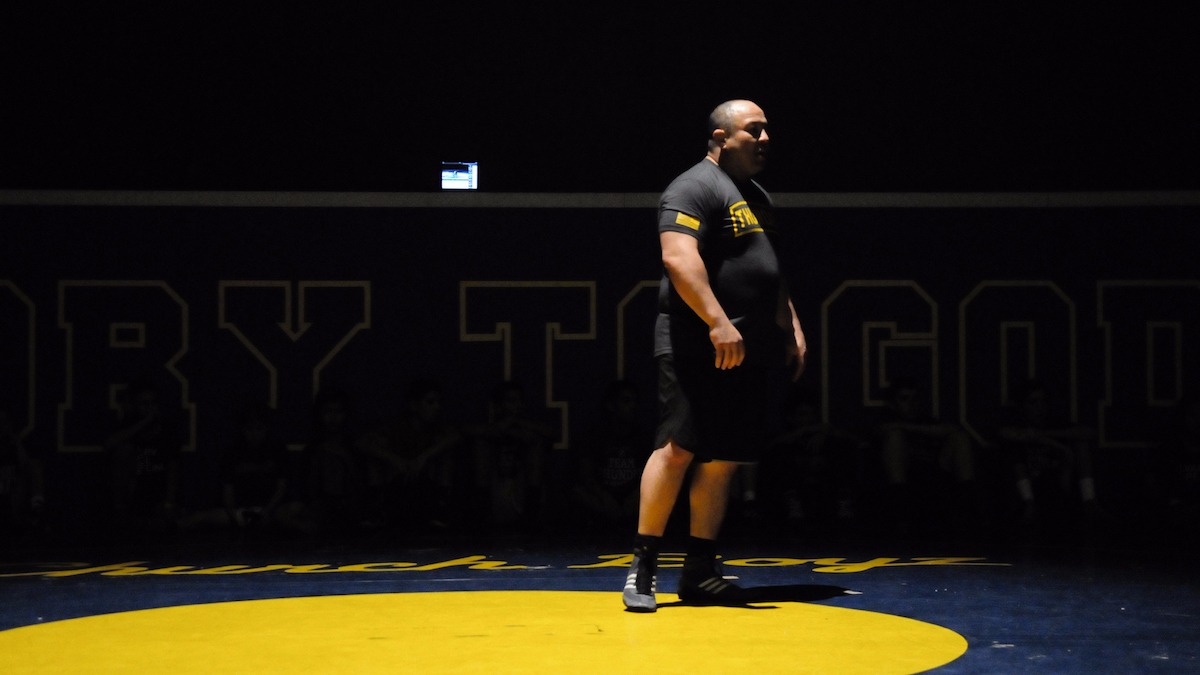 Photo: Blanca Marisa Garcia

Holding Nothing Back
Harman doesn't hold back -- even with the big dogs. "Buchecha spent a lot of time in here and I was smashing him in the face, smashing him in the head, and I was fighting him," Harman said. "I would say 'Come on,' and he would give it right back. Now when I watch his jiu-jitsu matches and he gets on the mats, he's like an assassin. He can do whatever he wants and has the tools to dictate where he wants the match to go."
Harman, who also coaches wrestling at King's MMA, appreciates both grappling styles -- wrestling and jiu-jitsu -- and his enthusiasm for the sports is effervescent, addictive.
"I owe a lot to Master Rafael Cordeiro for introducing me to this world [seven years ago] and to Babalu," said Harman. "That was the beginning of this Tuesday/Thursday workout. All I focused on was shot defense and shot positioning. I gave them what they wanted to beat wrestlers, and they started doing that.
"Wrestling gives you the ability to dictate where you want the fight to go, to grind, to pressure, to work hard, to have confidence."
And that, says Harman, is the key to success.