He Almost Didn't Compete: Josh Hinger Reflects On First IBJJF World Title
He Almost Didn't Compete: Josh Hinger Reflects On First IBJJF World Title
Josh Hinger describes in his own words how it felt winning his first IBJJF No-Gi Black Belt World title.
Nov 18, 2016
by Joshua Hinger
The truth is, I wasn't even going to sign up. Everyone kept asking me if I was going to sign up, and all I could say was "I dunno, maybe."
Professor Andre Galvao gave me a perplexed look and said, "What do you mean 'maybe?' You train every day. Go, and win." I said OK, but I was still unsure whether I was going to do it or not.
I performed poorly at No-Gi Worlds the previous two years. In 2014, I went 0-2, and in 2015 I went 1-2. Traveling all the way to San Francisco for what has historically been a bad tournament for me seemed less than appealing. If I can't win it when it's in my backyard, how am I going to win it when it's much farther away?
I was training a lot and hard. But I wasn't training for this specific tournament, I was just training to be better in general. I was training for all the tournaments in my future, not just the 2016 No-Gi Worlds.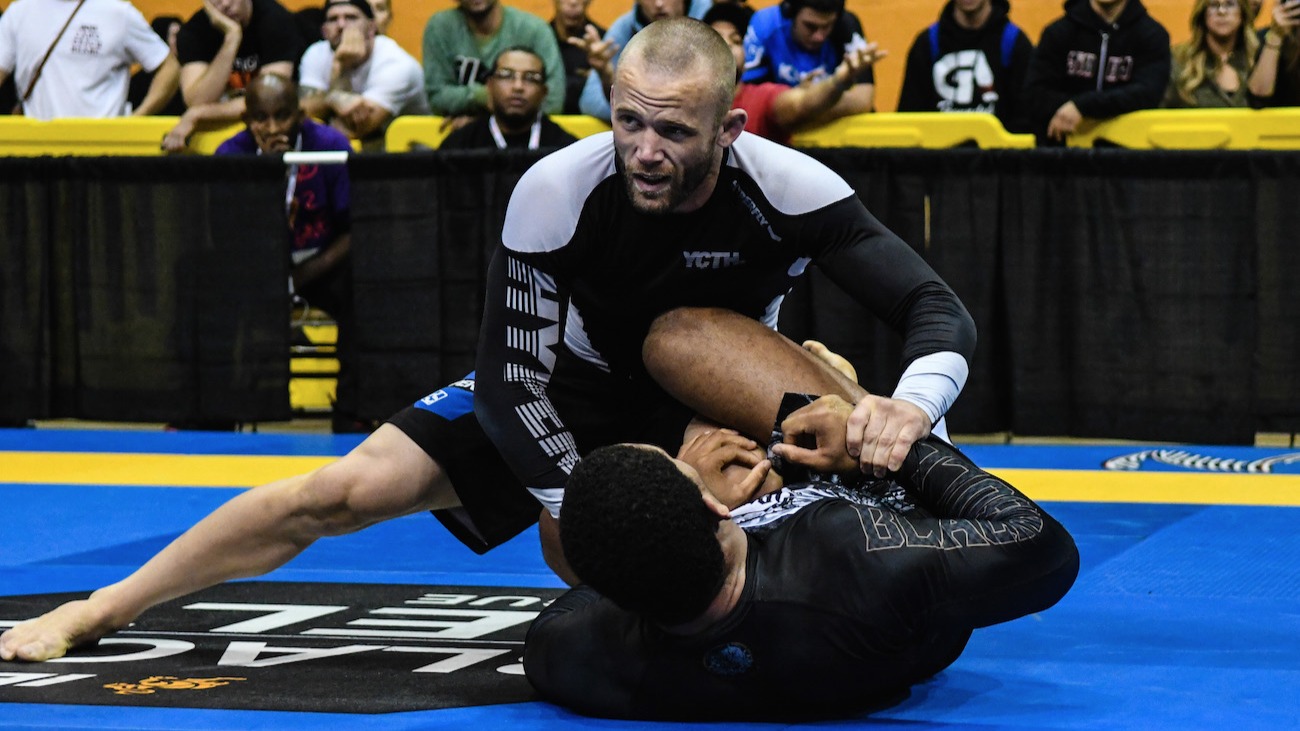 Photo: Chase Smith
A Major Goal Achieved
Once Professor Galvao organized a caravan for the team to travel to San Francisco, I decided I was going to go to support my teammates. Then I decided that since I was going to be there, I might as well compete.
I signed up at 11:30 PM on the last possible day to register.
As it turns out, it would become my single most important jiu-jitsu accomplishment to date.

I became the third American male to ever win the adult black belt medium heavyweight division at the IBJJF No-Gi Worlds (Keenan Cornelius and Rafael Lovato Jr. are the other two, in case you were wondering). Less than two dozen Americans, male or female, have ever won an adult black belt IBJJF world title -- I'm honored to be a part of this relatively short list of athletes.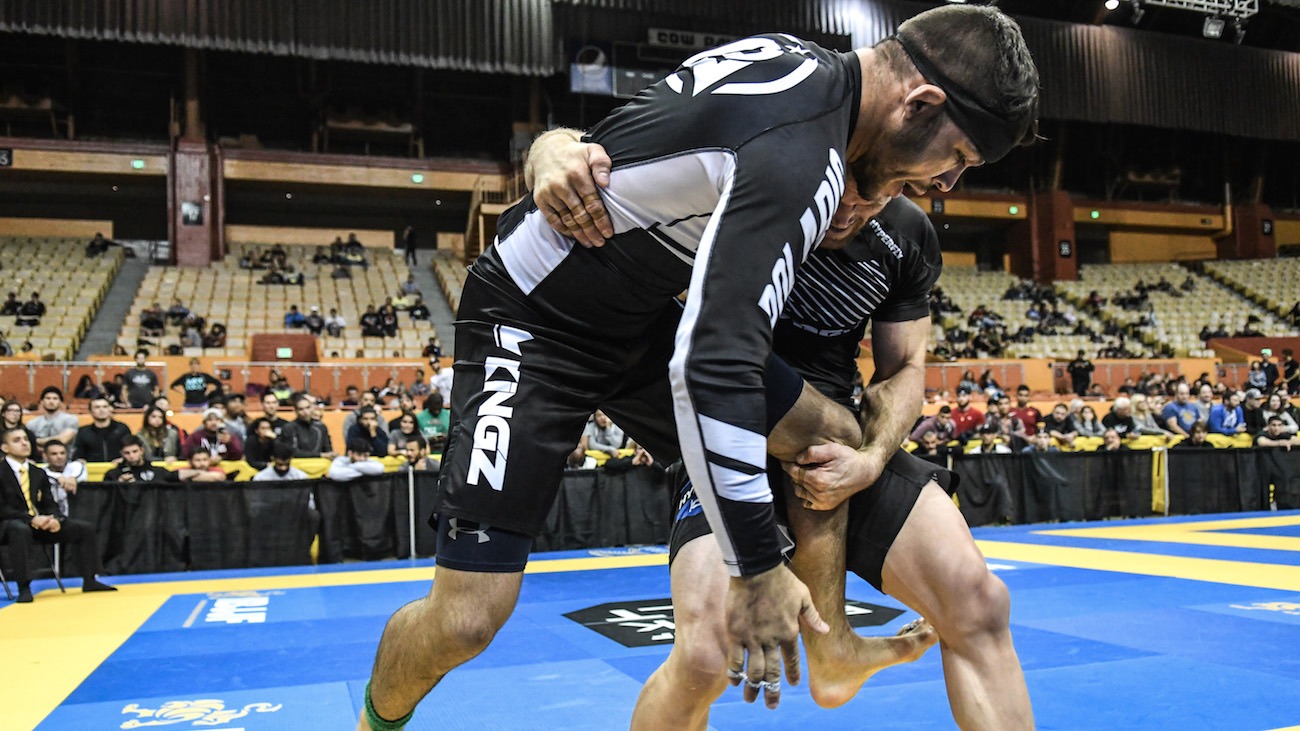 Photo: Chase Smith
The Buildup
This achievement is not the result of simply sucking it up and getting it done. It was the apex of more than a decade of wrestling, jiu-jitsu, and strength and conditioning.
It was the collective effort of hundreds of friends, family, and teammates who supported me, taught me, drilled with me, trained with me, motivated me, and inspired me.
As I stated earlier this week on social media,
a black belt is just a white belt who never quit, and a champion is just a competitor who never gave up.
Everybody loses. No jiu-jitsu competitor is undefeated. If you just hang in there, and continue to try your best everyday, your day will come and you will achieve your goal.
In the short term, I wasn't so focused on having a "solid 12-week training camp" for this tournament. I just told myself I would try to show up to as many classes as I practically could unless something super important came up. Nothing is ever super important to me, since jiu-jitsu has always been my priority.
I showed up for every class in the mornings and evenings. Lucas and I didn't have a dozen black belts to train with every day the way we did during the Worlds camp in spring. We had each other, and we had brown, purple, and blue belts to train with (all of whom are monsters, I might add). But it's not the belt that defines the training partners. I fear the ferocity and sniper-like precision of my brown belt teammates (Loynab, Perez, and Bell) more than I do any black belt from anywhere else.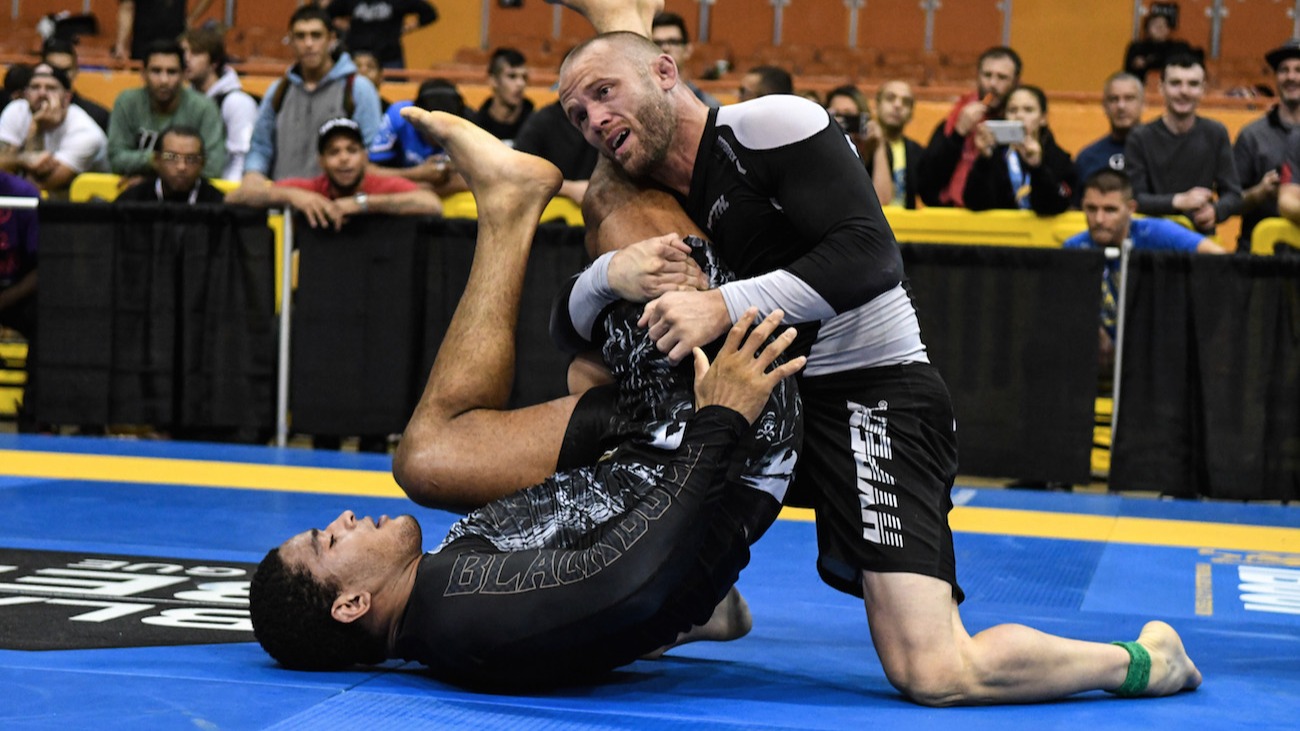 Photo: Chase Smith

The Tournament
The weekend of No-Gi Worlds was chaotic. I drove a van of 12 competitors for 11 hours from San Diego to San Francisco. It was 11 hours due to traffic in Los Angeles and Dom Bell's abnormally small bladder. I was the only one who could drive the rental van, because I was the only one over 25 years old (shout out to the old guys). We checked in and rested. The next morning we were running late. That's just the nature of organizing large groups.
As I walked into the Cow Palace, my name was being called over the loud speaker.
It's basically every competitor's worst nightmare. I ran straight to the bullpen without even the most basic warmup. This had literally never happened to me before. I'm always the guy who arrives two hours early. I was shaken up a bit, because my competitor had a match in the first round.
Coming off a win, he was warm, confident, and on a positive roll. And here I was cold like a turkey leg the day after Thanksgiving.
Since I had a bye in my first round, this was my only match of the day for the medium heavyweight category. I figured I had 10 minutes to go HAM and then relax and prep for the semifinals the next day. I've always enjoyed watching Marcelo's squad, and I was hoping to finally have my 10 minutes with Matheus.
Luckily, I felt great in my first match, caught the submission, and advanced to the semifinals.
At that point the lingering debate was whether to compete in the open class or not.
Does one save their energy for the semifinals the next morning, or is it better to get a few more matches and feel the energy of the competition? There's also the risk of injury. It would be such a shame to get injured in the open class and be unable to fight at 100 percent in the semifinals the next morning. I heard that some of the guys a year ago didn't perform as well as they wanted to in their division semifinals, because they burned themselves out fighting monsters in the open class.
At the end of the day, I didn't drive 11 hours to not have matches. So, I signed up. I figured I would tap early to any dangerous submission and just try to have fun with it. I ended up getting two wins and then taking a loss in the quarterfinals. I'm glad I did it.
The next morning I woke up feeling good. I stayed focused on one match at a time. Sometimes when you look at the bracket it can be overwhelming. You see half a dozen names that all have the potential to win, and you think about what a task it will be to get through them all. But you truly never know how the bracket will unfold. Sometimes the favorites have a bad match and lose unexpectedly. It could happen to anyone.
You never know what kind of injuries or mental battles each competitor is dealing with, so there's no point in worrying about whom you might meet up with in the finals. You just focus on the man or woman standing right in front of you, and you give them hell.
So that's what I did. I gave each guy the best fight that I could. And at the end of the day, I came out on top.
Of course, on any other day that bracket could have evolved differently. No champion is the ultimate champion of the world. You are only the champion of that bracket, on that day, with those specific rules. But it is nice to hold title for the entire year.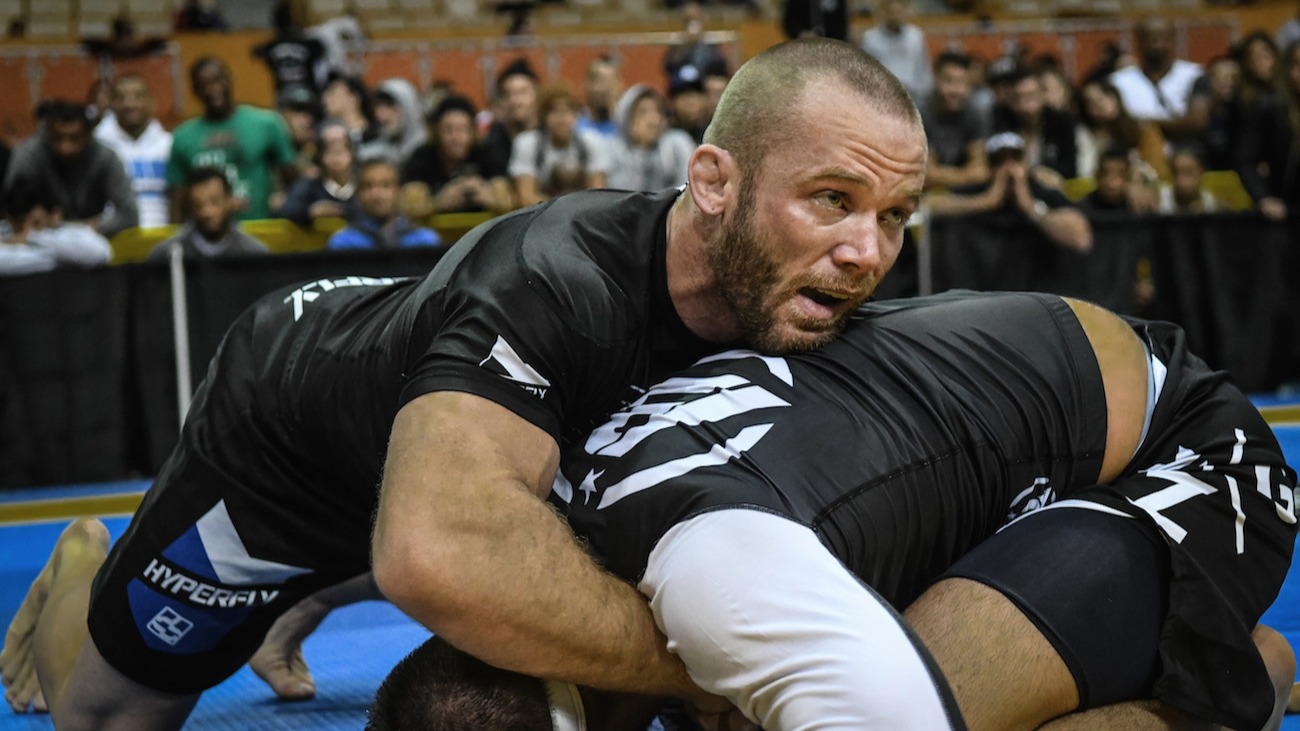 Photo: Chase Smith

So, What Does It Really Mean?
Everything, and nothing at all.
Single tournaments don't define us as competitors. All too often if you have three people competing against each other at different times, Person A will beat Person B, Person B beats Person C, and then Person C beats Person A. It happens all the time.
The tournament, the title, the medal -- they all mean something different to everyone.

Some people cherish IBJJF titles. Some people can care less. Some people love ADCC. Some people love Grappler's Quest. Gold medals have subjective values.
What it does mean is that we, as competitors, jiu-jitsu practitioners, and students of the gentle art, were able to step up on that day and conquer our nerves, control our emotions, focus on the task at hand, and execute technique with precision.
What Next?
For me, one world no-gi title is not the end, nor is it the beginning. It is just another mile marker on my endless jiu-jitsu journey. It's a story I can tell to my students. It's something that may or may not motivate them to work a little harder and move them to conquer their fears.
The 2016 No-Gi World Championships are in the past, and
my eyes are looking to the future.
Next, I will probably do another IBJJF Open. I really enjoy doing the opens. They are low stress, a lot of fun, and a great place to try some new competition strategies.
This jiu-jitsu journey has helped me grow tremendously as a person. I would simply like to continue evolving and sharing my passion with my friends and students.
Josh Hinger is a black belt and IBJJF black belt no-gi world champion representing Atos Jiu-Jitsu. Follow him on Instagram and Facebook.


Liked this article? You may also enjoy...