From winning the biggest tournaments in the world to dedicating himself to someone else's MMA camp, rookie black belt Edwin Najmi is on a quest to learn everything there is to know about being a professional athlete.

Managing a demanding competition schedule and finding time for his own training while making money by teaching seminars are all facets of what is required to be at the top of the sport jiu-jitsu game.

[instagram url="https://www.instagram.com/p/BNShzMfjAUA/?taken-by=flograppling" hide_caption="1"]
During his first year at black belt, Najmi has already accomplished more than most of his peers: a Pan championship and a Worlds silver medal.

Najmi's next challenge will be the Five Super League Welterweight Pro Invitational on Saturday, Dec. 3, when a bracket full of seven other 170-pounders will be vying for a generous cash prize. This will be his first return to competition since his submission victory over Kevin Mahecha at the GT Open in Guatemala in early October and his first tournament since the IBJJF Worlds.

Watch Edwin Najmi compete in the Five Super League LIVE or on demand, only on FloGrappling


Najmi is no stranger to balancing international travel, training camps, competitions, superfights, DVD filming sessions, seminars, and so on. He understands the demands of the jiu-jitsu lifestyle, which is not as glamorous as people think.

"Things are changing, but still unfortunately, we barely get paid -- if we do -- when we win tournaments," Najmi said. "So all high-level jiu-jitsu athletes need to teach seminars to make a living. And sometimes it gets tough to manage it all. Teaching seminars is fun and easy. I enjoy it. But when you have to worry about staying in shape and competing, it gets tricky. That's why I try not to schedule any seminars from March to June [the major gi tournament season].


But last year I was just on a crazy spree. I was literally teaching seminars every single week. My body was breaking down, and I was barely able to train for Copa Podio, which is probably why I had a terrible performance. After that I realized I need to relax and create time just to train before big tournaments.
[instagram url="https://www.instagram.com/p/BMpXhvEgmAC/?taken-by=edwinnajmi" hide_caption="1"]
On a layoff from major competitions the past few months, Najmi skipped out on the no-gi tournament season and missed both Pans and Worlds. Instead, the submission ace took part in a four-week training camp with UFC fighters Rafael Dos Anjos and Beneil Dariush.
Dariush has been a presence in Najmi's jiu-jitsu journey from the very beginning, whereas he met Dos Anjos at Churchboyz wrestling under the watchful eye of Jacob Harman about three years ago.
Najmi was brought on as a training partner for the fight camp, because he had a similar style to Dos Anjos' and Dariush's opponents and scrambles a lot. In preparation for the fights in Mexico City, the training group sought out the similar high elevation in Mammoth Lake, some 300 miles from Najmi's home in Northridge, California.
Related post: Inside Rafael Dos Anjos' UFC Training Camp With Jiu-Jitsu Star Edwin Najmi

While in the realm of professional MMA, Najmi gathered useful information on how to handle his own professional jiu-jitsu career.
"How to train like a professional, how to rest, make sure you're not over-trained, how to cut weight, stay mentally tough, proper nutrition, etc.," he said. "I learned a lot; it was a priceless experience.
"It was a nice reset for me, to be out of my comfort zone and do everything on their schedule."
Najmi said he's unlikely to follow his white belt dreams of entering the cage himself but adds "you never know."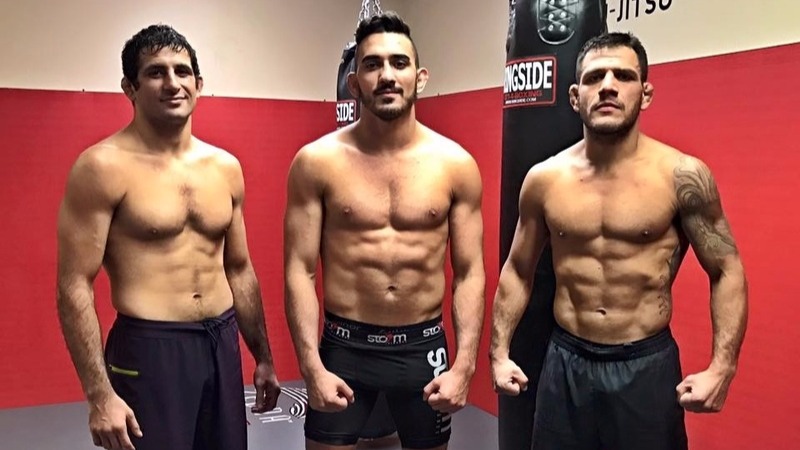 Beneil Dariush, Edwin and Rafael dos Anjos
Now he's ready to take on the welterweights in the Five Super League, going back to his own world -- one where his notorious flying submissions are king.
At around 175 pounds, he is one of the smaller competitors but often trains with bigger people.
"I'm confident I have the power and technique to match the strength of the bigger guys in the bracket," he said.
Najmi's style has become more well rounded, allowing him to feel comfortable in any position. With only seven years of training behind him, he considers himself one of the more balanced rookies.
More so, I really have a don't-care attitude," he said. "I don't care what position I play. A lot of people say that but they don't really mean it and end up wrapping up their opponent with lapels. But I honestly don't care; I just want to submit my opponent.
"I used to only be a guard player, but forced myself to play top game since brown belt and have improved a lot since then. You might even say my top game is better than my guard now. I don't think I've pulled guard at black belt yet."
Najmi is familiar with some of the Saturday's competitors, having faced them numerous times on the tournament circuit. But he's not worried -- like every other tournament he enters, his goal is to "get in there, be aggressive, put the pressure on and submit people."
How to Watch
FIVE SUPER LEAGUEON TV:
Now available on Roku and Apple TV 4 -- download the FloSports app today.
STREAMING:
Available only on FloGrappling for $20 monthly or $150 yearly. A yearly FloPro subscription provides access to ALL FloSports sites.
SIGN UP HERE
[instagram url="https://www.instagram.com/p/BNVGoZBDHpP/?taken-by=flograppling" hide_caption="0"]