In honor of the return of Five Grappling we take a look at five of the craziest things to happen at the Super League show in San Diego on December 3.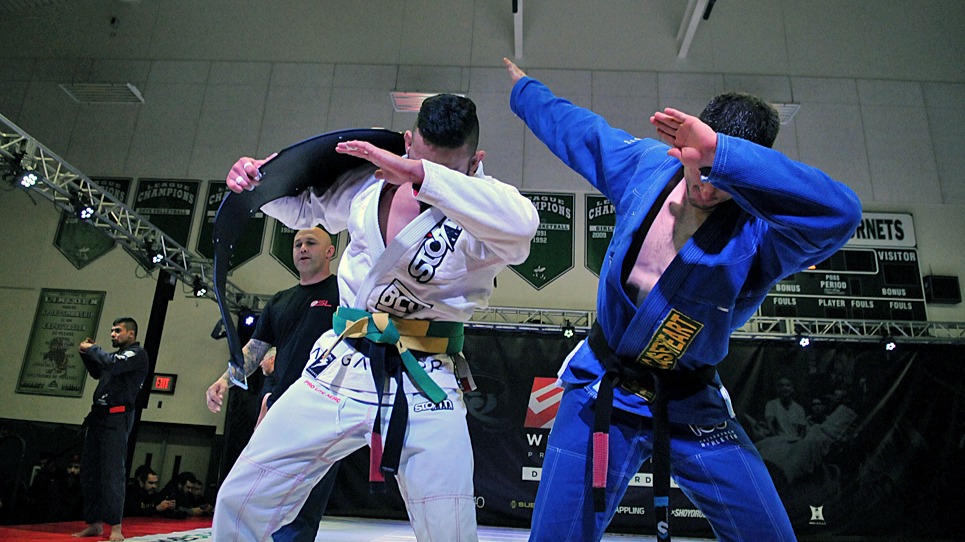 Edwin Najmi and John Combs hit a dab after their finals match. Photo: Blanca Marisa Garcia


5. Edwin Najmi catching two out of three opponents with lightning fast submissions
Apart from his six-minute battle with Mafra that went to a decision, Najmi caught two slick submissions on his way to being crowned champion.
Whereas he was once known as 'just' a triangle guy, Najmi's got a couple of submissions he's become associated with: namely, the darce choke and the estima lock.
Najmi caught Bill Cooper with a darce in the opening round, and submitted John Combs with the leg attack in the final. Both subs were "blink and you'll miss it".
---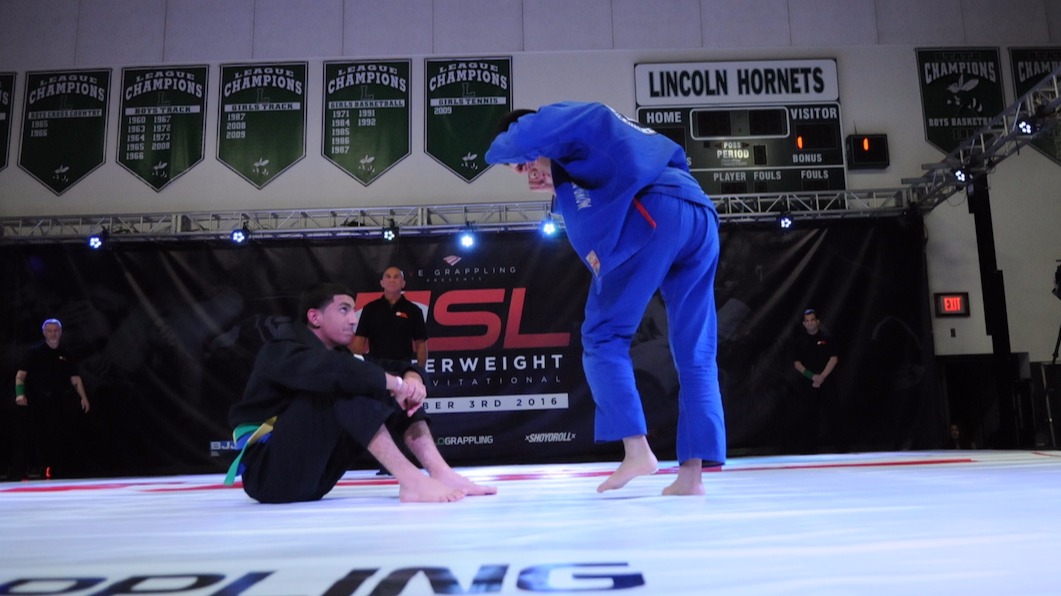 Cisneros taunts Loynab. Photo: Blanca Marisa Garcia
4. The blue belt competitor who called his defeated opponent a cry baby
Joshua Cisneros defeated Ares Loynab in one of the first matches of the event, submitting his opponent with a kimura in a fast-paced match.
Strutting around the ring to applause, Cisneros suddenly lost the support of the crowd when he walked over to the seated Loynab and made a 'cry baby' gesture to his vanquished foe.
The arena filled with boos, but Cisneros didn't seem to care. Loynab was furious and stormed off while Cisneros continued to play the bad guy.
---
3. Piter Frank's flying armbar win over Lance Glynn
We don't really need to say much about this, all you need to do is watch.
[instagram url="https://www.instagram.com/p/BNlVWG1DLbm/?taken-by=flograppling" hide_caption="1"]
---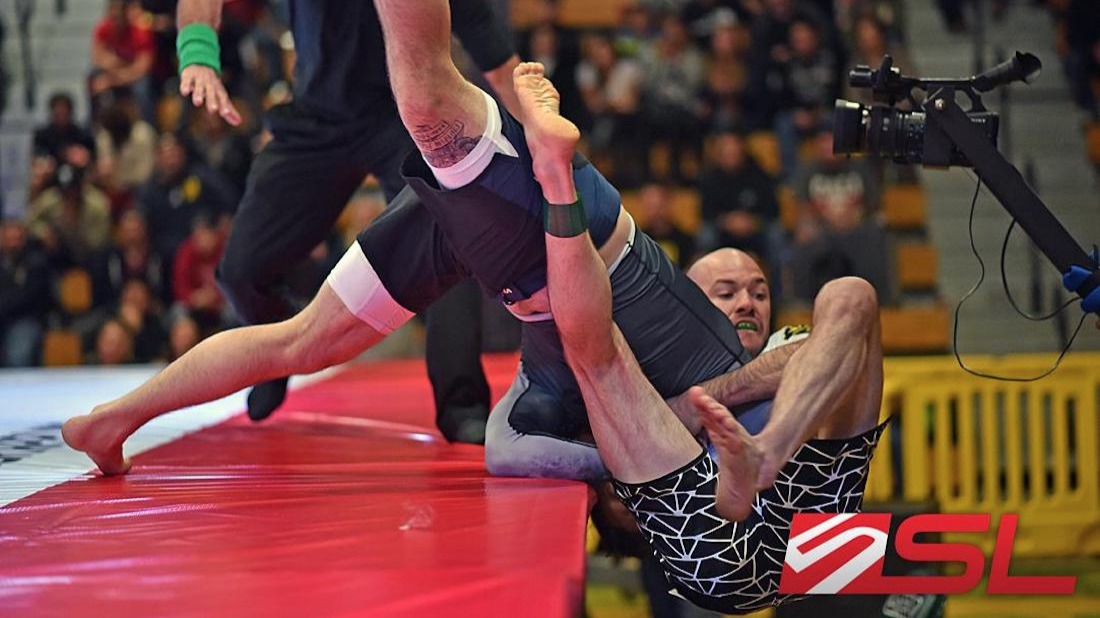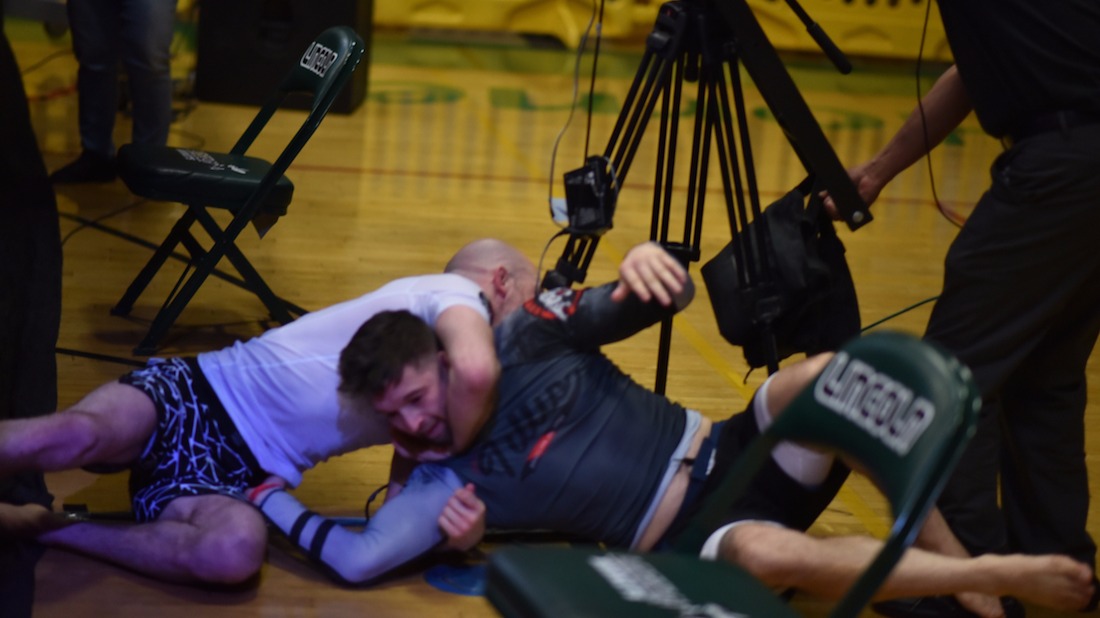 Gugerty and Tillis take a tumble. Photos: Kenny Jewel
2. The time two competitors took a fall off the stage
The Five Grappling state was a little higher than some other pro show, and stood a good four feet off the floor. The referees had been great about keeping the action in the middle and redirecting any competitors back into the center. But there was one incident that they couldn't prevent.
Noah Tillis shot a huge blast double that took him and his opponent Shannon Gugerty clean off the raised stage (see the header image) and tumbling down onto the hard basketball court floor. Gugerty was even trying to lock up a guillotine choke as they fell, and didn't seem to want to release it after they had landed!
Luckily neither man was hurt and they both popped back up onto the mat and continued as if nothing had happened.
---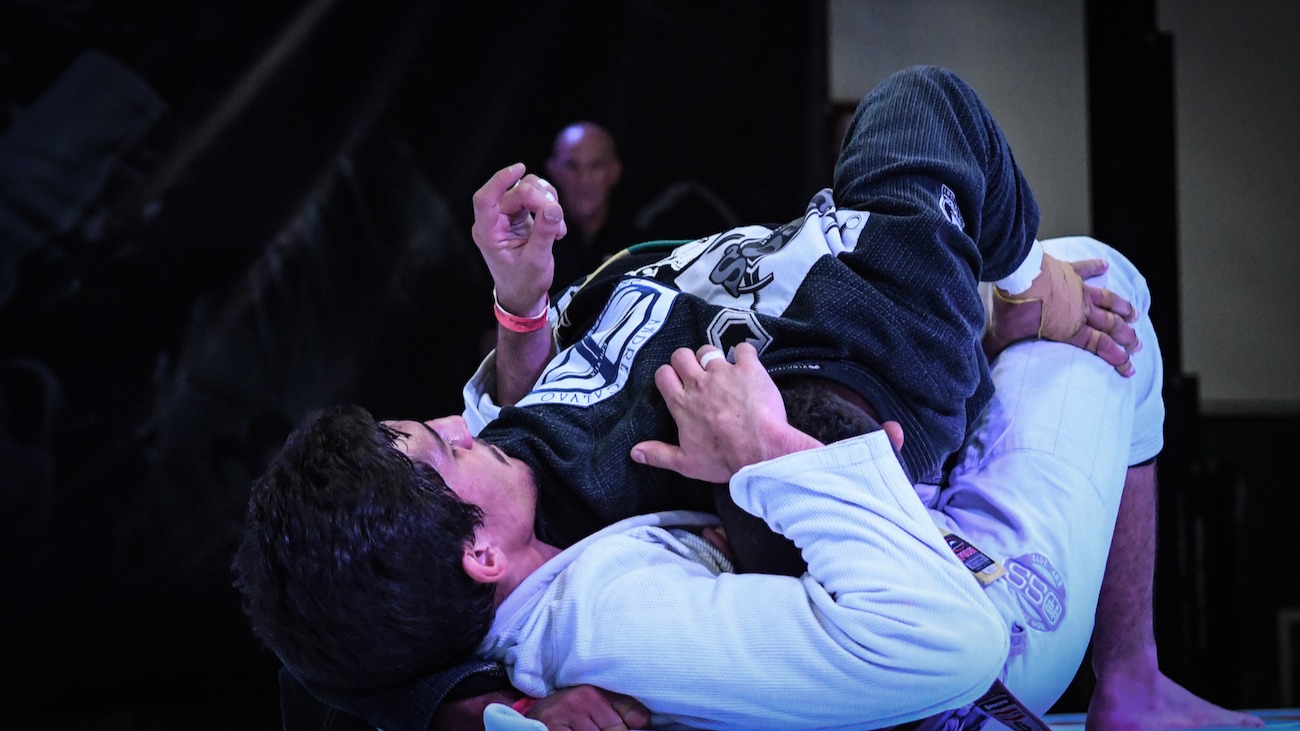 Kahuanui on bottom with his jacked-up hand. Photo: Chase Smith
1. Kaniela Kahuanui fighting with one hand
If you've ever busted a finger you'll know how incredible painful and debilitating it is. Brown belt Kaniela Kahuanui didn't just that during his match with Dominque Bell, and the snapping sound of the break prompted both men to immediately stop grappling.
Kahuanui, who reps Caio Terra Association, jumped up and ran over to the medic and asked him what he'd do. The medic replied he could tape it up, but they'd have to stop the fight ad he'd lose by injury.
Clutching his misshapen finger Kahuanui just tutted at the medic, turned around and ran right back to restart where they'd left off, carrying on for the rest of the match with one hand!
Watch the full event replay of the Five Grappling Super League here