Few black belt competitors in the sport today can claim to have had a rookie year quite like Nathiely Karoline Melo de Jesus… And it hasn't even been a full year yet.
Only seven months ago, accompanied by the sound of double gold medals clanking around her neck and the cheering of her teammates, Melo was promoted to black belt by coach Cicero Costha.
At only 20 years old she had just dominated both the female brown belt medium heavy and absolute divisions at the 2016 IBJJF World Championships.
Although now Melo is arguably one of the top female athletes in the sport of jiu-jitsu, little more than seven years ago she was just a little girl from the small town of Itapira who suffered from bronchitis.
How a childhood disease kickstarted an athletic career
A respiratory disease characterized by inflammation of the mucus membrane inside the lungs which causes severe coughing spells and breathlessness, bronchitis keeps most children from any kind of vigorous physical activity.
However, a doctor advised Melo's parents to make her do just that very thing.
At the time the family was living in Embu das Artes, a municipality on the outskirts of Sao Paulo, where they had moved when Melo was still young. Brazil's biggest metropolis, Sao Paulo, was also one of the world's hot spots for Brazilian jiu-jitsu.
Following the advice of the doctor, her parents decided to enroll the then 12-year-old Melo in judo, and then a year later in jiu-jitsu, where she trained at a Lotus Club affiliate academy under Claudio Felix.
Only three months after that, Melo entered her first competition.
A natural born competitor
Melo was a natural from the start. Tall and athletic, with legs made for the triangle choke, she quickly became known as a tough competitor on the South American competition scene.
Fighting under the Lotus Club flag, she won a number of tournaments at both blue and purple belt. And as a middleweight fighter, Melo was perfectly positioned to be a force in both her own division as well as the absolute division, where she had the advantage of both size and speed.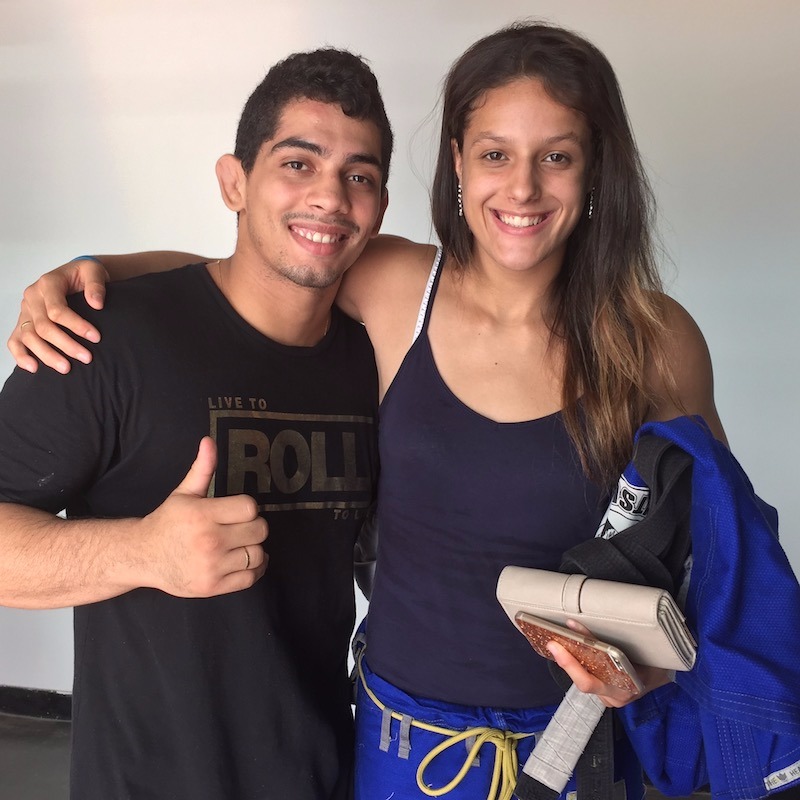 Then in 2013 she started dating Manuel Ribamar (pictured with Nathiely, right), a PSLPB Cicero Costha athlete.
It was during her first visit to his academy in December of that year that she would make a decision that would take her jiu-jitsu career to the next level.
At the time, Cicero Costha's "Projeto Social Lutando Pelo Bem" (PSLPB, 'Fighting For Good Social Project') was already earning a reputation for producing some of the sport's toughest and most exiting competitors, including Leandro Lo and Paulo and Joao Miyao.
Following an eye-opening training session, Melo wasted no time. By January 2014, she was officially a PSLPB athlete.
Winning medals, and the attention of the world
Her jiu-jitsu career went into high gear. She began training and competing full time, catching the attention of sponsors, traveling both throughout Brazil as well as internationally to compete in some of the world's largest jiu-jitsu competitions.
More often than not, she found herself standing at the top of the podium.
By the end of her purple belt year, she had already collected championship titles in the Brazilian Nationals, Pan American and the Worlds. But it was her brown belt season that would put her on the map.
Just months after she was promoted to brown, Melo fought in the UAEJJF Brazil National Pro and defeated a number of tough brown and black belt competitors in the Female +62kg absolute division. The prize was an all-expenses paid trip to compete at the Abu Dhabi World Pro Championships the following April.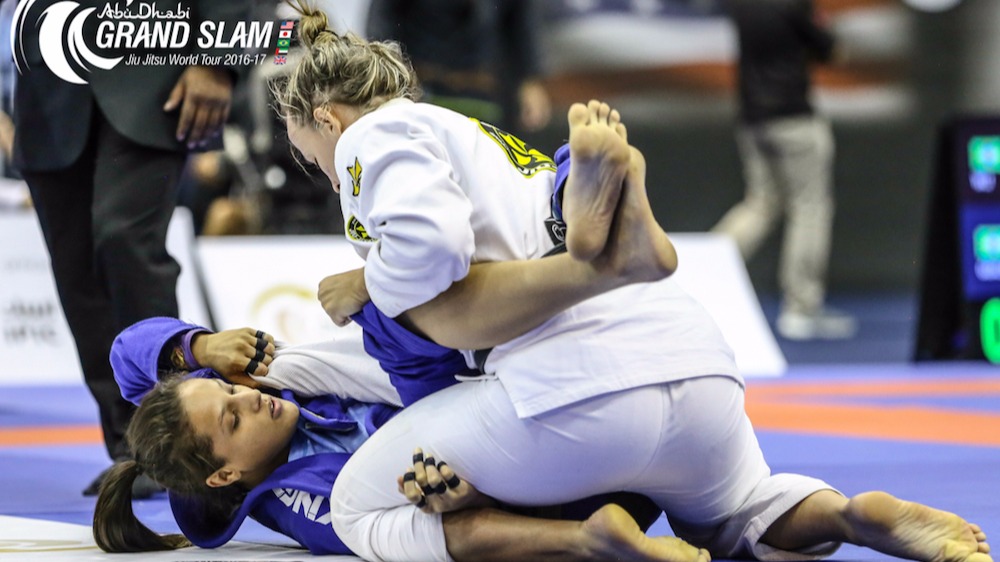 Nathiely Jesus in action at the 2016 Los Angeles Grand Slam. Photo: Ivan Trinidade / Gentle Art Media
There, it wasn't her win that made the international jiu-jitsu community sit up and take notice of the young Brazilian athlete… it was her loss.
Following her +70kg division win, Melo faced jiu-jitsu black belt superstar Mackenzie Dern in the second round of the absolute division.
In one of the most exciting matches of the event, Melo and Dern went back and forth, sweep for sweep… 2-2, then 2-4 Dern, then 4-4. Dern goes for a foot and Melo defends, then stood up for another 2 points.
With less than 30 seconds left, Melo desperately tried to maintain her 6-4 lead, trying to keep her distance from the dynamic black belt, but was penalized for running out of bounds, which evened the score and gave Dern the win by mere advantage points.
Now Melo is headed back to Abu Dhabi for the UAEJJF
Abu Dhabi Grand Slam
this weekend, where she will fight to maintain her number one spot in the UAEJJF year-end ranking, to win $10,000 in cash prizes.
Watch Nathiely in action in both the Abu Dhabi Grand Slam Jan. 14, and the IBJJF European Championships Jan. 21/22, live or on demand on FloGrappling.