Pati Fontes has been an established mat savage for pretty much her entire jiu-jitsu career. As a blue belt, she won bronze at Brazilian Nationals. As a purple belt, she was the runner-up at no-gi Worlds. She earned the right to call herself a world champion in 2015 when she won the title as a brown belt… and then again as a black belt at No-Gi Worlds the very same year, repeating the feat in 2016.
View Pati Fontes' profile and see her matches
Basically, Fontes is dangerous. And she's used to being dangerous.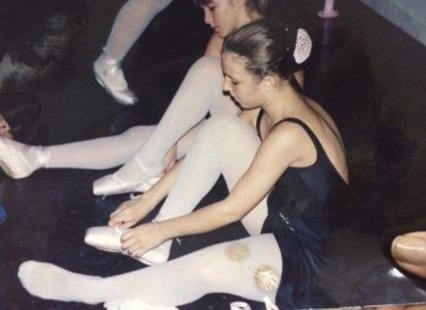 A 12-year-old Pati Fontes back in her ballet days. Photo: Personal archive
Given this Checkmat athlete's track record, it might come as a surprise to some that she started off her athletic career as a ballet dancer. The art might seem completely different from jiu-jitsu at first glance, but according to Fontes, her dance experience actually helped build a solid foundation for her BJJ.
I think ballet helped me a lot with body control and flexibility. Also, both require hard training and dedication, and they're very hierarchical and teach discipline.
Her days of dancing may be over, but she has no intention of hitting the brakes when it comes to her jiu-jitsu career.
On Saturday, she'll be competing against black belt sensation Mackenzie Dern in the main event at
Fight to Win Pro 25
in Scottsdale, Arizona.
This will be the fourth time in the promotion series' history (and the second time in just two weeks) that a female bout will be the headlining match, and Fontes says she's "just glad to be a part of it."
Female jiu-jitsu has taken over the scene; everyone loves watching it because it's exciting. Not only me, but all of the female athletes are ready to keep up with jiu-jitsu.
Watch behind the scenes video of Pati Fontes making weight for No-Gi Worlds -- link

[facebook url="https://www.facebook.com/jiujitsuleague/videos/1398589323524606/?hc_ref=PAGES_TIMELINE"]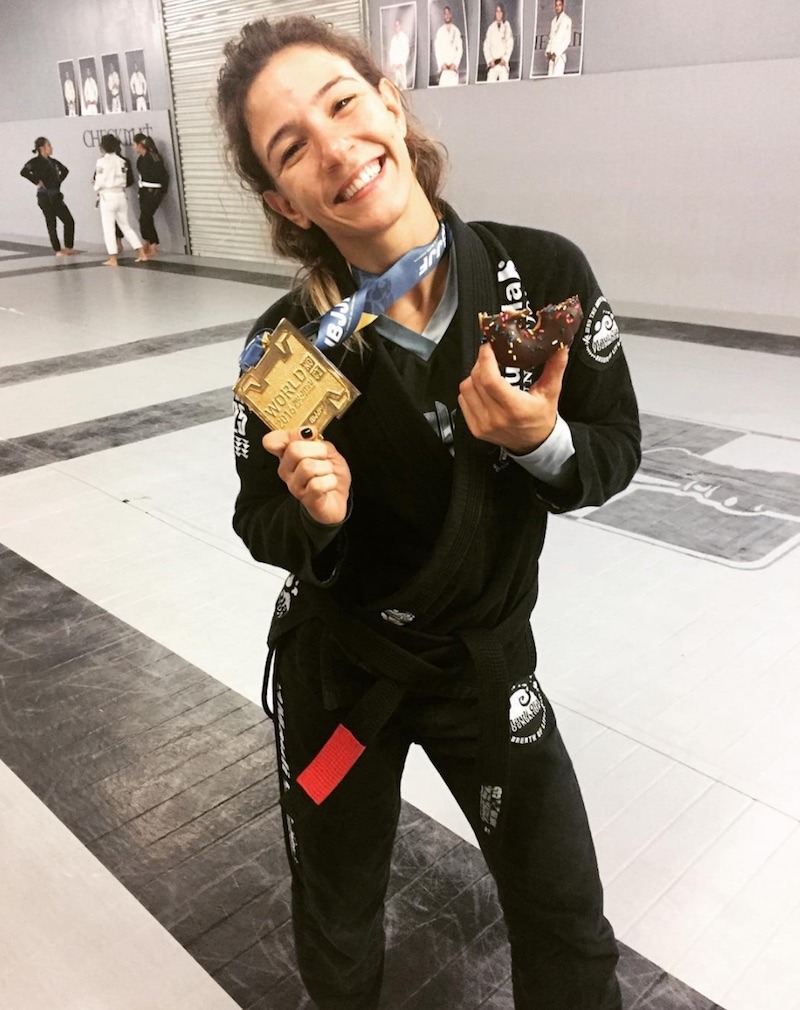 Based on her track record, point-based tournaments seem to be Fontes's area of expertise. But she says that she really enjoys sub-only competitions as well, which is one reason why taking this Fight To Win match appealed to her so much.
"I really enjoy fighting for the essence and taking risks for submissions," she says. "This is what people want to watch. I started doing jiu-jitsu to tap people, so it's great that I can get to work for it right now."
As an added bonus, competing at Fight to Win is going to help Fontes towards her goal of competing on a professional card more often. Even though she's already a world champion, she's still pushing herself to meet and demolish new challenges in her path.
With this in mind, her pairing with Mackenzie Dern is probably the best thing both she and Fight To Win fans could ask for. This will be Dern's third time gracing the Fight to Win stage, and the last two times we saw her, she came away victorious and left no doubt that the hype surrounding her is perfectly justified.
An athlete with Fontes' experience and talent, though, might provide a different outcome this time around.
"Like me, Mackenzie loves what she does. She represents female jiu-jitsu very well," says Fontes. "She's very talented and dangerous, and our matchup is great." She says that spectators can expect an open game from her, but ever the performer, her main goal is to put on a great show for her fans.
I know we will exchange some good positions in there, hopefully with a beautiful submission so that everyone goes home satisfied with the show.
Once her time in the spotlight is over on Saturday, though, she's going back to work behind the scenes in SoCal at Lucas Leite's academy to continue teaching the kid's class, and to train with her eye and mind on this year's IBJJF calendar. She says we can also expect to see her at EBI and Jiu-Jitsu World League at some point in 2017.
Whatever happens in Scottsdale on Saturday, there's no doubt that with Fontes and Dern headlining the event, anyone watching is going to see a performance they won't soon forget. After all, Fontes may have traded in her ballet shoes for a gi, but she's never lost her knack for stepping on the stage and making it her own.
Make sure you tune in to see Mackenzie Dern vs Pati Fontes -- plus many more, including Tanquinho vs Jeff Glover and Samir Chantre vs Gianni Grippo -- when Fight to Win Pro 25 streams live on FloGrappling on Saturday, February 4 at 6:00 PM Mountain time.
Watch it LIVE or On Demand only with a FloPro membership -- sign up here.