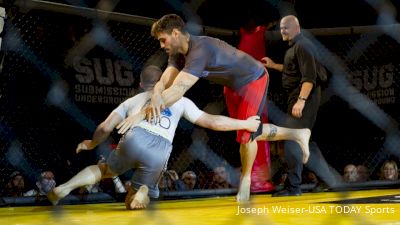 One of the hardest things to do in any one on one competitive sport is to take a loss. Of course not the actual act of losing, that's quite easy. I'm talking about dedicating your life to winning and coming up short when it matters most.
Losing is devastating, it never isn't, just ask Ronda Rousey. The most dominant female athlete ever in combat sports admittedly contemplated suicide after the one sided beatdown at the hands of Holly Holm. And I imagine she isn't alone in those thoughts, athletes like her pour everything they have into getting the results they want that when they lose giving up seems like the most readily available option. But not for Garry Tonon.
It was a tumultuous week for the Danaher Death Squad leader. Let's recap.
Last Sunday night, January 29th, at Submission Underground 3 one of the most feared grapplers going today took a loss. Not just any loss,
a devastating submission loss
. Garry Tonon was submitted inside 3 minutes with an incredible flying triangle by Antonio Carlos Junior.
Watch the submission above.
Many couldn't believe what they had just witnessed, as Tonon's hand furiously tapped on Carlos Jr. to alleviate the choke the audience in attendance let out a collective gasp. Upsets happen in jiu-jitsu. The sport is primed for them. How many times have we heard, 'everyone gets caught'?
In his post fight interview Tonon made no excuses for himself, even when Chael Sonnen tried to soften the blow by setting up the EBI champion to absolve himself from the loss, he wanted none of it.
That's bullshit, you get submitted you get submitted. What I'm saying here right now is no, you don't just get caught. I didn't get caught in a flying triangle, I got f*cking submitted. He was the better man today. There is no getting caught, it's not an accident. I lost.
The Danaher Death Squad is not short on people who want to see them lose. Just take a look at their social media channels, it's filled with 'haters' celebrating their downfall. But the clean shaven Garry Tonon shook of the shame and got right back on the horse. Less than one week later he was booked to fight surging black belt Gabriel Arges in arguably an even more dangerous match-up.
However, just like the opponent shake up at SUG3 Garry's opponent changed at Fight to Win as well. Arges suffered an injury just days before the bout and left Garry without a worthy challenger. Fight to Win's promoter Seth Daniels took to Facebook to find a suitable replacement for the submission specialist. But on only a few days notice it was a tall task.
Presumably anxious to erase the loss from the weekend prior Tonon took an incredibly risky match against AJ Agazarm. On only one days notice Garry had to throw all his previous preparation out the window and wear a gi. It was a high risk match to agree to. Even though Garry had defeated the Florida boy multiple time in the past, there wasn't much to gain or prove.
To Garry Tonon however the only thing that mattered was getting back to his winning ways. So despite his limited knowledge of the gi, Tonon took on the well-prepared Agazarm in the main event of Fight to Win Pro 24.
The Gracie Barra bad boy came in with a solid game plan that look to confuse Tonon at first. Agazarm used collar grips and weaved lapels through Tonon's legs to stifle his offense. It worked at first but Tonon found a way to win. Tonon relentlessly attacked submission throughout the match despite at times being positionally disadvantaged. At on point he applied
a kneebar so deep
Agazarm was unable to walk off the mat!
And just like that all memory of Tonon's devastating loss were erased. Of course it still happened but when you accept loses for what they are, minuscule setbacks in a broader journey, it's much easier to move past them. Challenges produce adversity and all great champions overcome this. It took Garry Tonon less than a week to move past. Meanwhile Ronda Rousey is still reeling from a year old loss.