Fight to Win Pro 26
How Jiu-Jitsu Gave Eliot Marshall Strength To Fight Anxiety And Help Others
How Jiu-Jitsu Gave Eliot Marshall Strength To Fight Anxiety And Help Others
On Friday February 10, Eliot Marshall will make his first Fight To Win Pro appearance of 2017 when he goes up against Renato 'Babalu' Sobral during the main event of Fight to Win Pro 26.
Feb 8, 2017
by Averi Clements
If there's anyone out there who might feel right at home beneath the bright lights of a Fight To Win Pro event, it's Eliot Marshall (
view profile
).
This BJJ black belt and former UFC fighter has already taken the stage three times, including when he headlined the MusclePharm Submit Cancer event with Marcus "Buchecha" Almeida in his hometown of Denver back in August.
On Friday, February 10, Marshall is making his first Fight To Win Pro appearance of 2017 -- once again in Denver -- when he goes up against Renato "Babalu" Sobral during the main event of
Fight To Win Pro 26
at National Western Complex.

Marshall said that much of the incentive to keep coming back and showcasing his skills stems from the desire to represent his hometown and show his students that failure is acceptable.
"A lot of times, the better you get at jiu-jitsu, the more it starts to become a part of your identity," he says.
You see a lot of purple belts, brown belts, even higher level blue belts who don't want to put that on the line and essentially get their identity crushed by losing. Competing at Fight to Win gives me the chance to show people that, hey, I might win or I might lose, but it's all good either way.
This easygoing philosophy is even more significant when you consider the fact that Marshall has battled with anxiety his whole life.
Instead of letting it tear him down, he's used it as a tool to better himself in all aspects of his life.
Everything you continue to fight through will positively affect your life. There's a quote by Ryan Holiday that says 'The obstacle is the win,' and my obstacle is my anxiety. As long as I continue, I'm a better dad, a better husband, and a better jiu-jitsu practitioner.
His students aren't the only ones who will be on the receiving end of this message on Friday -- Marshall's own young son will also be in attendance, watching his dad live the lessons he teaches.
"One of our family rules is to do things you're afraid of," Marshall said. "He'll get to see me nervous at this fight, and we'll get to talk about it."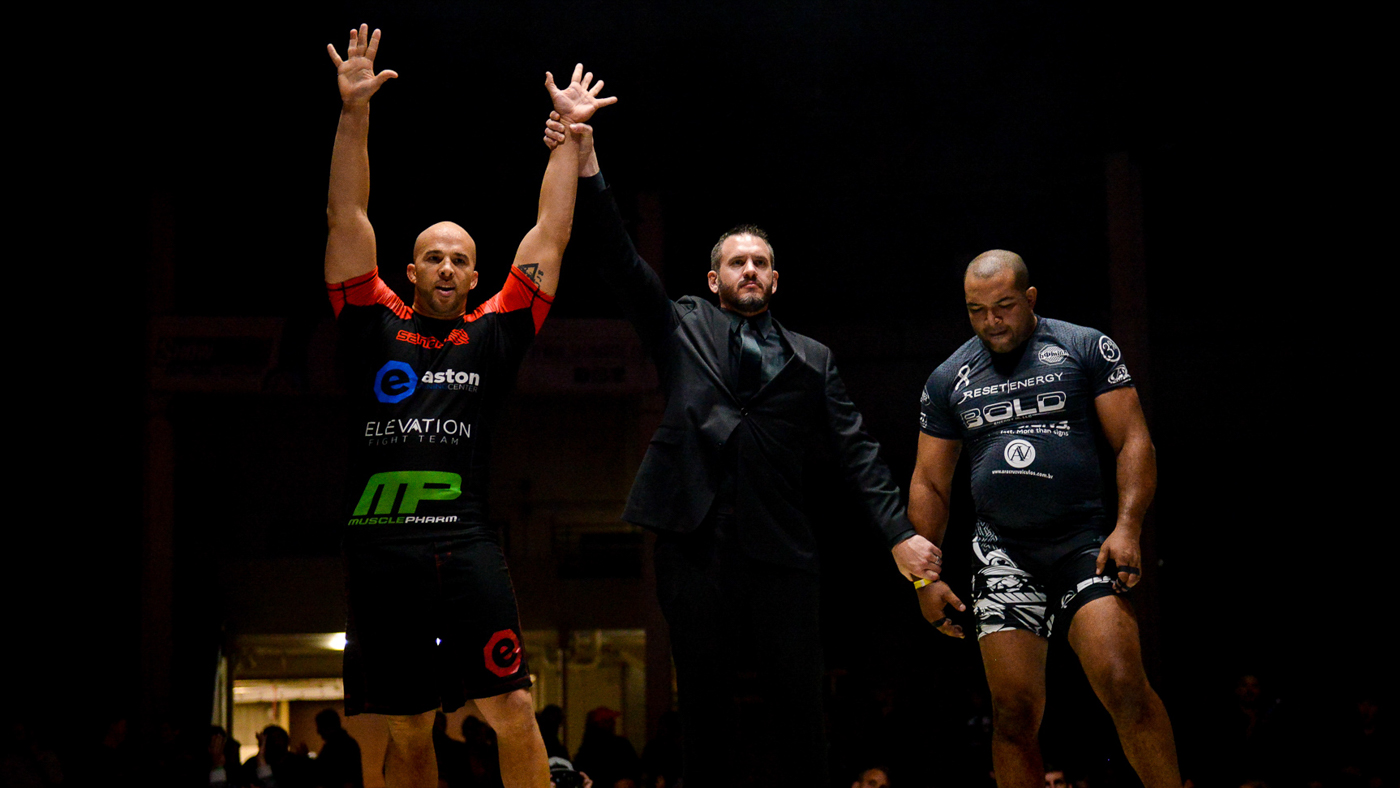 Eliot Marshall gets his hand raised after defeating Bruno Bastos. Photo: Mike Calimbas
Marshall's determination to conquer the things in his own path has also led to him helping others break down their own barriers. He's used his financial success to help others get the mental health treatment they need but might not be able to afford.
He encourages those who need therapy to come to him directly without shame or fear, and he'll gladly help them pay for their mental health care out of his own pocket.
Perhaps the greatest indicator of Marshall's enthusiasm for convincing others to overcome the things that hold them back can be found on the undercard of any Denver-based Fight to Win Pro event. Just a quick glance will reveal that his students from Easton BJJ are eager to face their own fears and put their skills to the test in front of countless on-site and online spectators.
"It shows a willingness to be humble," Marshall said of his academy's high turnout rate.
This isn't like competing in just another tournament where there's twelve mats going on at once and you don't know who's watching you. Here, all eyes are on you. It's dead quiet. People don't realize those differences until they go out and do it.
As Marshall prepares for his own match with Babalu, he's well aware that he'll be facing that pressure once again. He's also aware of the unique challenges that come with competing in jiu-jitsu against someone with such an extensive MMA background.
"With MMA guys, you don't have to worry about fanciness," he said. "They're not the ones who're going to be doing berimbolos; they're more traditional. But they're also used to having a lot more to lose. They're stubborn and a lot harder to submit."
Even as the countdown nears its end for these two ridiculously talented athletes to go head-to-head, Marshall isn't forgetting why he's fighting again in the first place: for the love of the sport.
We're just two dudes who still like to compete. Everyone thinks we're past our prime, but we're going to show them that jiu-jitsu is a way of life. It's not just something you can do when you're the best you've ever been, but something you can do for the rest of your life and continually strive for perfection.
Marshall might be a big-name athlete competing against another big-name athlete for one of the top promotion companies in the industry, but you could never say he doesn't practice what he preaches when it comes to humility. He makes a point to thank all the people who have been there for him at every step of his journey, from his family to his teammates, coaches, and students.
At his core, he's still a man who's gotten where he is today thanks not only to his own intense dedication and extremely hard work but also his incredible network of support. And now, he's passing on that same kindness and encouragement to help make others in the jiu-jitsu community stronger, happier, and healthier.
Be sure to watch Eliot Marshall and Renato "Babalu'"Sobral, plus many more exciting fights when Fight to Win Pro begins on Friday at 6 PM Mountain time!