Fight to Win Pro 26
It's Time To Start Paying Attention To Brown Belt Prospect Thomas Keenan
It's Time To Start Paying Attention To Brown Belt Prospect Thomas Keenan
Thomas Keenan Brown Belt Prospect 2017
Feb 13, 2017
by Reid Connell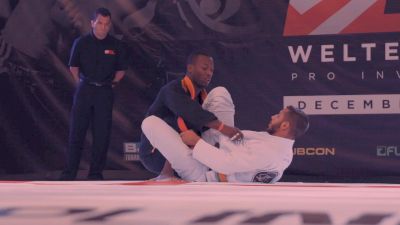 Gustavo Dantas brown belt Thomas Keenan has been quietly making the rounds in the super fight circuit. A veteran now of Fight to Win he also has picked up a win at Five Super League's December show.

The exciting prospect place third at IBJJF Worlds in 2016 as a purple belt losing only to Unity's Devonte Johnson. Since then the Phoenix Arizona transplant was awarded his well desevered brown belt in June, and hasn't looked back!

A foot collector, Keenan has won two super fights by way of brutal Estima locks and one via straight ankle in the past year.


WATCH: Fight to Win Pro 26 Thomas Keenan vs Isiah Wright
The touted brown belt prospect has been on a roll lately, and it all culminated this past weekend with an impressive victory over the always game Isiah Wright out of Easton BJJ. Although he is known for his foot locks Keenan showed that he isn't just a one trick pony.

The impressive submission was even caught the eye of Fight to Win promoter Seth Daniels who along with Muscle Pharm award Keenan with a $3000 Submission of the Night bonus!



WATCH: Fight to Win Pro 25 Thomas Keenan vs Mark Christian

Just one week earlier when Fight to Win made their stop in Scottsdale Arizona the foot collector claimed another victim. The two battled back and forth for the majority of the match but Thomas Keenan stayed persistent and eventually secured the tap. This time it was a lethal Estima lock.



WATCH: Fight to Win Pro 12 Thomas Keenan vs Matt Blank
All the way back at Fight to Win Pro 12 Thomas Keenan burst onto the Fight to Win stage with a spectacular performance against Matt Blank. Again the brand new brown belt went to his bread and butter causing his opponent to tap about half way through the match.