Jiu-jitsu powerhouse Alliance are the most successful and dominant team in the history of the sport. A record 11x World team champions, the multi-national association has rallied the troops and looks on track to collect a huge haul of medals at the IBJJF 2017 Pans.

In fact, it's even possible that Alliance could win gold in every adult male black belt division from featherweight to heavyweight!

Looking at the Alliance athletes who have signed up for the tournament it's easy to see that there are some obvious contenders for gold, but there are plenty of other strong candidates to finish on the podium.

Below, we rank the chances of Alliance athletes who we believe could win gold, and offer some thoughts on who else might make the podium.



BLACK / Adult / Male / Rooster

1. Bruno Malfacine
The undisputed kind of the roosterweights, 8x world champion Bruno Malfacine looks set to claim gold in this division. With seven other men vying for the top spot, few pose a real threat to 'Malfa' –2016 silver medallist Lucas Pinheiro is the most dangerous.
BLACK / Adult / Male / Feather

1. Rubens Charles Maciel
2. Gianni Grippo
3. Isaac Doederlein
Of the five Alliance athletes signed up for feather 'Cobrinha' is the number one choice for gold. The veteran black belt is showing absolutely no signs of slowing down and is coming off a great performance at Euros in January. If something freakish happens and we don't see him advance, then teammates Gianni Grippo and Isaac Doederlein are the strongest candidates to replace him.
BLACK / Adult / Male / Light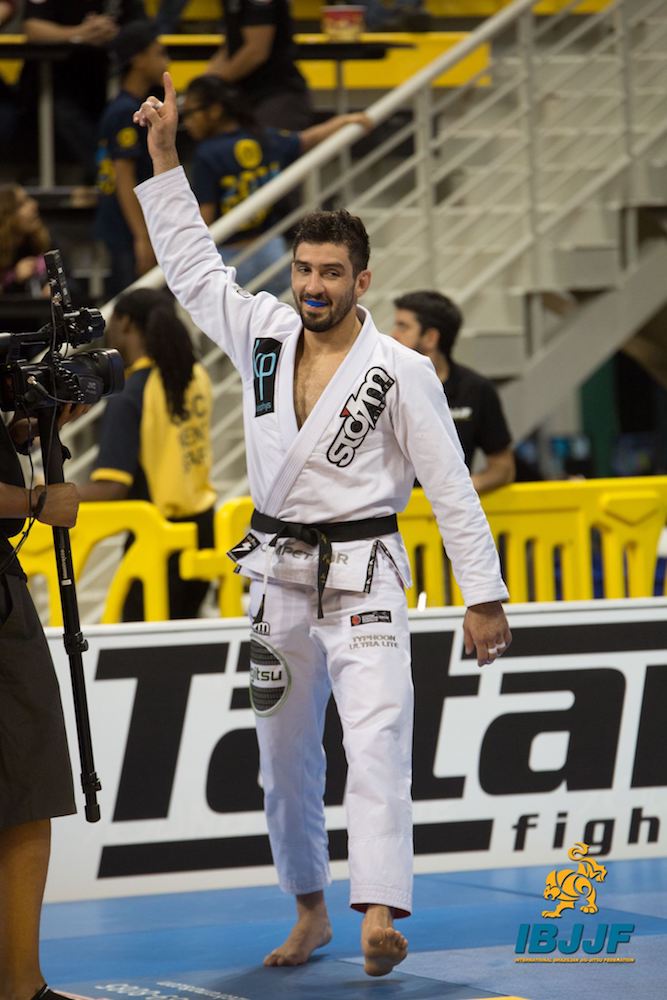 1. Lucas Alves Lepri
2. Mansher Khera
3. Francisco 'Sinistro' Iturralde
4. Johnny Tama
The stacked 35-man lightweight division is chock-full of tough contenders, and no fewer than seven Alliance reps. Of those, 2016 world champion Lucas Lepri (pictured right) is the clear favorite -- his near-flawless performance at last year's Worlds shows he's one of the greatest lightweight competitors of all time. Backing him up are the young guns, namely Mansher Khera of Marcelo Garcia's squad, and Ecuadorians 'Sinistro' (last year's silver medalist) and Johnny Tama.
BLACK / Adult / Male / Middle
1. Marcos Tinoco
2. Isaque Bahiense
3. Piter Frank
4. Jon Satava
Six of the 30 middleweight black belts belong to Alliance, and recent Euro champ Marcos Tinoco is the strongest of the pack (both literally and figuratively). If he maintains his Euros form he's a solid pick for gold, but his division is among the most competitive of the entire tournament (even more so with the announcement that Romulo Barral will drop to middle). Isaque Bahiense is a strong underdog making waves upon his recent arrival at black belt. Frank and Satava are unlikely to win gold but could easily finish on the podium.
BLACK / Adult / Male / Medium-Heavy
1. Renato Cardoso
2. Dillon Danis
Cardoso is a veteran with tons of experience, and with no Romulo or Leandro in the division the path to the prize looks a little more open. He edges out Danis due to his credentials in the gi, but the New Jersey megastar is not to be counted out and will surely be looking to make a statement.
BLACK / Adult / Male / Heavy
1. Nicholas Meregali
2. Dimitrius Souza
3. Matheus Diniz
It may seem bold to pick an athlete with less than 3 months as a black belt, but Nicholas Meregali is a special kind of talent. Heavyweight contains a number of tough names, not least of all Leandro Lo, Tanner Rice and Nick Schrock, but Meregali's recent win over Xande Ribeiro puts him right up there with the best of them. Backing him up are Souza and Diniz, two likely podium finishers.
BLACK / Adult / Female / Light-Feather
1. Talita Alencar
The hyper competitive women's light featherweight division is incredibly tough and Alencar will have a hard road ahead of her considering this is her first time competing Pans as a black belt. She won at brown last year but this pack of athletes is a different prospect altogether. 2016 champ Gezary Matuda's absence makes a win possible though.
BLACK / Adult / Female / Middle
1. Monique Elias
2016 middleweight world champ Monique Elias is a strong favorite in his division. Claudia Do Val and Ida Floisvik could give her a tough time, but Alliance are likely guaranteed a medal here.
BLACK / Adult / Female / Medium-Heavy
1. Andresa Correa
Correa is one of the most consistent competitors on the Alliance team and something crazy would have to happen for not to win here.
BLACK / Adult / Female / Super-Heavy
1. Gabi Garcia
2. Tayane Porfirio
Garcia and Porfirio are the only two athletes in this division, guaranteeing Alliance gold and silver. However, either of these are strong candidates to also win gold in the absolute, meaning another gold medal for the team!
---
How to Watch the IBJJF 2017 Pan Jiu-Jitsu Championship
On TV:
Now available on Roku and Apple TV 4 -- download the FloSports app today.
STREAMING:
Available only on FloGrappling via monthly or yearly memberships. A yearly FloPRO subscription provides access to ALL FloSports sites.
SIGN UP HERE
Join The Conversation On Social

• Follow us on Twitter
@FloGrappling
• Follow us on Instagram
@FloGrappling
• Follow us on
Facebook
FloGrappling's hottest content, delivered to your inbox
Don't miss breaking news, feature stories, event updates, and more. Sign up for the FloGrappling mailing list today.