Checkmat's Jackson Sousa is one of the team's most prolific competitors. The Rio de Janeiro-born grappler is a regular sight at every major competition across the world -- making his recent absence from the competition circuit all the more unusual.

Sousa is signed up to compete at the Abu Dhabi Grand Slam in London on Saturday, March 18, so we caught up with him to check in and see what's going on.
FloGrappling: First off, you disappeared somewhat in recent months. You didn't fight in the No-Gi Worlds last November or the Europeans in January. What's up?
Jackson Sousa:
It was because of some adjustments in my personal life -- I had to make some changes for the better for my future as an athlete and a coach.
The reason I had to take a break in my career as an athlete for a few months was due to my application for a permanent visa here in England, in London, where I live. That was the reason why I didn't get to fight the No-Gi Worlds or the Europeans in Lisbon. And maybe I'll be out of the World Pro in Abu Dhabi. But I'm training.
What were you doing during this phase? What was your focus?
I was studying to get an English accent! (laughs) I am making my plans for here in London, getting to know English culture, traveling through England and Scotland doing seminars, and training as always.
My focus is on my training; I always try to be productive with my training and my nutrition to stay in good shape.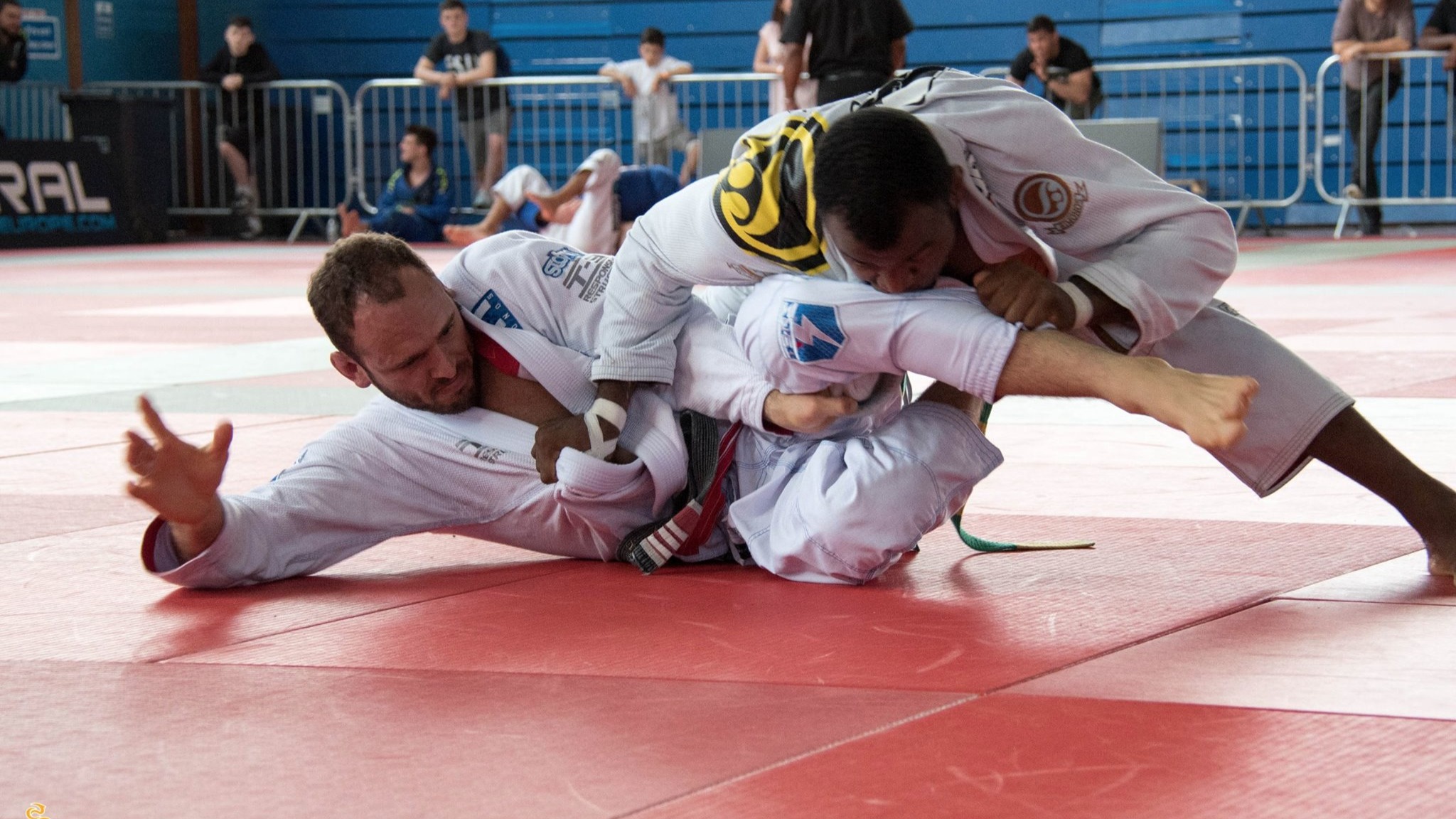 Jackson Sousa works to pass the guard of Victor Estima at the IBJJF London Open. Photo: IBJJF
How is the training in England? You're from Rio, but you have been living abroad for quite some time. Are you managing to train well?

My training here in London is great and very productive. I can always get good quality training, either in jiu-jitsu, physical, or mental training. But I'm always doing something to stay focused for Worlds, and thank God I've got great support here and some good training partners at Fightzone Checkmat gym here in London with Professor Marco Canha. He is also a black belt from my master, Ricardo Vieira.
And now, you signed up to fight in the Grand Slam in London. So how do you feel to be back, and how do you feel about this event?

The event will be a huge spectacle, and as always the UAEJJF have been doing a great job. I had the chance to compete in the Grand Slam in Los Angeles in 2015 and the Grand Slam London in 2016. I couldn't miss the Grand Slam here in London this year! Certainly this event will be great, and there'll be many great matches from white belt to black belt.
I will be competing in the -94kg category, where we have some big names. I'm feeling great and well prepared as ever. I've been training since January and focused for this event, because I knew I couldn't leave the UK. I want to fight with joy and show some good jiu-jitsu and of course be a champion. Even if I don't, I'll keep trying.
So when will we see you back on the global scene?

I'm back -- I had a great performance in the IBJJF London Winter Open, where I finished all my fights. I am training, and I will continue training hard to get in good shape for the Worlds as I did last year.
I will fight everything after Worlds. I am not out of the game. I just had to make adjustments in my personal life, but now I'm back and I can't wait to fight in the big world-class events.
Watch Jackson Sousa in action at the Abu Dhabi Grand Slam London. Watch it LIVE or On Demand on FloGrappling.

How to Watch the Abu Dhabi Grand Slam London, March 18
On TV:
Now available on Roku and Apple TV 4 -- download the FloSports app today.
STREAMING:
Available only on FloGrappling via monthly or yearly memberships. A yearly FloPRO subscription provides access to ALL FloSports sites.
SIGN UP HERE
Join The Conversation On Social

• Follow us on Twitter
@FloGrappling
• Follow us on Instagram
@FloGrappling
• Follow us on
Facebook
FloGrappling's hottest content, delivered to your inbox
Don't miss breaking news, feature stories, event updates, and more. Sign up for the FloGrappling mailing list today.