People often talk about the transformative power of jiu-jitsu, and here's a great example of how the arte suave can change people's lives.

Sophia Flores, a student of the Mendes brothers at of Art of Jiu-Jitsu academy in Costa Mesa, California, won gold in the blue belt light featherweight division today.

With five matches for the gold medal, she emerged champion in a stacked division of 27 athletes.

What's even more amazing is that Flores is only 17 years old, and only started fighting in the adult division earlier this year.

"It's amazing to see a young kid full of dreams walk into the academy and tell you that they want to be like you," says coach Gui Mendes.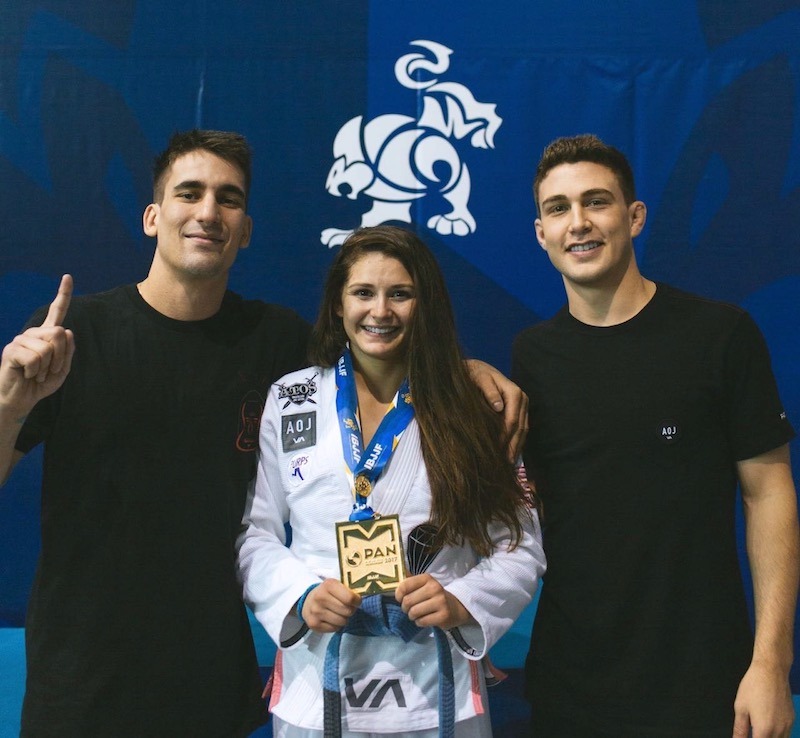 Sophie Flores with Gui Mendes (left) and Mason Monsevais (right). Photo: Art of Jiu-Jitsu


She wasn't confident when she started training at Art of Jiu-Jitsu. We worked hard to develop a strong mindset and improve her game to win everything in the juvenile division.
Flores has an incredible 2016, winning Pans, Worlds and No-Gi Worlds as a juvenile.
She started competing with adults this year, and won the IBJJF European Championships in Lisbon, Portugal in January.
Flores trains four times a day at Art of Jiu-Jitsu and helps coach the kids classes.
"I'm proud to watch her becoming a strong woman that will be a great example to all the little girls in the academy," says Mendes. "The future looks bright and we will keep working hard."
Watch Sophia Flores in action at the IBJJF 2017 Pan Jiu-Jitsu Championship
---
Opening Round: Lilian Tran vs Sophia Marie Flores
---
2nd Round: Sophia Marie Flores vs Christina Zynko
---
Quarterfinal: Sophia Maria Flores vs Evelynn Alba
---
Semifinal: Sophia Marie Flores vs Luana Cristina De Silva Fernandes
---
Final: Sophia Marie Flores vs Roya Darvishian