Create a free account to unlock this article!
Get Started
Already a subscriber? Log In
Rumors have circulated in the jiu-jitsu community since late last year that Paulo Miyao had maybe failed a doping test. This was confirmed last week when the Brazilian black belt admitted that he had been
issued a two-year suspension
by USADA for a test relating to the IBJJF 2016 World Championships.
Posting to his
Instagram account
on May 4, Miyao assumed responsibility for the test with a characteristically to-the-point statement:
I would like to apologize to all who accompany me and support me, as many know I ended up failing in the USADA anti-doping test made during the 2016 World Championship, I take full responsibility, without excuses.
Miyao uses the words "as many know," referring to the fact that his absence from competition had been the source of much chatter among fans and the media.
While Miyao stated in an interview back in February that
he had decided to focus on ADCC
, people speculated that he was prevented from competing because of the failed test. With no hard info, nothing could be confirmed either way.
In January, Miyao suddenly and unexpectedly withdrew from the
Abu Dhabi Grand Slam in Abu Dhabi
shortly after weighing in. The UAEJJF Abu Dhabi Grand Slam is a WADA signatory, meaning his suspension (which was later confirmed to be active since September 2016) would not have permitted him to compete. ADCC and other events are not covered by his suspension.
The positive test
Miyao tested positive for clomiphene, a specified substance in the class of hormone and metabolic modulators on the WADA Prohibited List and prohibited at all times under the World Anti-Doping Code and the USADA Protocol, which applied to the 2016 IBJJF World Jiu-Jitsu Championships.
Clomiphene (also known as clomid) is an estrogen blocker used to increase testosterone.
A question that keeps getting asked is
why did it take so long for USADA to announce Miyao's positive test relating to an event in June 2016?
Miyao had challenged the validity of the test via an arbitrator, leading to an extensive process that could have negated the positive result. Had he been successful, the incident would not have been publicly recorded or released, and the result would have stood.
The arbitration process and Miyao's legal argument
Miyao and the IBJJF entered into an arbitration process that began in January 2017, culminating in a video conference on March 28. The full record of the arbitration is public record, and can be accessed
here
.
Paulo Miyao USADA / IBJJF Anti-Doping Violation Arbitration
The document contains Miyao's legal argument for challenging the test as well as the IBJJF's counter-arguments. It also contains personal information about Miyao used as supporting evidence for the arguments.
Miyao was represented during arbitration by Howard L. Jacobs, an attorney from Westlake Village, California, who is a sports lawyer with a client list including UFC fighters Brock Lesnar and Jon Jones, tennis player Maria Sharapova, and track athlete Marion Jones. According to his website, Jacobs has represented over 200 professional, Olympic, and amateur athletes in disputes involving doping, salary issues, endorsements, and other matters. Chambers USA Guide described him in 2014 as "the go-to defense counsel in doping cases around the world."
The crux of Miyao's argument was centered on the fact that the IBJJF has two waiver forms as part of the registration for Worlds, one in English and another in Portuguese. His claim was that as a non-native English speaker who used the Portuguese waiver, he was not aware of the anti-doping rules and therefore not subject to USADA jurisdiction.
IV. RESPONDENT'S ARGUMENTS AND SUBMISSIONS

13. Respondent's brief contains several arguments, beginning with the basic premise that -- USADA has no jurisdiction to sanction an athlete, or even bring a case against that athlete, where the athlete has not either agreed to the application of the USADA Protocol or any anti-doping rules.

15. The entry/waiver form that was completed by Respondent online for the 2016 World IBJJF Jiu-Jitsu Championships was referenced and highlighted in his brief as follows:
3.1.1 The entry/waiver is provided in both Portuguese and English languages
(Respondent read the Portuguese section because that is his native language, and he did not read the English portion);
3.1.2 While the English entry/waiver mentions drug testing/USADA/USADA Protocol, the Portuguese entry/waiver does not:

The IBJJF countered with arguments that included that Miyao had previously undergone doping tests at the 2015 World championships, and his status and position in the sport did not allow for misunderstanding or ignorance of the anti-doping rules in place.
As a result, the Arbitrator ruled as follows:
A. USADA has sustained its burden of proof, thus making the Respondent subject to the jurisdiction of USADA for the purposes of Results Management Procedures following his positive drug test result at the 2016 World Championship.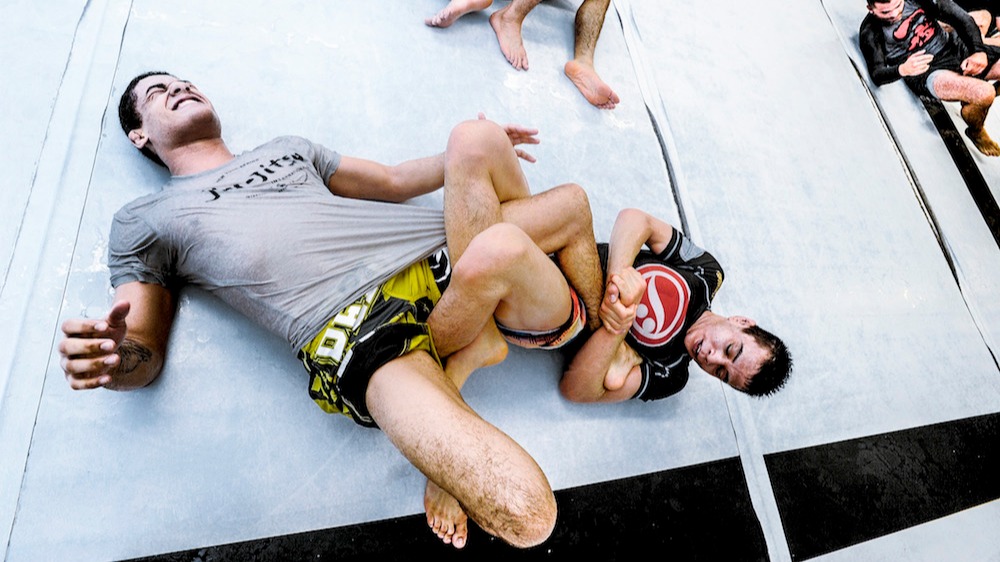 Paulo Miyao training no-gi in New York. Photo:
Ric Ricard
Legal documents reveal the private life of Paulo Miyao
As part of the arbitration process, Miyao was required to make a declaration (page 11 of the document) in which he states facts about his personal life, including:
• He attended high school at Colegio Estadual Barbosa Ferreira in the city of Andira in the state of Parana in Brazil and attended college for one year. All of his education was in Portuguese.
• Until June 2016, his primary residence was in Sao Paulo, Brazil.
• On June 14, 2016, Miyao received an O1 visa and relocated to New York, where he trains and does not teach. He states, "I have only taught a handful of classes since moving to New York."
• He states that he does not live in an apartment but instead sleeps on a small mattress that he keeps in a back room at the jiu-jitsu gym where he trains.
• Once a week, Miyao goes to a church called Our Lady of Pompeii in the West Village for Sunday mass, which is in Brazilian Portuguese with a Brazilian priest.
• He states that if he goes to the bank or doctor he always has someone to go with him to translate between Portuguese and English.
• When he posts motivational or religious quotes on his Instagram page, he uses Google to translate to English and asks someone if the translation is correct.
The declaration is a revealing look into the personal life of Miyao, who is infamous for his quiet and reserved nature.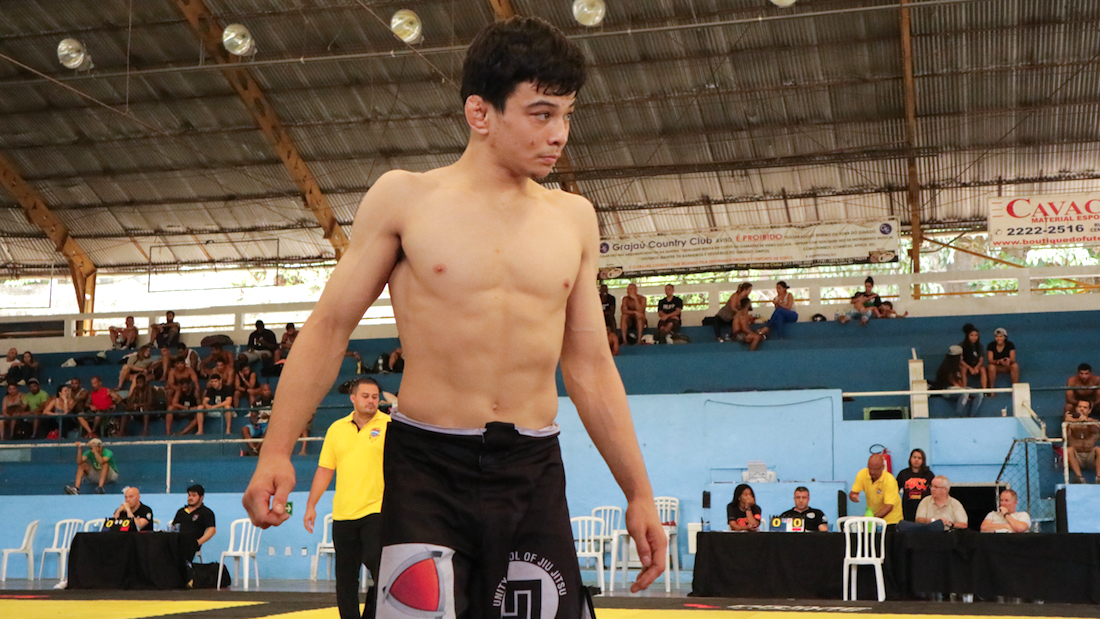 Paulo Miyao at the 2017 ADCC Brazilian trials in Rio de Janeiro. Photo: Hywel Teague / FloGrappling

What next for Paulo Miyao?
The USADA doping sanction has resulted in Miyao being suspended from WADA Code Signatory events for a period of two years, with the period of ineligibility beginning on September 29, 2016.
Miyao will forfeit his gold medal from the IBJJF 2016 World Championships. He will be eligible to compete in WADA Code Signatory events in September 2018.
The suspension does not apply to other events such as superfights or ADCC.
Miyao is scheduled to face Urijah Faber in a no-gi submission-only match at
Submission Underground 4
on May 14 and qualified to compete in the ADCC World Championships in September this year in Finland.