Dominique Bell: Comic Artist And Former Soldier Turned Gold Medal Machine
Dominique Bell: Comic Artist And Former Soldier Turned Gold Medal Machine
Jiu-jitsu boasts some interesting characters. Meet Dominique Bell, a comic artist and former soldier with a wicked triangle and a growing pile of gold medals.
May 16, 2017
by Heather Raftery
Jiu-jitsu boasts some interesting characters. Meet
Dominique Bell
, a comic artist and former soldier with a wicked triangle and a growing pile of gold medals.
Bell is one of the most recognizable faces among Atos' stable of up-and-coming talent and among the most dominant competitors in the brown belt division today. In the last year alone, he has accumulated an impressive 24 gold, three silver, and two bronze medals.
As imposing as Bell is on the mat, however, he's just as unassuming off of it.
Talk to him and you'll find a witty and highly articulate intellectual who can converse on a wide variety of topics. At only 26 years old, his vocabulary belongs to someone more than twice his age and is generously sprinkled with the kind of colloquialisms your grandfather used, such as "humdinger."
See him on the street and you can't mistake him for anything other than an elite athlete. Tall and muscular, he carries himself with that unmistakable athletic grace, accentuated by his ramrod-straight posture, drilled into him during his stint in the Army.
In fact, it was the Army that brought jiu-jitsu into Bell's life. Before he joined the service eight years ago, jiu-jitsu wasn't even on his radar.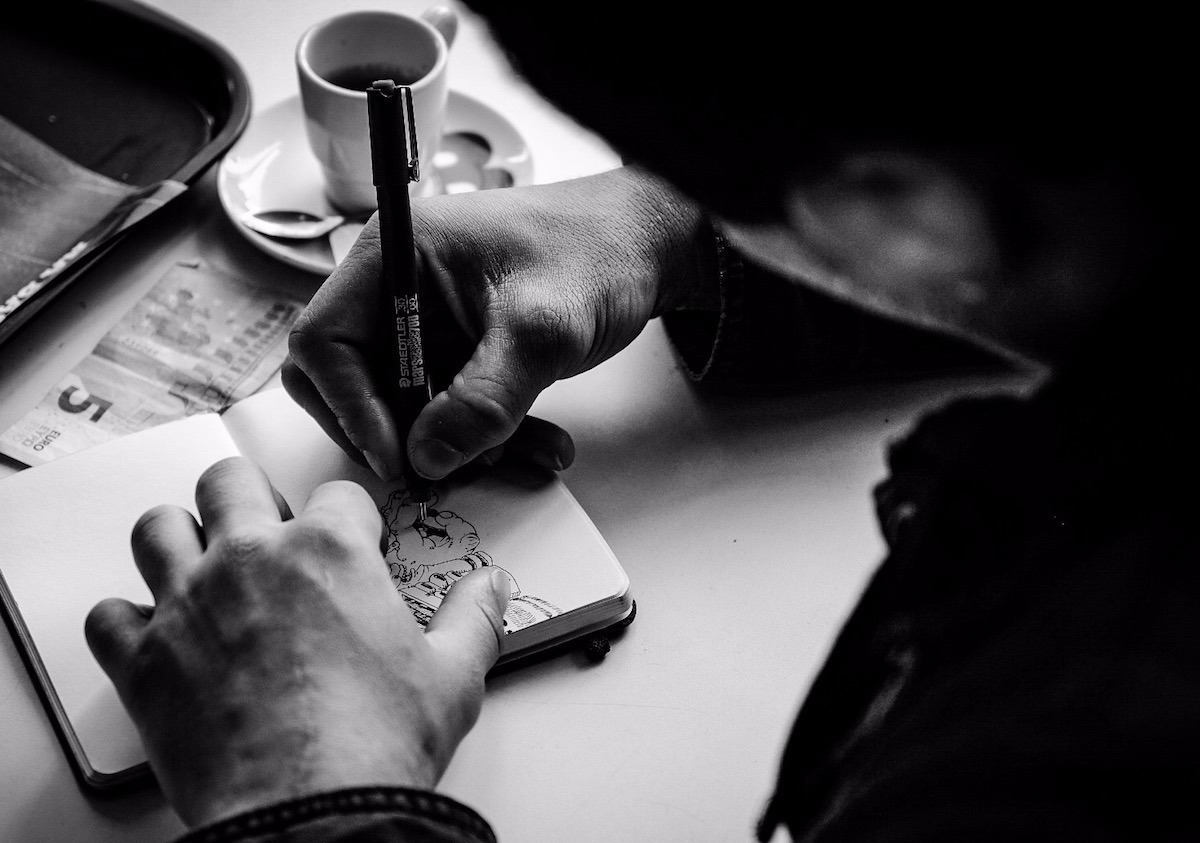 Dominique Bell drawing in his notebook in a cafe in Lisbon, Portugal, days out from the 2017 IBJJF European Championships. Photo: Bane Visnjic
From Art Nerd to Military Man
Bell grew up in a poor area of Fort Meyers, Florida, a city just north of the Everglades. His mother worked two jobs to care for him and his three younger sisters.
"We were very poor growing up," Bell said. "We didn't have a lot of money for nice things and stuff. We were just happy to have food. You know what I mean?"
Bell didn't even do sports. An introvert in high school, he mostly kept to himself. At the time, drawing was his only passion, and he thought art school would be his next step.
Indeed, before he began getting attention for his jiu-jitsu, he was already widely known for his jiu-jitsu comics, in which he brings a clever, satirical lens to the gentle art.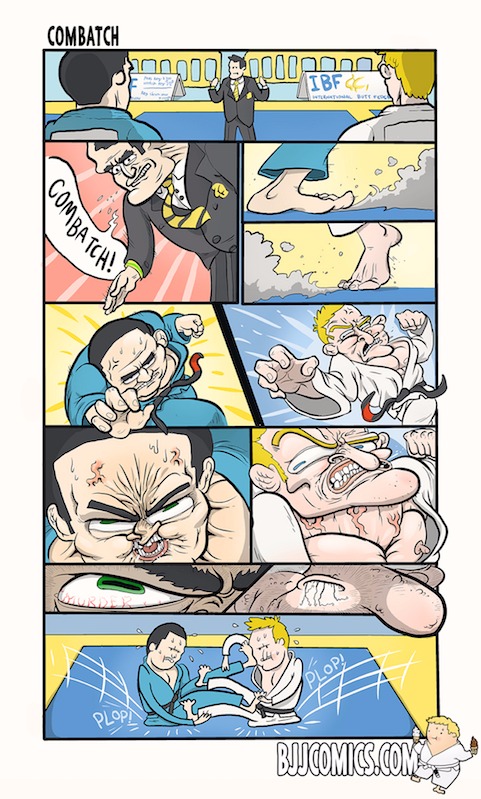 But art school wasn't to be for Bell. After graduating high school, he joined the Army, where he was introduced to Combatives, the military program that teaches soldiers ground fighting tactics.
I thought that was really cool, so I pursued it more and started going to an on-base club. But at the time, I only did no-gi, and I didn't call it BJJ or jiu-jitsu, I called it 'grappling,' because that was closer to UFC. And I never trained in the gi because I thought that was dumb.
That changed in 2011 when he was stationed in Germany, and he officially started his jiu-jitsu training -- in the gi -- under the tutelage of a couple of brown belts living there.
Two to three times a week, they would gather in the basement of the community center and train on fold-up gymnastics mats.
"Every time we'd have to lug them out and strap them down," Bell said. "They were all different colors and super thin. And then we would roll."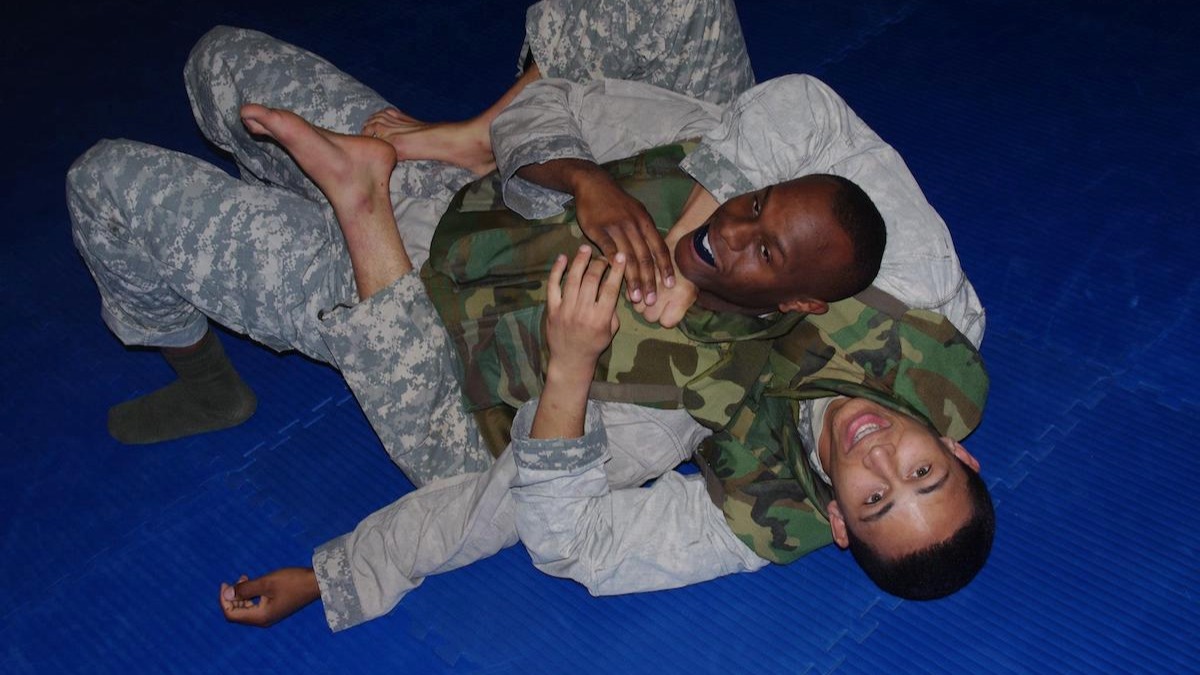 Bell training grappling with a flak jacket and fatigues. Photo: Facebook / personal archive
Becoming a Jiu-Jitsu Athlete
Fast-forward to 2014. Bell, now a purple belt, was back in the States and training wherever he could.
"I jumped around a lot," he said. "I trained at multiple gyms because their schedules didn't fill my week, and I wanted to train every day. So I trained at a Gracie Barra school. I trained on base during lunch. I trained in the mornings for my physical training -- I would miss PT and just roll with someone. They were just regular Joes on base and didn't know what they were doing, but I'd practice my triangles and stuff."
He was even driving an hour from the base in South Carolina to teach jiu-jitsu at a gym called Athlete's Arena.
One day, Sean Roberts arrived to give a seminar.
"And I remember I was just going apeshit," Bell laughed. "I mean, I was rolling with him, and I was being very competitive… You know, I think anybody would do that if a big name comes through the gym and you're the best guy there. You're going to go at it. So, yeah, I was going super hard and trying to impress.
"He talked to me after, and he was like, 'Hey, you're really good. I think you have a lot of potential. Why don't you come out and visit California, stay with me for a bit, and see if you like it?' It kind of clicked for me, and I was like, 'Yeah, maybe I'll try that.'"
Roberts made good on his offer, and Bell spent two weeks training with him.
It was decided: Bell would make jiu-jitsu his career. The question was where?
As the American jiu-jitsu mecca, Southern California was the obvious choice, but Bell took his time researching academies.
By then, Andre Galvao was busy building a team of tough competitors. What Atos lacked in quantity at the time, it made up in quality, boasting a number of Pans and world champions across the spectrum of belts.
I knew about Professor Galvao, and how he's very supportive of the lower belts as well as the upper belts, giving them a lot of attention. And I was a lower belt at the time. And another thing was that Atos has the largest stable of world champions -- all through the ranks -- not just an elite team of black belts, but from blue to black. So there's never a point in your growth where you're going to have a lack of training partners. I felt like that was the best place for me to grow.
Soon after finishing his service in the Army, Bell packed his bags and set off for San Diego with his long-time girlfriend, Heather Morgan, in tow.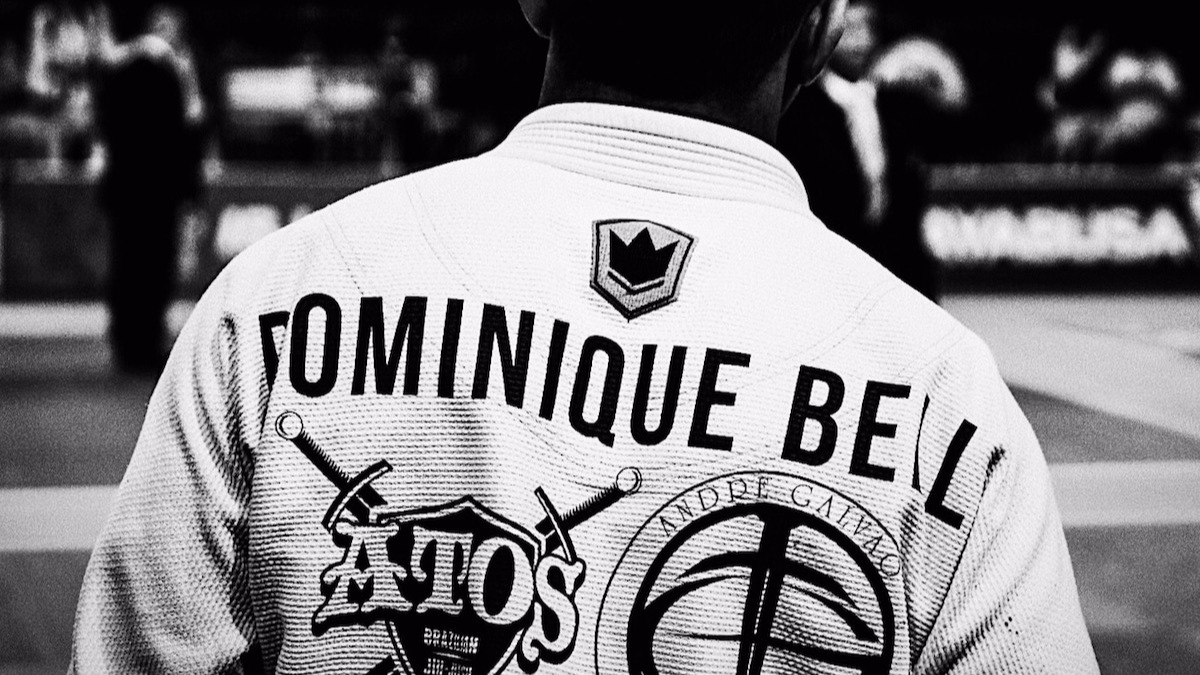 Photo: Bane Visnjic
A Nearly Crippling Injury
Bell's decision paid off. In May 2015, he entered his first IBJJF World Championship event at purple belt and won.
The high was short-lived. Barely a month later, while visiting another academy, he suffered a devastating (and freak) wrist lock when his opponent jerked out of Bell's kimura grip.
"It was actually really, really bad," Bell said. "And I didn't realize how bad it was at the time, but the scaphoid bone and the lunate bone separated and tore completely. It's a bad injury for athletes because it feels like a sprained wrist for a very long time. So people don't go and get it treated. They're think like, 'Oh, I'll just train through it, I'll tape it up.' The thing about this injury -- the thing that kind of sucks actually -- is you can fix it very easily if you go and get it checked out. But nobody does, because it doesn't feel that bad, you know?"
His wrist wasn't healing, so Bell finally went to the doctor. By that time, the torn ligaments had hardened and couldn't be stretched for reattachment.
A seven-hour surgery later, Bell had three pins in his wrist and a half-dozen incisions on his arm, where the surgeons took a piece of his vestigial tendon from his forearm to tie the bones together.
For a long time, I was like, 'Is this going to work?' It really took me off the rails. I lost a lot of momentum there. It's hard to come back from an injury that takes you out of competitive training for a long time.
Recovery was slow. He was forced to take nearly four months completely off training and several more months of only light activity before he could begin rolling again.
It was during his recovery that Galvao presented Bell with his brown belt.
"By that time I was showing up and just doing what I could. I think professor had more plans for me, but because of the injury, I wasn't able to continue competing at purple belt. He felt like I was ready, and I trust him. He's already walked this path, and he knows where you need to be."
The Gold Rush
Bell's first tournament after his injury was the Las Vegas Open in May 2016.
His wrist wasn't fully healed, but he could wait no longer. In the middle of the second match, he found himself down 9-0 in points and under mount.
"I was like, 'Oh, hell no! This is not happening,'" he said. "So I rolled him over to closed guard, broke his guard, passed, got all these points, and retied it to 9-9. But then he had two advantages. It sucked, but I was like, 'OK, well I still have a fire in me at least.'"
Three months later, he entered the Seattle Open and won double gold.
Once you have the confidence back and you're sure of what your body can do again, it's just a matter of getting back into your groove. I felt like I got back into my groove, and I feel great now.
The gold medals began to pile up, including one at the IBJJF No-Gi World Championships last year, one at the IBJJF European Championships, and a double gold win at the UAEJJF U.S. National Pro, earning him a trip to the Abu Dhabi World Championships.
Now, nearly two years after his injury, the
IBJJF World Championships
in Long Beach, CA, on May 31 to June 4 is just around the corner, and Bell is primed and hungry to add another one of the most coveted gold medals in the sport to his collection.
Watch Dominique Bell teach the knee cut pass
How to Watch the IBJJF 2017 World Jiu-Jitsu Championship
On TV:
Now available on Roku and Apple TV 4 -- download the FloSports app today.
STREAMING:
Available only on FloGrappling via monthly or yearly memberships. A yearly FloPRO subscription provides access to ALL FloSports sites.
SIGN UP HERE